The Pacific Region states of Oregon, Washington, Alaska and Hawaii are relatively young, entering the U.S. as the 33rd, 42nd, 49th and 50th states, respectively. But they are becoming increasingly important to the U.S. as a whole. Washington had the nation's 10th-largest economy in 2018 with a gross domestic product (GDP) of $577 billion, while Oregon was 25th at $243 billion, according to the World Population Review.
In terms of recent economic growth, however, these four states have mixed results. Washington and Alaska had respective annual GDP growth rates of 3.1% and 2.4% as of third-quarter 2019, above the national average of 2.1%. But Hawaii had one of the lowest growth rates (0.4%) at that time, the U.S. Bureau of Economic Analysis reported.
The Pacific Region states are uniquely connected by geography as they each border the Ring of Fire, the area where most of the planet's earthquakes and volcanic eruptions occur. In fact, these four states combined have 171 active or potentially active volcanoes. Mount Rainier, located roughly 50 miles from Seattle, is one of the most dangerous volcanoes in the nation, according to the U.S. Geological Survey. About 80,000 people are at risk from lahars, or large mud flows, that could occur during an eruption.
Oregon's economy has grown significantly over the past two decades. Its GDP growth rate of 52% from 2001 to 2017 was the sixth highest in the nation and well above the U.S. rate of 36%, according to the Oregon Center for Public Policy. Oregon has an aging population, however, and one in four workers is 55 or older, according to a report from the state's employment department. Employers will need to identify and train new workers, and the demand for leisure and health care services there is likely to rise, the report noted.
Hawaii's growth is likely to be muted over the next quarter century, with the Aloha State expected to add about 200,000 residents from 2016 to 2045, or 0.5% annual growth, according to a 2018 report from the Hawaii Department of Business, Economic Development and Tourism (DBEDT). Hawaii's population also is aging, with the share of people age 65 and older increasing from 7.9% in 1980 to 17.1% in 2016. By 2045, nearly one-quarter of Hawaii's population is anticipated to be 65 or older, DBEDT reported.
A report this past January in the Anchorage Daily News noted that Alaska's population fell for a third consecutive year in 2019 and is now at its lowest level since 2012. The number of new residents who moved to Alaska last year reached a 31-year low, while the state's birth rate was at a 20-year low.
Downtown Seattle Office Market
A fourth-quarter 2019 report from Cushman & Wakefield called Seattle's regional office-investment numbers "exceptional." An increased real estate excise tax that went into effect at the start of 2020 contributed to more than $10.3 billion in regional office transactions last year, an annual increase of 110%. Solid economic fundamentals also helped as the region added 57,000 jobs in 2019, driving down the unemployment rate to 3.5%.
Much of the office investment went into Seattle's central business district (CBD). Further expansions of major tech companies pushed up CBD asking rents by $4.69 per square foot, or 11.3% year-over-year growth, in 2019.
Cushman & Wakefield's report noted that office prices should continue to rise this year due to high demand and limited inventory for Class A space in the CBD. Multiple projects were slated for delivery in first-quarter 2020, with much of the space preleased to companies such as Qualtrics, Dropbox, Google and Apple.
Focus: Tourism
Tourism is a major part of Alaska's economy as visitors generate about $4.5 billion for the state each year, while 21% of jobs and 14% of income in the southeast portion of the state are tied to tourism, according to a February 2020 report in the Juneau Empire. The report noted that climate change could massively impact Alaska as glaciers are shrinking and wildfire season is growing longer.
Earlier this year, Washington's cruise-ship industry — valued at $890 million annually — was bracing for a decline in business due to the coronavirus outbreak. Ten cruise lines, making about 200 voyages per year with a combined passenger count of 1.2 million, embark from the Port of Seattle.
According to Hawaii tourism statistics, the number of visitors to the state and the money they spent increased for a seventh straight year in 2018. The average visitor to Hawaii that year spent $198 per day. Nearly $17 billion was spent in 2018 by tourists on lodging, shopping, transportation, entertainment, food and beverages.
What the Locals Say
"The large residential REITs (real estate investment trusts) have, for the most part, halted their buying in the Greater Seattle area. They can no longer achieve the return on investment that they require. The home prices have increased without rents increasing simultaneously, so to achieve the returns they're needing, they have moved out into more tertiary markets. Also, the single-family individual investors that we've worked with, my perception from speaking with them is that they're doing the same. They have now reached out to areas that, five or six years ago, they wouldn't have considered. Now that's really their main focus and they kind of abandoned the Greater Seattle-Bellevue region."

TR Hazelrigg IV

President, Avatar Financial Group
3 Cities to Watch
Honolulu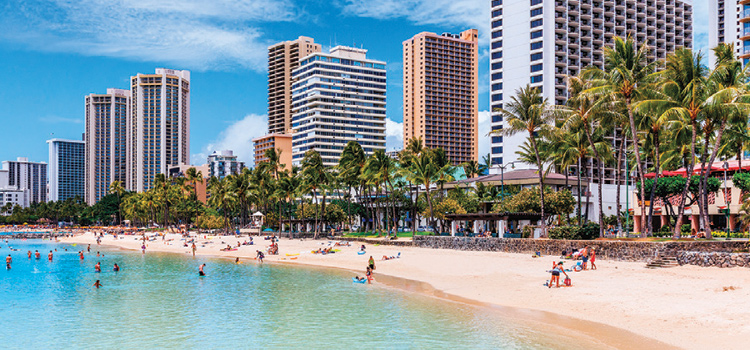 Colliers International noted that a record 5.2 million tourists visited the Hawaiian island of Oahu during the first 10 months of last year. Oahu retailers, however, cut 3,000 jobs in 2019, while the island's retail-property sector experienced negative net absorption in the past fourth quarter, the first such occurrence in five years. Honolulu County grew by 2.8% from 2010 to 2018 and now has 980,000 residents, with a median household income of $82,906.
Portland
The Oregonian reported that the median household income in Oregon's largest city rose 34% from 2005 to 2018, making it the eighth-wealthiest U.S. city at the end of that period. More than half of the city's renters are "cost burdened" and spend at least 30% of their income on housing. Commercial real estate brokerage Kidder Mathews noted that Portland's office market performed well in 2019, with the vacancy rate falling to 7.1% and asking rents climbing by 6.4% annually.
Tacoma
Seattle's high housing prices are causing many people to migrate 30 miles south to Tacoma, the third-largest city in Washington. Half of the for-sale homes in the Tacoma metro area this past January were under contract within 23 days, the nation's fastest-selling pace. The city's office market had stable asking rents and falling vacancy rates at the end of 2019, while industrial-property tenants absorbed nearly 1 million square feet last year, CBRE reported.
Sources: Anchorage Daily News, Britannica.com, CBS News, CBRE, Colliers International, Hawaii Department of Business, Economic Development and Tourism, Juneau Empire, Kidder Mathews, National Geographic, Oregon Center for Public Policy, Oregon Employment Department, The News Tribune, The Oregonian, U.S. Bureau of Economic Analysis, U.S. Bureau of Labor Statistics, U.S. Census Bureau, U.S. Geological Survey, World Population Review