Existing home sales have now fallen for an entire year, with January marking a 12th consecutive monthly decline, according to the National Association of Realtors (NAR).
Sales fell 0.7% from December to January, dwindling to a seasonally adjusted annual rate of 4 million. Year over year, sales were down 36.9%. January's overall decline was driven by slowing single-family home sales, which fell 0.8% to an annualized rate of 3.59 million units. Sales of condominiums and co-ops, by comparison, sold at an annualized pace of 410,000 units, flat from December.
Although residential sales have been on the downslope for a while, January's figures still represented a mild disappointment, considering recent signs that the market may have been turning a corner. Wells Fargo noted that consensus expectations were for a 2% sales rebound, while a Reuters poll of economists had projected an increase to a pace of 4.10 million units.
Still, January's decrease was the smallest month-over-month decrease since the streak of declines began in February 2022. Signals point to the housing market finally reaching a trough, according to NAR chief economist Lawrence Yun.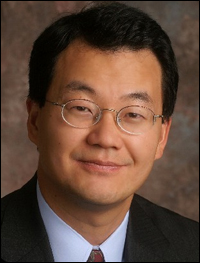 "Home sales are bottoming out," Yun said. "Prices vary depending on a market's affordability, with lower-priced regions witnessing modest growth and more expensive regions experiencing declines."
Mirroring the long-term decline in sales, the nationwide median price for an existing single-family home has fallen for seven straight months on a non-seasonally adjusted basis. The U.S. median price in January was $359,000, down from $366,900 the month prior. Still, the run-up in home prices from earlier in the year kept price growth in the black on an annualized basis, making December the 131st consecutive month of year-over-year increases. That extends the longest streak of year-over-year gains ever recorded by NAR.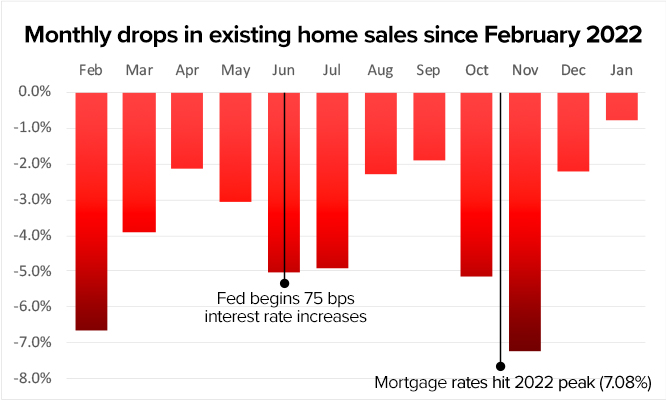 Sales declines continue to help improve inventory, although levels of supply are still very low by historical standards. Total for-sale inventory at the end of January was 980,000 units, up 2.1% monthly and 15.3% yearly. That translates to a supply of 2.9 months at the current sales rate, unchanged from December but up from 1.6 months in January 2022.
Meanwhile, homes continue to sit on the market for longer, with an average listing period of 33 days in January. That's up from 26 days in December and 19 days in January 2022. Fifty-four percent of existing homes sold in January stayed on the market for less than one month.
"Inventory remains low, but buyers are beginning to have better negotiating power," Yun said. "Homes sitting on the market for more than 60 days can be purchased for around 10% less than the original list price."