The economic fallout of the coronavirus pandemic is likely to hit particularly hard in the Pacific Region states of Washington, Oregon, Alaska and Hawaii. The first confirmed case of the coronavirus in the U.S. occurred in Washington state on Jan. 21, 2020.
All four of these states are heavily dependent on tourism. The pandemic has caused havoc for the travel industry in general. Hawaii's main industry is tourism and this past March, the state called for all tourists to postpone travel to the islands for at least 30 days. The uncertainty of the pandemic could cost the Aloha State tens of thousands of jobs, according to the Honolulu Star-Advertiser.
The three other states in this region are more diversified in their economies but also benefit heavily from tourism. About one in 10 jobs in Alaska are tied to the tourism industry and the vast majority of visitors arrive on cruise ships, which suspended sailings due to coronavirus fears.
Tourists also flock to a variety of destinations in Oregon and Washington. Thousands usually mill through the popular Pike Place Market in downtown Seattle on any given day, but one of the oldest continuously running farmers markets in the U.S. was eerily silent this past March.
Popular brewery and hotelier McMenamins closed nearly all of its locations in Washington and Oregon early in the crisis, laying off 3,000 people in a single day. Theaters, such as the Oregon Shakespeare Festival, a popular regional attraction, suspended operations and canceled shows. Powell's Books, the massive independent bookstore in the heart of Portland, closed and laid off nearly all of its staff. The owner worried whether the bookstore would ever reopen.
Washington also will be hurt by the sudden drop in travel. Boeing and Alaska Airlines, with some 80,000 combined employees in the state, are two of the Evergreen State's largest employers. Boeing also is one of America's largest manufacturers and exporters. The company faces another "black swan" cataclysm event after the grounding of its 737 Max line in 2019, which followed two plane crashes that killed 346 people.
Hawaii is in a precarious position because its traditional agricultural crops of pineapple and sugar cane have all but disappeared due to foreign competition, high land costs and a shortage of workers. Alaska will be hurt by the global decline in demand for oil.
Not all of the news is bad for these states. Amazon is headquartered in Seattle and will likely be one of the few companies to weather a coronavirus-related downturn. Tech-related companies are strong in both Washington and Oregon, which should continue to be important in an age of social distancing. Costco, headquartered in Kirkland, Washington, also remained open during the outbreak and seemed to be a popular place to stock up.
Pacific Home Prices
The Mark Twain quote, "Buy land. They're not making it anymore," rings especially true in Hawaii, which has the highest home values in the U.S. Each of the Pacific Region states is ranked high for home values by Zillow. As of February 2020, Hawaii was No. 1 in the nation with a median home value of $640,123. Washington was No. 5 at $422,452, Oregon was No. 7 at $369,227 and Alaska came in at No. 14 ($301,158).
As in other parts of the U.S., the coronavirus will impact the real estate markets in this region with the double pressure of throwing the busy purchase season into turmoil and creating uncertain employment prospects for many Americans. How much and how long it could affect the real estate market depends almost entirely on what happens with the pandemic.
The U.S. delinquency rate dropped to its lowest point in 20 years in October 2019, according to CoreLogic. At that time, the national share of mortgages that were 30 or more days overdue was 3.7%. The Pacific Region states had lower rates, with Oregon and Washington both at 1.8%. Hawaii had a foreclosure rate of 0.9% that month, however, double the national average of 0.4%.
Focus: Cannabis
Washington was one of the first two states to legalize recreational use of marijuana in 2012, and Oregon and Alaska have followed suit. Marijuana has become a big business in the states that have legalized it. In 2019, $1.1 billion worth of recreational and medicinal pot was sold in Washington and $752 million was sold in Oregon, which legalized recreational marijuana in 2014.
Alaska, which also legalized marijuana in 2014, became the first state to allow on-site consumption at retail shops to appeal to tourists. Public use of marijuana is still illegal, however, and hotels typically prohibit any kind of indoor smoking. Last year, Hawaii decriminalized the possession of small amounts of pot, a law that went into effect in January 2020.
What the Locals Say
"I think it's safe to say that there's going to be less activity (due to the coronavirus). Will it come to a screeching halt? I don't know about that, but I would say that it will have a dramatic impact on the [home] purchase market as long as there's this lockdown mentality. … [Major employers] Boeing and Alaska Airlines are going to struggle. But so much of the economy here is tech. These companies are all adapting very quickly. People are turning to (Seattle-based) Amazon to help them get supplies."
Chuck Iverson
Executive vice president of production, Evergreen Home Loans
3 Cities to Watch
Portland
The Rose City is the largest city in Oregon with 653,000 residents and a metro-area population of 2.4 million. Chipmaker Intel and shoe and apparel maker Nike are the largest employers in the metro area with 20,000 and 12,000 workers, respectively. The city's unofficial motto is "Keep Portland Weird," a state of mind embraced by the TV series "Portlandia." The median home value was $462,387 in February 2020, according to Zillow, while the median household income was $65,740 as of 2018.
Seattle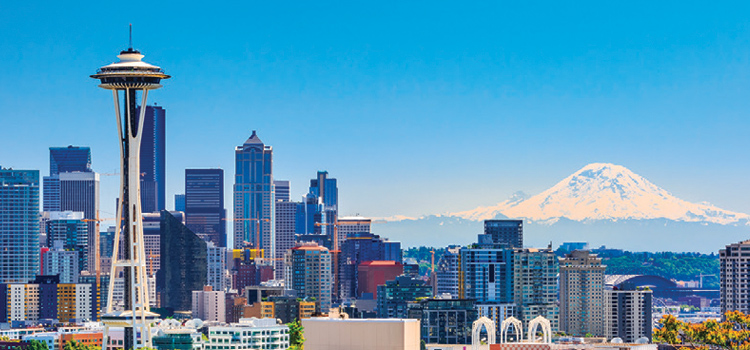 Few cities boast the economic clout of Seattle. Amazon is headquartered in the city, while Boeing and Microsoft are located in nearby suburbs. The Emerald City also is home to the University of Washington, a major employer and research institution. Seattle has a population of 745,000 with about 4 million living in the metro area. The median home value this past February was $755,613, according to Zillow, while the most recent census data showed a median household income of $85,562.
Anchorage
Founded in 1915, Anchorage sprang up as a tent city that housed thousands of laborers to support the construction of a federal railroad built into the Alaskan interior. Today it is the largest city in Alaska with a population of 291,000. The city's largest employers are a mix of health care providers and retailers, as well as oil and gas extractors such as BP Exploration Alaska and CH2MHill. The median home value is $332,201 and the median household income is $83,280.
Sources: ABC News, Alaska Public Media, Anchorage Daily News, Bangkok (Thailand) Post, CoreLogic, Enterprise Seattle, Greater Portland, Honolulu Star-Advertiser, KDRV-TV, KOMO-TV, KREM-TV, NPR, Paragon Financial, Quartz, The Motley Fool, The New York Times, The Oregonian, The Seattle Times, The Washington Post, Time, U.S News & World Report, U.S. Bureau of Labor Statistics, U.S. Census Bureau, Zillow