No state added more people in the past decade than Texas. An additional 4.3 million people made the Lone Star State home from 2010 to 2020, pushing the state's population from 25.1 million to 29.4 million. That's the equivalent of the entire population of Oklahoma putting up for-sale signs and moving into Texas.
Texas also had the
third-fastest rate of growth of all U.S. states
during the decade at 15.9%, trailing only Utah (18.4%) and Idaho (17.3%). Six of the top 15 fastest-growing cities in America over these 10 years were in Texas — led by Frisco, which grew by a whopping 71% to reach 200,000 residents. Nationally, five of the top 10 cities with the largest numerical increases in this time span were in the Lone Star State.
So, why is Texas such a hot destination? A variety of reasons — including jobs, lower costs of living and more affordable homes, according to The Associated Press. The state benefited from a gas and oil boom.
Texas produced 1.78 billion barrels of oil last year
, or about 43% of the nation's total output. Sectors such as business services, manufacturing and technology have all excelled over the past decade in Texas.
The Lone Star State also is known for its agricultural roots, which remains big business in the state today. As of 2018, Texas ranked No. 1 in the nation with 12.5 million head of cattle, or about 13% of all cattle in the U.S. That's nearly double the number of the No. 2 state, Nebraska, which had 6.8 million head of cattle.
Texas ranked second in the nation in 2020 by producing $1.76 trillion in gross domestic product (GDP), or the sum of all goods and services, according to the U.S. Department of Commerce. (Only California ranked ahead of the Lone Star State.) Every state saw its GDP decline last year, including Texas, which contracted by 3.5% or the same as the nation as a whole.
The economic picture remains rosy, but there have been some high-profile setbacks for Texas over the past year. The state has struggled with a high number of COVID-19 cases. Late this past September, Texas ranked first in the nation with more than 12,000 infections per day, or about one in every 10 cases in the U.S. More than 63,000 Texans had died from the virus as of September, second only to California.
Texas was hit hard by winter storms this past year, demonstrated by pictures of icicles forming in people's homes.
CoreLogic analyzed why the damage was so severe
in the Lone Star State, and the real estate data company cited a huge population with inadequate building standards, an isolated and strained power grid, and failures across the natural- gas and water-supply chains. ●
Housing prices have been on a steady increase over the past decade as more than 4 million new residents arrived in Texas. For full-year 2020, the state's median home price was $259,230, Texas Realtors reported, which was still lower than the U.S. median home price of $329,000.
The share of Texas homebuyers who identified as Hispanic or Latino increased to 18% between July 2019 and June 2020, up from 14% in the prior 12-month period, according to the real estate association. Seven percent were Black or African American while 6% were Asian or Pacific Islander. The percentage of white homebuyers during the year fell from 78% to 69%.
The median household income for these buyers was $112,500, or $16,000 more than the U.S. median. Thirty-one percent of all Texas homebuyers were first-timers, unchanged from the previous year.
Focus: Video game industry

Video game studios in Texas are responsible for some of American's favorite pixelated pastimes. Words with Friends, for instance, was made at a studio in McKinney. The classic first-person shooter game Doom was developed in Richardson. And the apocalyptic Borderlands series was developed at a studio in Frisco. (Frisco also is home to the National Videogame Museum, with its walk-through history of the gaming industry that features an arcade and rare video game artifacts.)
The video game industry remains big business in the Lone Star State. A study released last year by the Entertainment Software Association found that the industry accounts for 25,000 jobs in Texas and produces $4.15 billion in economic impact. These figures rank third among all states for jobs and revenues tied to video games, behind only California and Washington.
Scores of studios make their home in Texas. Industry advocates say that the state's relatively inexpensive cost of living, the quality of life and the overall business climate should make it a destination for video game makers in the future.
What the Locals Say
"We are seeing a little bit of a slowdown. Instead of 20 or 15 offers, we may be seeing four or five. We're seeing a lot more price reductions, houses on the market a little longer. It was really a much-needed change because these buyers, especially first-time homebuyers, are having a hard time. We're getting a lot of buyer fatigue. … We're going to still see some [home-price increases]. There's not a day that goes by that I won't talk to somebody from California or Washington, or Oregon or New York, that's moving to Texas. A lot of them are moving right here in central Texas where we're at."
Wes Kleckley

Divisional vice president
InterLinc Mortgage Services
3 Cities to Watch
Frisco
This suburb north of Dallas earned the title of
the fastest-growing city in America during the past decade
. Frisco grew to more than 200,000 residents in 2020, up from 117,000 in 2010, or a 71% increase. Frisco is home to the headquarters of eight sports teams and organizations, including the Dallas Cowboys and Dallas Stars. WalletHub ranked Frisco as the No. 1 real estate market in the U.S. this year based on factors such as job growth and home-price appreciation. The median household income is $127,055.
Houston
More than 500 oil and gas companies make their home in Houston, but the city is looking to lead an energy transition. Houston has a population of 2.3 million and has experienced six 500-year floods in the past five years, according to Mayor Sylvester Turner. The city has reduced greenhouse gas emissions by 37% since 2005 and aims to be carbon neutral by 2050, according to the mayor. Houston added 225,000 new residents in the past decade, second among U.S. cities in total population growth to Phoenix.
New Braunfels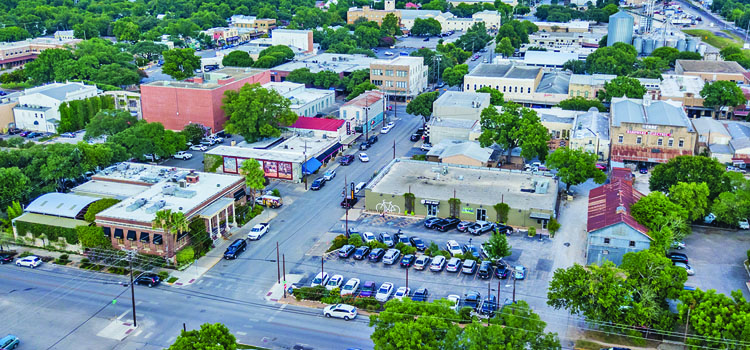 This city along the Interstate 35 corridor between San Antonio and Austin was the third fastest- growing city in America over the past decade, according to census data. New Braunfels grew to some 90,000 people, adding more than 32,000 new residents (a 56% increase). Newer residents are attracted by the inexpensive cost of living and the addition of several large employers, including distribution centers and tech companies, according to The New York Times. The median household income is $71,044.
Sources: AARP; Austin American-Statesman; Beef 2 Live; CoreLogic; D Magazine; Entertainment Software Association; Frisco Economic Development Corp.; Greater Houston Partnership; KERA-TV; Realtor.com; Texas Realtors; Texas Standard; Texas State Historical Association; The Associated Press; The Dallas Morning News; The Motley Fool; The New York Times; U.S. Department of Commerce; Venture Beat; Visual Capitalist; Yahoo Finance