More than a year after the COVID-19 pandemic began, Americans have settled into a new normal. This is particularly evident in the shift to remote work. A flurry of research shows that a significantly large portion of the U.S. workforce has not only migrated to home offices since March 2020 but is likely to continue doing so even as vaccinations become more prevalent and infection rates decline.
A Gallup poll this past January, for example, found that 56% of U.S. workers were "sometimes" or "always" doing their jobs from home, a share that had been steady for several months. The mortgage industry does not appear to be drastically different in this regard. But the numbers from Scotsman Guide's 2021 Top Mortgage Lenders rankings show that these companies were not only successful despite any operational shifts they had to endure — they were historically successful.
Our ninth annual Top Mortgage Lenders rankings, which has expanded from 75 to 100 since last year, shows tremendous industrywide growth in 2020 due to low interest rates and high demand for purchase and refinance loans. The 100 companies on this year's Top Overall Volume list produced nearly $1.5 trillion in aggregate loan volume and closed more than 4.9 million loans. In the 2020 production year, the average lender closed 49,470 loans for a volume of nearly $15 billion. Compare this to the 2019 production year, when lenders averaged 37,041 closed loans and $10.4 billion in volume.
For the third consecutive year, United Wholesale Mortgage (UWM) is No. 1 on the Top Overall Volume list, having closed some 561,000 loans for $182.5 billion in volume. The other top five companies from a year ago remained the same, although in a slightly different order. Second place went to loanDepot ($100.7 billion), followed by Caliber Home Loans Inc. ($80.3 billion), Fairway Independent Mortgage Corp. ($65.8 billion) and AmeriHome Mortgage ($64.6 billion).
On the next few pages, readers also can view the usual assortment of specialty rankings. For a sixth straight year, loanDepot placed first on the Top Retail Volume list, upping its 2019 production volume by an eye-popping 132% to $86.5 billion in 2020. UWM retained its crown on the Top Wholesale Volume list by a wide margin, doing 75% of its business in this channel for a total of $137.2 billion.
Government lending remains a viable option for many borrowers and this is reflected in the growth of U.S. Department of Veterans Affairs (VA) and Federal Housing Administration (FHA) loans. UWM dethroned Caliber Home Loans on the Top VA Volume list with $20.4 billion of business, an increase of 77% from the 2019 production year. The Top FHA Volume rankings also has a new No. 1 as California-based AmeriHome Mortgage closed nearly $12 billion in FHA loans, a significant achievement after not breaking into the top 10 on the 2020 list.
Just as it did in the 2020 rankings, AmeriHome swept the Top Correspondent Volume and Top Delegated Volume channels while significantly boosting its business in both categories. It grew by 43% in correspondent volume and by 42% in delegated volume. UWM, meanwhile, nabbed the top spot in non-delegated volume at $45.4 billion, $34 billion higher than the winning total in 2020. (NP)
Top Dollar Volume title is on a meteoric rise
Sales volumes for the Top Mortgage Lenders continue to soar, as evidenced by the growth among the Top Overall Volume winners since 2016. Over the past five years, the aggregate volume of closed loans for the No. 1 company in this category has jumped by an astounding 396%. (NP)
United Wholesale Mortgage, No. 1 Top Overall Volume 2021
Shortly after the COVID-19 pandemic struck last year, United Wholesale Mortgage (UWM) president and CEO Mat Ishbia swore that he would sleep on one of his employee's couches before laying off any of them. As it turns out, there was no couch surfing for Ishbia.
Instead, the mortgage lender based in Pontiac, Michigan, recorded its best year ever with a total loan volume of $182.5 billion, a 69% increase from the $107.8 billion in volume logged the year before. UWM closed 561,119 loans in 2020, up 65% compared to its 339,253 closed loans in 2019. It is the third time in a row that UWM has claimed the No. 1 spot for Top Overall Volume on Scotsman Guide's Top Mortgage Lenders rankings.
Ishbia made the couch comment when there was a great deal of uncertainty about the U.S. economy. He wanted to provide assurance that UWM was a family company. "We've got your back. And that's what we did. That's what we'll always do," he said.
Ishbia expects that UWM will break $200 billion in volume this year. Interest rates are edging up, but he said that could be an advantage for mortgage brokers.
"Brokers are the best place for consumers," Ishbia said. "Mortgage brokers can generally offer lower rates and fees than retail lenders. Now mortgage brokers have access to our technology, our service. They actually have the best of both worlds — speed and service along with really low rates. … Brokers will win in a rising rate environment. They already are." (JD)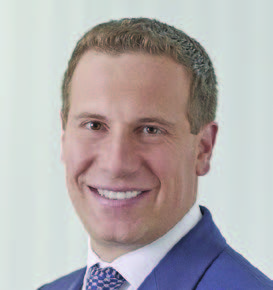 Mat Ishbia

President/CEO United Wholesale Mortgage
Retail channel continues its upward trajectory
Since 2016, loanDepot has led the way among Top Retail Volume lenders, growing its retail volume by 247% over this time. Nearly all of this year's top 10 retail lenders showed specialized expertise in this channel as nine of them closed at least 85% of their total loan volume through retail originations. (NP)
Non-QM market is shining bright
The nonqualified mortgage (non-QM) market has heated up in recent years, as evidenced by the growth in this year's Scotsman Guide Top Non-QM Volume rankings. In the inaugural rankings released last year, the 10 lenders listed averaged about $840 million in non-QM volume during the 2019 production year.
In the 2021 rankings, however, the 15 lenders listed averaged better than $930 million in non-QM production. The combined volume of the top 10 non-QM lenders soared by 54% year over year, growing from $8.4 billion in 2019 production to slightly less than $13 billion during 2020.
Given the strong climate for home purchases and refinances in 2021, the non-QM sector is likely to continue its upward trajectory. The U.S. Bureau of Labor Statistics projected that the number of self-employed workers — typical prime candidates for non-QM programs — will grow by 700,000 from 9.6 million in 2016 to 10.3 million by 2026. Many purchase loans will continue to earn qualified mortgage status this year, however, as the extension of the "patch" rule until October 2022 will allow Fannie Mae and Freddie Mac to keep business that may have shifted to the non-QM channel. (NP)
Correspondent lenders clear 1.8M closings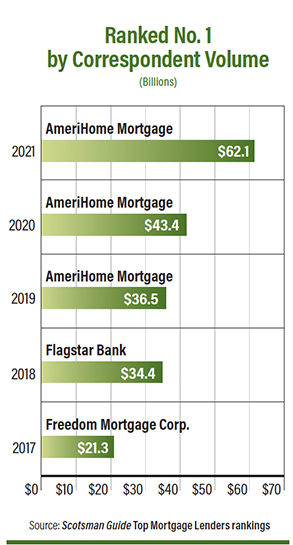 The 10 companies ranked this year for Top Correspondent Volume closed a combined total of 1,837,029 loans in 2020. This breaks down to more than 5,000 loans per day or about 209 loans per hour. The combined volume of $231.9 billion for these 10 lenders equates to nearly $634 million in daily volume or about $26 million per hour. (NP)