Over the past few years, home prices have skyrocketed. And while the market has begun to moderate this year, the median home still costs 26% more than it did in 2020, according to Federal Reserve data. In pricier markets, typical home values shot up and above the $1 million mark — and where there are expensive homes, there are extra-large mortgages.
While Fannie Mae and Freddie Mac update the conforming loan limits each year, many homes in pricier markets still don't qualify for mortgages backed by the government-sponsored enterprises. That's where jumbo originators come in, armed with the products and knowledge to make $1 million-plus loans possible for high-end clients.
Jumbo loans have seen a significant increase in popularity of late. In 2020, they represented only 19% of the market, according to CoreLogic data. But in 2022, the jumbo share of the market was 32%, the highest level seen since 2005.
Welcome to Scotsman Guide's first-ever Top Jumbo Originators ranking. This list focuses on originators who regularly produce these large, nonconforming loans. To create this list, the publication calculated and ranked the average loan size for everyone who qualified for its 2023 Top Originators rankings (based on full-year 2022 origination volume). On the next two pages, you'll find 100 originators who specialize in serving elite clientele, each with an average loan size of more than $1 million.
These originators appear to value quality over quantity. While the number of loans closed by the Top Jumbo Originators ranges widely, from 25 to 552, the median number of closed loans is 58. The median dollar volume is $77.5 million, good for a median loan size of $1.3 million.
The geographic breakdown of these originators is not unexpected: California dominated the rankings, with 58 of 100 originators based in the Golden State. New York was a distant second with 19 originators on the list, while Texas, Connecticut and Maryland each have three originators.
Many of these originators work for private banking arms — or well-placed branches — of large institutions like Citibank and U.S. Bank, each of which have more than 20 originators in this ranking. But independent brokers are represented too. Notably, Beverly Hills-based boutique brokerage Insignia Mortgage Inc. has four originators in the top 11.
In fact, Insignia broker Romy Nourafchan took the No. 1 spot, with an average loan volume last year of more than $3.27 million. Nourafchan has been building his jumbo business since the 1990s and has a wide base of clients, with loans ranging from $1 million to $50 million and beyond. To learn more about Nourafchan and his business, read his Featured Top Originator profile on Page 18.
Second place went to Ghazal Doustar of U.S. Bank, with an average loan size of $3.16 million. Rounding out the top five are Anish Singla of U.S. Bank ($2.84 million), Damon Germanides of Insignia Mortgage ($2.75 million) and Kevin Cassell of City National Bank of Florida ($2.35 million).
We hope you enjoy this new ranking and find it informative. Feel free to reach out with any questions, comments or concerns. Warm wishes for a wonderful autumn, and as always, thank you for reading.
Midwest cities offer advantages for first-time homeowners
The cost of the first year of homeownership — including downpayment and fees, mortgage payments, homeowners insurance and property taxes — varies widely across the country. Point2, a division of Yardi Systems, recently analyzed the 100 largest U.S. markets to pinpoint the most and least affordable cities for first-year homeownership.
Sixteen cities had first-year costs of less than $80,000, with most of these in the Midwest. Detroit was the least expensive city, with total costs of about $25,000 for the first year, followed by the Ohio cities of Toledo and Cleveland, each under $40,000. Fort Wayne, Indiana, and St. Louis rounded out the top-five least-expensive cities with costs in the $60,000 range.
Conversely, the 15 most-expensive cities had costs that exceed $200,000. California accounted for each of the top-eight priciest cities. Unsurprisingly, San Francisco topped the list with total first-year costs of $390,000. A smaller Bay Area neighbor, Fremont, was not far behind, followed by San Jose, Irvine, Los Angeles, San Diego, Oakland and Anaheim.
Point2 also found that median-income renter households that save 20% of their annual income can take anywhere from four to 24 years to save up enough to cover these first-year costs. Los Angeles had the longest timeline among the cities analyzed, while Detroit had the shortest.
Coastal urban counties have lowest homeownership rates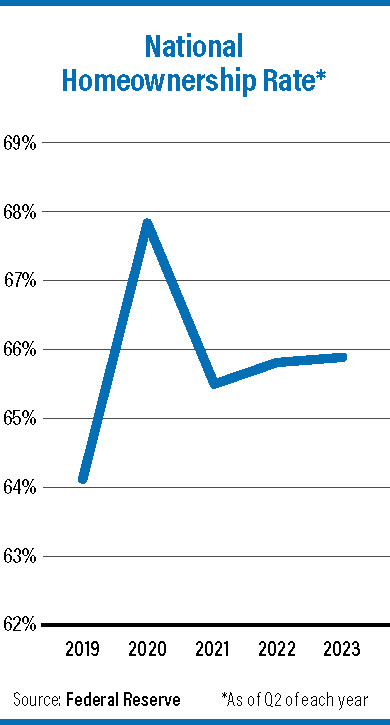 The national homeownership rate has increased slightly in the past few years, but many counties — especially those in coastal urban areas — continue to lag. A recent analysis from the National Association of Homebuilders found that 2021 homeownership rates ranged from less than 25% in urban counties of New York to more than 90% in suburban and rural counties of Colorado and the South.
Population density has a lot to do with the lower rates in urban counties, the analysis noted. Four counties in the New York City metro area were among the 10 lowest rates in the nation. Bronx County registered a 19.8% homeownership rate. New York County (Manhattan), Kings County (Brooklyn) and Hudson County, New York, each had rates below 33%.
Similar trends can be found on the West Coast. San Francisco and Los Angeles counties have respective homeownership rates of 38.2% and 46.2%. Meanwhile, California counties with less density (including Alpine, Amador, Calaveras, El Dorado and Sierra) hover around 80%.
The 10 counties with the highest homeownership rates in the nation each exceeded a 90% rate. Four of these counties were in the census bureau's Mountain Division: Colorado's Elbert and Park counties (92.6% and 91.1%, respectively), along with Storey County, Nevada (96.5%), and Meagher County, Montana (92.1%). Five others were in the states of Texas, Louisiana, Virginia, Alabama and West Virginia.