One of the quirks of corporate America is that so many companies choose to incorporate in Delaware. More than 60% of Fortune 500 companies (including Amazon, Walmart and Google parent Alphabet) have registered to form their businesses in the state.
In 2020 alone, about 250,000 new businesses incorporated in Delaware, pushing the total number to 1.6 million. That's more than 1.5 businesses for every person, adult or child, in the state. Companies incorporate there for numerous reasons, including privacy, expediency and a corporate-friendly court structure.
Most importantly, the state's tax structure is business friendly. Companies can reduce their state tax burden by 15% to 25% by coming to Delaware as opposed to other states, according to a 2013 study published in the Journal of Financial Economics. (Delaware derives 40% of its state budget from business-formation revenues.) Because of this, students at every law school in the country are said to study the Delaware corporation statute and how Delaware courts interpret the law.
In this sense, tiny Delaware plays a prominent role in the business-heavy world of the Mid-Atlantic Region, which also includes New York, New Jersey and Pennsylvania. While many of the largest companies are incorporated in Delaware, many of these same firms actually do business in the stretch between New York City and Philadelphia. More than 80 companies on the Fortune 500 list are headquartered in this region, including 40 in the Big Apple and 13 in the City of Brotherly Love.
The Mid-Atlantic Region encompasses some of the most productive states in the nation. The gross domestic product (GDP), or the sum of all goods and services, in New York totaled more than $2 trillion in 2022. This ranked No. 3 among all states, according to the U.S. Bureau of Economic Analysis.
Pennsylvania ranked sixth in the U.S. last year with a GDP of $923 billion. New Jersey ranked ninth at $745 billion, while Delaware was No. 42 with a GDP of about $87.5 billion.
The U.S. population grew slowly between July 2021 and July 2022, according to census data, adding 1.2 million people to reach a total of 332.2 million. Most of this growth came from immigration. The Northeast region recorded notable population losses during this time frame.
The state of New York's population dropped by more than 180,000 people as nearly 300,000 residents moved to other states (the second- highest outmigration in the nation behind only California). New Jersey ranked No. 4 as it lost more than 64,000 residents to other states.
Pennsylvania's population shrank by 40,000 during the year, with the losses almost entirely due to outmigration. Among the Mid-Atlantic Region states, only Delaware saw a population increase in this time frame, adding about 14,000 residents. ●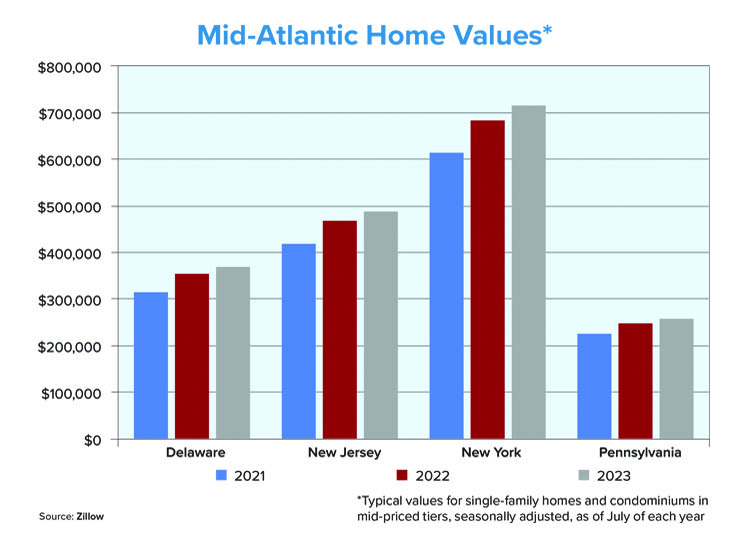 The Mid-Atlantic Region suffers from an acute lack of housing inventory, so much so that a real estate agent told Fortune magazine earlier this year that homebuyers are "fighting over crumbs." One of his clients bid $51,000 over asking price in the spring but didn't expect to get it. More than 200 people showed up at the open house.
All four of these states saw a huge decline in the number of homes for sale this past summer. New York had about 48,300 homes on the market in July, a 21.2% year-over-year decrease, according to Redfin. New Jersey had some 25,500 homes for sale at that time, down 35% year over year. In Pennsylvania, the 35,700 homes for sale represented an annualized decline of 21.3%. And the 1,750 listings in Delaware were 23.3% below year-ago levels.
There is evidence that supply should grow. In 2022, three of the Mid-Atlantic states ranked in the top half of the nation for building permits issued for single-family homes, according to census data. More than 18,000 permits were issued in Pennsylvania, with another 13,200 in New Jersey and 11,000 in New York. Fewer than 5,900 permits were authorized in Delaware.
What the Locals Say
It's still a very active market in Philadelphia and the surrounding counties, especially in the suburbs. Last year, you had 10 to 15 people per home in the suburbs putting in offers. Now it's five. There's just not enough inventory.
Rates hadn't deterred people until this past 30 days (in late August), now that most are firmly above 7%. Prices are still elevated. If rates come down by 1% or 1.5%, then you're just going to have a swarm of people right back at it with the same amount of inventory.
With the severe lack of inventory, with rates more than double what they were a year ago, and now what we'll call "temperate expectations" for the job market, consumer confidence in housing could be lacking. You're going to see seasonality come into play when that hasn't been the case in real estate for the past five to 10 years. You're going to see a slower winter for sure unless some radical shift happens.
The Philadelphia market is sandwiched between two of the most expensive cities in the world in New York and Washington, D.C. Philadelphia doesn't suffer the major swings up or down. It's always been a very resilient market. We get a lot of clients that are relocating from New York and D.C., and they're keeping their jobs, but they're able to work remotely. They're moving to Philadelphia because of the affordability factor.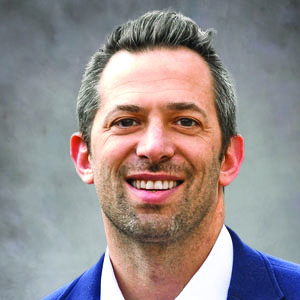 3 Cities to Watch
Philadelphia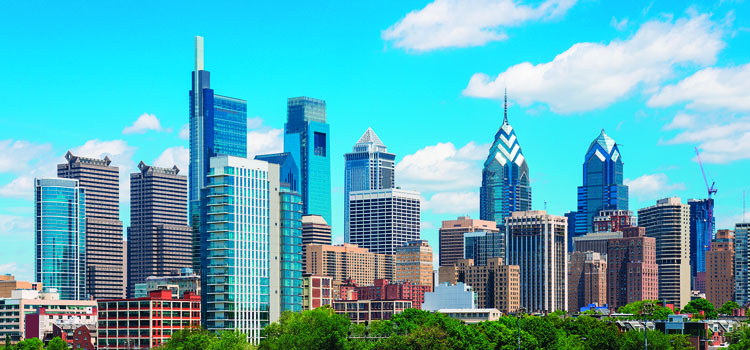 More than 2 million people descended on the city of Philadelphia on July 4, 1976, to celebrate the bicentennial of the signing of the Declaration of Independence. The City of Brotherly Love (population 1.6 million) is already planning events for the semiquincentennial, the nation's 250th birthday, on July 4, 2026. Whether it will attract the same crowds remains to be seen. The 1876 centennial in the city was wildly successful, but the 1926 sesquicentennial proved a flop.
New York City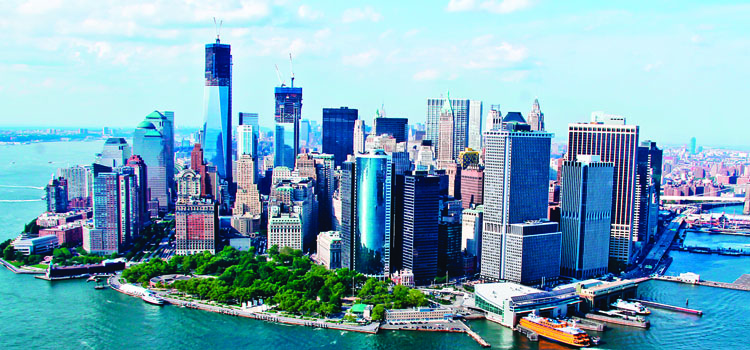 The Big Apple has lost about half a million people since the COVID-19 pandemic swept the country, according to census figures released this past May. New York City remains the largest city in the U.S. with a population of 8.3 million, more than double the size of Los Angeles (4 million). Housing costs haven't reflected the recent population loss. In 2022, New York remained one the 10 most expensive cities in the country with a median sales price of $683,000, according to Redfin.
Trenton
The capital of New Jersey relies heavily on state government for its economy. Trenton has convenient access to both Philadelphia and New York City, as well as Princeton University, which is in the neighboring eponymous town. Trenton (population 90,000) is undergoing a renewal for its 250th anniversary in 2042 while trying to learn from past failures. For instance, two downtown renewal projects in the 1960s displaced 2,000 families while adding state office buildings that did little to benefit the community.
Sources: CNBC, Corporate Crime Reporter, Federal Reserve, Forbes, Patch, Philadelphia Business Journal, Redfin, Science Direct, The Atlantic, The Encyclopedia of Greater Philadelphia, The New York Post, Trenton 250, U.S. Bureau of Economic Analysis, WHTM-TV, WHYY-TV, Yahoo Finance, Zillow