Texas indisputably has one of the nation's hottest real estate markets. Migration to Texas took off in 2019 and the Lone Star State saw a net gain of nearly 400,000 people by the end of 2021. In 2022 alone, Texas had a net migration gain of 230,000 people — second only to Florida.
California to Texas is the most popular migration route in the nation, according to census data, with more than 107,000 people moving from the Golden State to the Lone Star State in 2021. Expensive real estate for both homeowners and business owners in California is one reason for the inflow. Tech companies like Oracle and Tesla have relocated their headquarters to Texas, bringing educated workers with them.
Relative to the overall population of Texas, new arrivals are more likely to have a college degree and be young, between the ages of 20 and 29. They're also more likely to work in STEM careers or be managers, according to data from the Federal Reserve Bank of Dallas. The massive influx of young, educated people into science, technology, engineering and math jobs sustains the state's job market and, on average, employment is growing about twice as fast in Texas compared to the rest of the nation.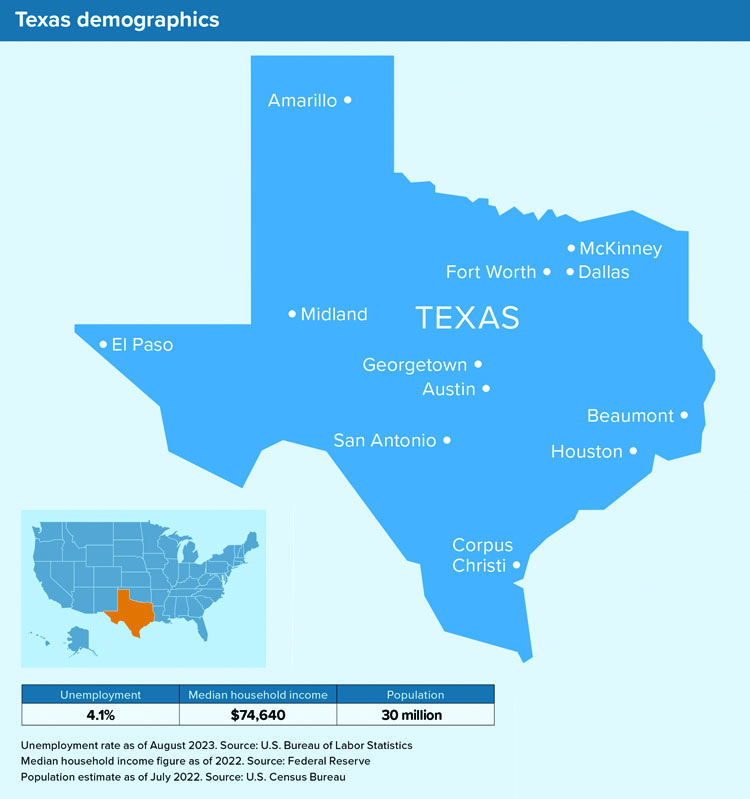 Luckily for these new arrivals — and the mortgage originators who serve them — housing is still relatively affordable in Texas. Several cities in Texas have been named among this year's best U.S. real estate markets, including those for first-time homebuyers.
WalletHub's annual Best Real Estate Markets report crowned McKinney, Texas, as its top market in 2023. The report uses 17 metrics to determine which markets have the best blend of housing and maintenance affordability, population and job growth, home price appreciation and more. McKinney, a suburb of the Dallas-Fort Worth metroplex, was followed by its neighbor, Frisco. Denton, Allen and Austin also made the national top 10.
A SmartAsset report with a focus on first-time buyers also ranked five Texas markets in its top 10 for 2023. Based on metrics such as affordability, available inventory, relaxed competition, demographics and growth potential, SmartAsset found Killeen (a small city situated between Austin and Dallas), to be No. 1. The city, known for its proximity to U.S. Army base Fort Cavazos, had a median home sales price of about $250,000 in May 2023, with a "reasonably young" population and about 3,000 homes on the market each month.
Texas has attracted not only domestic migrants but international movers too. While the COVID-19 pandemic slowed cross-border moves into Texas, mirroring a national decline in international moves due to border closures, foreign interest in Texas real estate has picked up.
According to Texas Realtors, international homebuyers spent more than $4 billion in Texas from April 2022 to March 2023, snapping up nearly 10,000 homes. Some 2.8% of home sales in Texas were tied to international buyers, compared to 1.8% of U.S. sales during this period. ●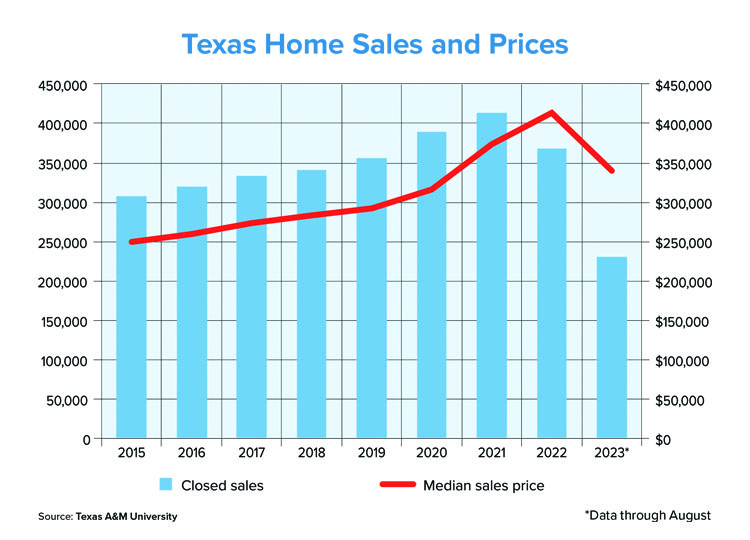 Unsurprisingly, total home sales in Texas are down from last year's pace. In July 2023, 25,870 homes were sold in the state, down 8.4% from the prior month and down 32% in a three-year period, according to the Texas A&M University Real Estate Research Center. The share of new construction sales increased significantly within the past year, going from 15.2% to more than 20%.
In July, the average home was on the market for 56 days, the same as the previous month. This marked a deviation from a yearlong trend of a consistent rise in the number of days on market. Active listings rose to 2.3% of all homes, or about 85,000 listings. Texas had 3.3 months of supply to meet July's sales pace.
Home prices saw modest but steady gains, with new and existing home prices rising 0.2% from June to July to reach $337,700. The notable exception occurred in the Austin-Round Rock metro area, which saw a pullback of 0.5% from June to July. The capital city, however, still has the highest average prices in the state. These small dips and gains throughout the state reflect relative price stability across local markets.
What the Locals Say
Both 2020 and 2021 were really hard on people in Texas who weren't your ideal buyer. In our local market in Austin, we went a year and a half, two years where you couldn't do an FHA loan to buy a house. That's because there were 25 other offers, and somebody was putting 20% down and waving the appraisal. There were a lot of first-time buyers who really wanted to get their foot into being a homeowner and creating that path to generational wealth for their family, but they literally could not.
The bright spot for me this year and in our current market is that we've had the opportunity to help a bunch of people who are first-time buyers, who are using downpayment assistance to get their first house, who are first in their family to be homeowners. They're getting into houses and they're going to wind up with a bunch of free equity in a year when these rates come down.
People want three things when they buy a house: They want to be able to get the house that they want, they want to get a good deal on it in terms of the sales price, and they also want to have a good rate. And the only way they're going to get that is if they buy now. If they wait until the rates come down, they're going to overpay for the house. If they buy now, they can actually shop to find the house they want and get a good deal on it. When the rates come down, they can refinance, and that gives them the trifecta. That's really the only way to get all three of those things in our market right now.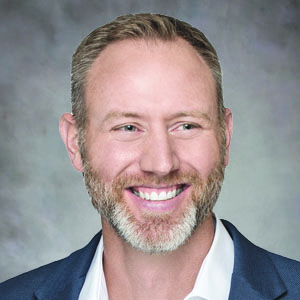 3 Cities to Watch
McKinney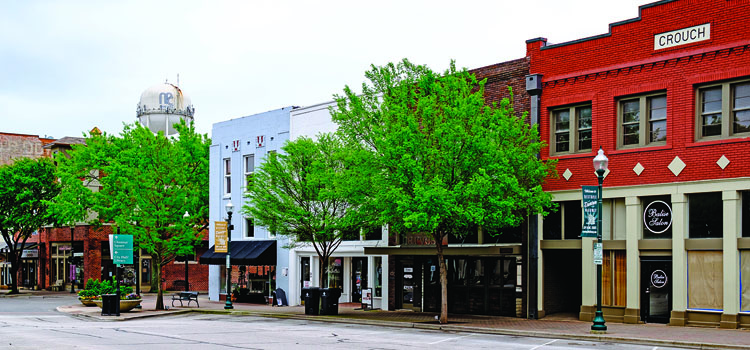 Named as the best housing market in America by WalletHub, McKinney balances affordability and good economic conditions. An affluent suburb about 30 miles north of Dallas, McKinney is home to more than 200,000 people. It was recently named the 12th-richest city in the nation, with a median household income of $100,775, low unemployment and a low poverty rate. McKinney is known for its charming downtown area that includes the preserved late 19th-century Chestnut Square Historic Village.
Georgetown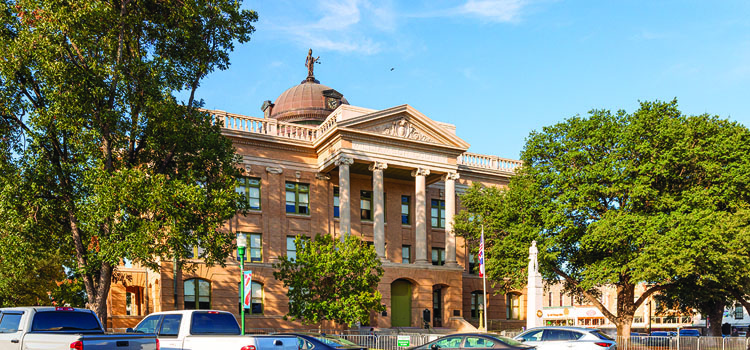 Situated about 30 miles north of Austin, Georgetown is the fastest-growing city in America for two years running. The city's population growth rate was 14.4% for the year ending in July 2022, equating to nearly 11,000 new residents. Georgetown's largest employer is aerospace and defense manufacturer AirBorn Inc., while tech giants Dell, eBay, PayPal, Apple and more have a local presence. In August, the median home listing price in Georgetown was $499,900, down nearly 5% year over year.
San Antonio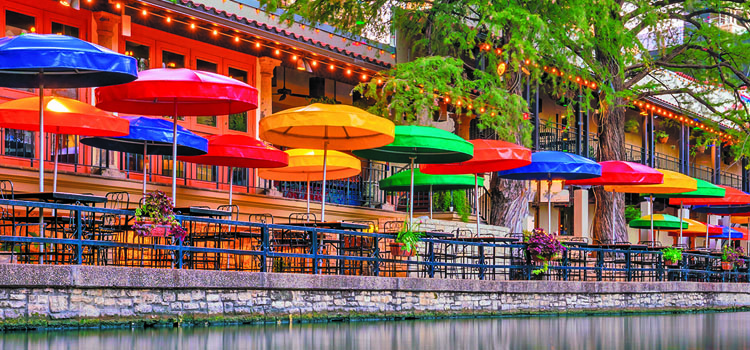 Home to the Alamo, the River Walk and the Tower of the Americas, San Antonio is one of the premier tourist destinations in Texas, welcoming nearly 35 million visitors in 2022. About 140,000 area residents work in tourism and hospitality, and last year's tourist counts and total payrolls for hospitality workers exceeded pre-pandemic levels. Other major local employers include Joint Base San Antonio, USAA, Toyota and UT Health San Antonio. The city's median list price in August was $309,500, down 3% year over year.
Sources: ARC Relocation, Austin American-Statesman, CultureMap Fort Worth, Federal Reserve Bank of Dallas, Georgetown Economic Development, Greater San Antonio Regional Economic Partnership, KSAT-TV, National Association of Realtors, Site Selection Magazine, SmartAsset, Southern Living, Texas A&M University, Texas Realtors, WalletHub