Rich history and culture, emerging technology, powerful finance firms, major industrial and trade hubs — the Mid-Atlantic Region has it all. The states of Delaware, New Jersey, New York and Pennsylvania form what may be the nation's most powerful economic hotbed. Although a tough economy and difficult real estate market have left their marks, many of the cities in this region shine brightly through the gloom.
Economic recovery from the COVID-19 pandemic is mixed, but all four states saw yearly gross domestic product (GDP) growth of 1% or more in first-quarter 2023. The highest GDP growth was recorded in Pennsylvania (1.9%), nearly on pace with the national growth of 2%. Growth in the Mid-Atlantic states was mostly in line with their Northeast neighbors.
Using 12 economic indicators to measure inclusive growth, the Brookings Institution's Metro Monitor 2023 report tells a story of a region tested during the pandemic. Notably, extra-large metros in the Mid-Atlantic appear to have struggled the most, while many large and midsized metros showed remarkable improvement.
The report measures a broad range of growth indicators, including GDP and jobs; wages and productivity; poverty rates; and racial income and employment gaps. The largest metros in the Mid-Atlantic Region, including New York City, Pittsburgh, Philadelphia, Buffalo and Rochester, landed in the bottom half of all U.S. metros analyzed for post-pandemic inclusive growth.
But the region's smaller cities thrived, welcoming growth and narrowing inclusivity gaps. New York's capital, Albany, ranked No. 44 prior to the pandemic and jumped to No. 23 among the 192 metros studied. In Pennsylvania, two metros jumped from the bottom half of the rankings to the top: Allentown (up 62 spots to No. 52) and Harrisburg (up 51 spots to No. 66). Other Mid-Atlantic metros saw similar improvement, including Syracuse and Utica (New York), Trenton (New Jersey) and York-Hanover (Pennsylvania).
Although many larger Mid-Atlantic cities took an economic hit, recovery is still in progress. And even though some commercial real estate sectors are struggling in 2023 — especially the office market — other sectors are getting healthier, deals are still happening and new developments are breaking ground. Tourism figures have surpassed or approached pre-COVID levels in New York, Philadelphia and Pittsburgh, boosting retail demand.
In NYC, developers are reinvigorated and The New York Times reported a "wave of new development" in the boroughs outside of Manhattan. Some 56,000 rental units are expected to be delivered from 2022 to 2025 in Brooklyn alone, fueled by an affordable housing tax subsidy. Developer Silverstein Properties announced a "shovel-ready" double-skyscraper project this past summer that will house 100 affordable apartments, a casino, performance hall and massive luxury hotel. And in August 2023, NYC Mayor Eric Adams rolled out a plan to convert empty office space into as many as 20,000 new housing units. ●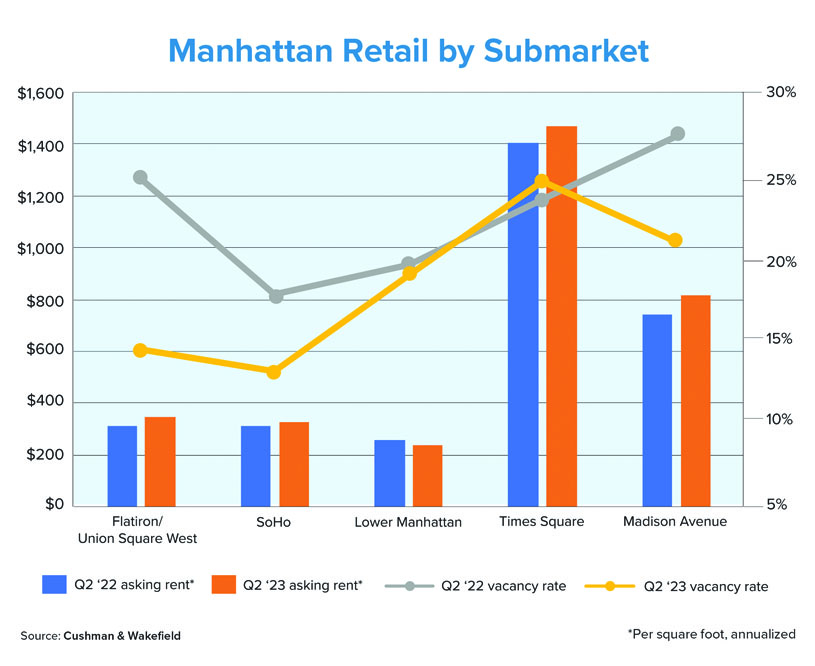 Manhattan is on track to welcome 63.3 million tourists this year and the summer tourism season boosted the retail market significantly. Foot traffic increased, subway ridership surpassed 4 million daily riders and Broadway show attendance returned to 87% of pre-pandemic levels. More than 20,000 new hospitality jobs were filled this past May. With people flooding the city and a lot of space discounted, retailers are snapping up new locations and expanding.
According to a second-quarter 2023 retail report from Cushman & Wakefield, available retail space declined or stayed steady in nine of 11 Manhattan submarkets. In the SoHo, Madison Avenue and Third Avenue submarkets, available storefront space hit historic lows. Retailers signed 20 new leases in SoHo during the quarter and the vacancy rate fell to 13.4%, its lowest point since 2014.
Manhattan retail asking rents have stabilized since their trough in second-half 2021. While still lower than 2019 levels, prices climbed 2.2% year over year in Q2 2023. Demand from luxury and apparel brands remained strong, especially in the Madison Avenue submarket. Most discounted space there had been leased by midyear, Cushman & Wakefield reported, driving rents up 9.4% year over year to an annualized rate of $813 per square foot.
What the Locals Say
The New York market is always going to be the pinnacle of U.S. real estate. Everybody wants to be in New York. Everybody wants to own prime properties in New York. Buyers will always be attracted here. The question is, can they afford it?
The sellers think that because it's New York, or it's the tri-state area, they should demand a premium for their properties. And in this market, if you can't finance it with a reasonable deal, it doesn't make sense. If properties were more reasonably priced, given today's conditions, there would be more activity. Banks are pulling back, and we're seeing more people having to resort to private loans and bridge lenders to bridge that gap until the banks want to get back in the business.
Sellers are still selling properties at what they think are reasonable cap rates, which probably aren't, given financing conditions. That's suppressing deal values. I have customers calling me and trying to buy a property at a 4.5% cap rate when rates are 6.5%, and they don't understand why the property doesn't have cash flow.
We're seeing a lot of activity moving out of the primary urban markets into more tertiary markets to get better deals. We have a lot of people now who are moving further upstate, where it's more rural, or into other areas just to get out of the competitive New York market. Whether it's upstate or into less-populated areas in Connecticut or New Jersey, we see people expanding a bit because they're not finding the prices they want in the urban areas.
3 Cities to Watch
Buffalo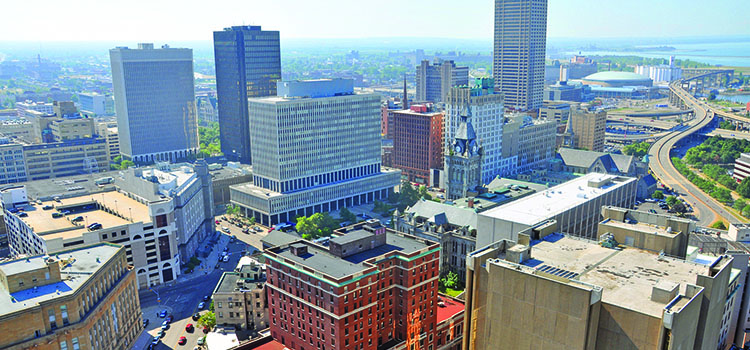 Just 20 miles south of Niagara Falls, Buffalo (276,000 residents) supports a metro-area population of more than 1.1 million. During the Gilded Age, Buffalo was one of the largest cities in the nation and had the most millionaires per capita of any U.S. city, due to massive industrial growth. The city is now a major trade center for Canadian imports and exports. M&T Bank, Kaleida Health, Tops Markets and aerospace firm Moog Inc. are headquartered in Buffalo.
Philadelphia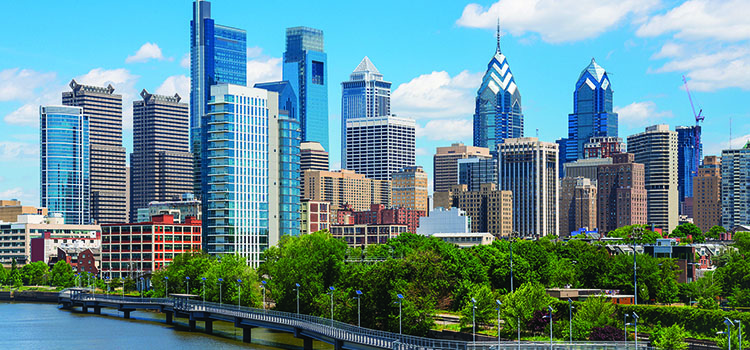 Besides cheesesteaks and cream cheese, Pennsylvania's largest city might be best known for its deep history and involvement in the American Revolution. Philly is now a center of financial services, technology, advanced manufacturing and life sciences. Greater Philadelphia (6.2 million people) generates more than $450 billion per year in gross regional product. Many large corporations call Philadelphia home, including Comcast, DuPont, Aramark and Campbell Soup.
Trenton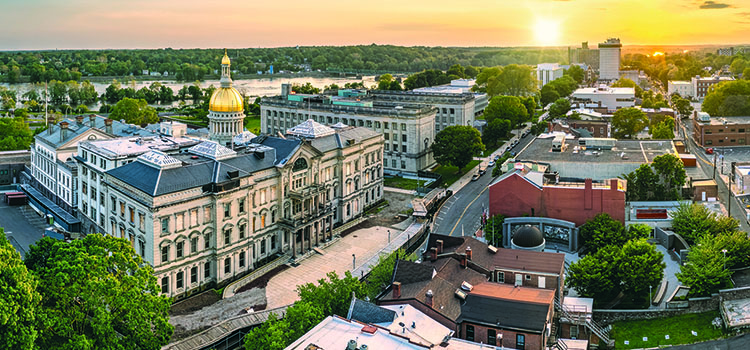 New Jersey's capital city sits on the border with Pennsylvania, along the Delaware River, and is home to nearly 90,000 people. Once famous for its rubber, ceramics, iron and steel industries, Trenton is now a center for government, logistics and manufacturing. Several projects are underway there, including a $73 million mixed-use redevelopment of the historic Van Sciver Building, which will bring 120 apartment units and 7,500 square feet of retail space.
Sources: Britannica.com, Brookings Institution, CBS Philadelphia, Cushman & Wakefield, Invest Buffalo Niagara, Mercer County (N.J.), Pittsburgh Magazine, Select Greater Philadelphia, Spectrum News 1, The New York Times, TrentonDaily