As the most populous state with some 39 million residents, it only stands to reason that California also has the largest military population in the nation. According to Department of Defense statistics, the Golden State had more than 279,000 people employed in active-duty, reserve and civilian jobs across all branches of the military as of June 2022 — or about 10% of the nation's domestically deployed personnel.
California is home to 41 military bases. The largest of these is Camp Pendleton, a Marine Corps base with a working population of 70,000. San Diego is one of the largest military hubs in the U.S. and relies heavily on defense spending, which accounts for
$55 billion per year in local economic impact
and supports 349,000 jobs. And the naval fighter pilots from Miramar in northern San Diego have been glamorized over the years by Hollywood via the "Top Gun" movie franchise.
The military is one key ingredient in a California economy that is the nation's largest, with a 2021 gross domestic product (GDP) of $3.4 trillion. Bloomberg reported last year that California is set to overtake Germany as the world's fourth-largest economy by GDP, if the Golden State was its own country. These gains are largely occurring at the top end of the corporate ladder as California has 379 companies valued at $1 billion or more, compared to 155 German firms.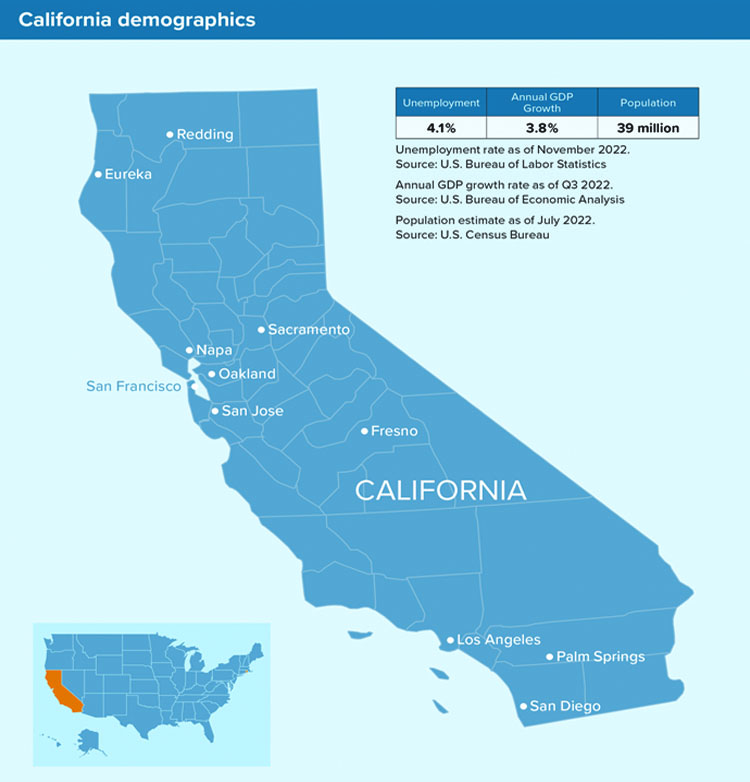 The state's population shrank for a second consecutive year in 2021, although the net loss of 117,000 residents was notably smaller than the one in 2020. International immigration has slowed to a 40-year low point in the wake of the COVID-19 pandemic, but California also is losing residents to other states at a rate not seen in 30 years.
October 2022 labor statistics show that California's construction industry employs nearly 920,000 people, which exceeds the pre-pandemic level by 10,000 jobs. But the state is building new homes at a relatively slow pace. Gov. Gavin Newsom pledged in 2017 to build 3.5 million new units by 2025 before
more recently reducing this target to 2.5 million units by 2030
.
Among the state's ongoing megaprojects is the nation's first bullet train that would connect San Francisco to Los Angeles. Political battles have slowed the high-speed rail project to a crawl, with the initial price tag of $33 billion rising last year to an estimated $113 billion and the first leg of the rail line unlikely to open in 2030 as scheduled.
Capital continues to flow into new office developments despite tech industry layoffs that are hampering occupancy rates. The $1 billion Richards Boulevard Office Complex in downtown Sacramento will house 5,000 state employees when completed in 2024.
Related Santa Clara is an $8 billion multiphase project
set to break ground in 2023, turning a former Silicon Valley golf course and landfill into 5.7 million square feet of office space, 1,600 residential units and 700 hotel rooms spread across 240 acres. ●
With more than 161 million square feet of space as of third-quarter 2022, Los Angeles ranked No. 6 among all U.S. metros for the sheer size of its retail real estate market, according to Cushman & Wakefield. But the L.A. market is growing slowly compared to others, with about 60,000 square feet added during the first nine months of last year and another 167,000 square feet under construction at the end of September.
Retail space in the City of Angels is about 50% more expensive than the national average, Cushman & Wakefield reported. The average asking rent in L.A. stood at $33.02 per square foot in Q3 2022. Demand is high as tenants absorbed 556,000 square feet of space during the quarter, pushing the market vacancy rate down to 5.6% (30 basis points below the national average).
Despite increased lending costs and more stringent underwriting, Marcus & Millichap reported a 24% increase in L.A. retail asset sales for the year ending in Q3 2022. Strong housing demand in the San Fernando and San Gabriel submarkets were fueling competition for strip and neighborhood retail centers, which were frequently trading at capitalization rates of 4.5% to 6%.
What the Locals Say
Wildfires are a very real risk here. Partly, it has to do with the way the national forests were maintained. But much of it has to do with the way the cities were allowed to grow, and third, how the California Department of Insurance manages insurance companies and rate setting. All three of these things have more or less created a perfect storm.
The insurance pricing structure doesn't reflect the risk and we've lost two very big insurers, Chubb and AIG. Geico is making noises and is in the throes of leaving. There have been a lot of insurance cancellations for both residential and commercial real estate.
Wineries in Napa are unable to get insurance
. Their only option, it seems, is the California FAIR Plan, which was never designed to be permanent insurance. It's designed to be a temporary stopgap, yet it's growing faster than any other source of insurance.
What's at risk is the mortgage market. All of the debt that's used to acquire real estate, these companies are really rethinking this. If they can't get the collateral insured, either they're not going to offer mortgages or the pricing of mortgages is going to change. This is a story that's in the process of being told. On the regulatory side, on the homeowners' side, on the industrial side, we all need to sit down and think about this more carefully, then harness the intellectual capital side to figure out what we're going to do about it.
Nancy E. Wallace

Co-chair
Fisher Center for Real Estate and Urban Economics
University of California at Berkeley
3 Cities to Watch

Anaheim
This city of 345,000 residents is home to the world-famous Disneyland theme park, which is Orange County's largest employer with roughly 32,000 jobs. The first Carl's Jr. restaurant opened in Anaheim in 1945. The Los Angeles Angels baseball team and the Anaheim Ducks hockey team are based in the city. Orange County is an industrial real estate hub with inventory of 130 million square feet, and obsolete office buildings there are being redeveloped into warehouses, Avison Young reported.
Bakersfield
Located two hours north of downtown Los Angeles, Bakersfield became known as the "Country Music Capital of the West Coast" after Buck Owens and Merle Haggard earned prominence at the local honky-tonks. With a metro-area population of more than 900,000, Bakersfield had a poverty rate in 2021 that was about 50% higher than California as a whole. But the median home price of $282,000 was about 60% lower than the rest of the state at that time, census figures show.
San Francisco

Many of the largest U.S. cities suffered during the height of the COVID-19 outbreak, but none more than San Francisco,
which lost 55,000 residents (or 6% of its population)
from July 2020 to June 2021. Young adults under the age of 35 accounted for the bulk of this migration. Although the exodus appears to be waning, local tourism officials project visitor spending won't return to pre-pandemic levels until 2025. Hotel occupancy in the city was expected to rise 67% year over year in 2022.
Sources: Avison Young, Bloomberg, California Department of Insurance, California FAIR Plan Association, CalMatters, CBS News, Cushman & Wakefield, KRON-TV, Marcus & Millichap, Public Policy Institute of California, San Diego Military Advisory Council, San Francisco Chronicle, San Jose Spotlight, State of California, The New York Times, The Orange County Register, The Sacramento Bee, The San Francisco Standard, The Soldiers Project, The Wall Street Journal, U.S. Department of Defense, U.S. Marine Corps, Visit Bakersfield