The Great Plains Region is the agricultural center of the U.S. With grasslands and rolling plains that stretch for thousands of square miles, the region is comprised of the states of Iowa, Kansas, Missouri, Nebraska, North Dakota, South Dakota and Oklahoma.
The region produces much of the nation's corn, wheat, soy beans and other commodities, but it also is notable for emerging industries outside of agriculture. These states generally have diversified economies with advanced manufacturing that rivals other regions of the country. And as with all parts of the country, the Great Plains suffered mightily when the COVID-19 pandemic emerged in March of last year.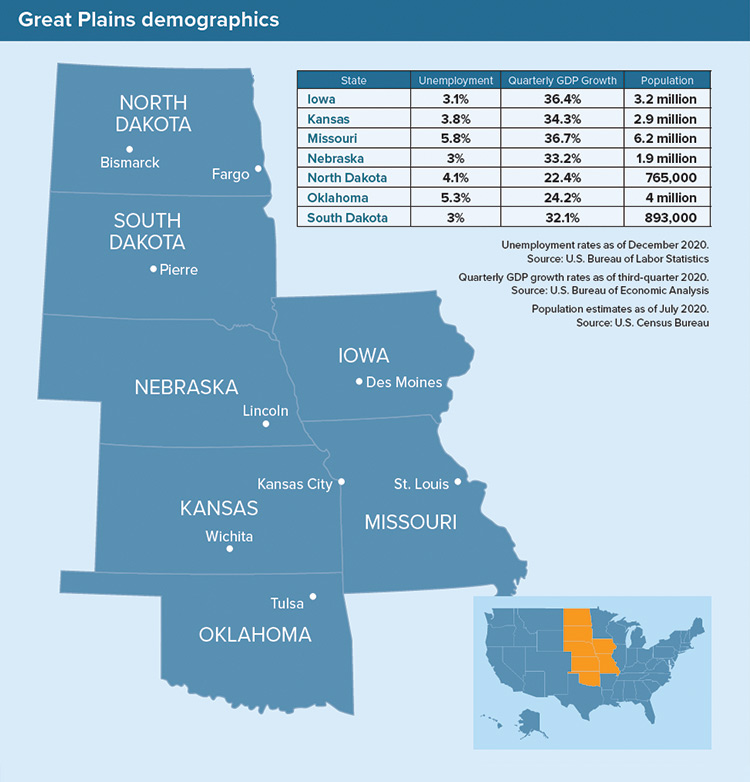 By November 2020, however, unemployment rates in several of these states were approaching pre-pandemic levels. And gross domestic product (GDP) growth in third-quarter 2020 also rebounded sharply from the steep declines of the second quarter.
The December unemployment rate ranged from 3% in Nebraska to 5.3% in Oklahoma. At that time, Nebraska was tied for the lowest rate in the country. Generally speaking, the growth rate in the Great Plains Region has been slow and steady over the past several decades, but there have been occasional population spikes during oil booms in North Dakota and Oklahoma.
Missouri has the largest economy in this region with a GDP of $328.4 billion in 2019, ranking 22nd among all states. The largest cities in this region are St. Louis and Kansas City with metro-area populations of 2.8 million and 2.2 million, respectively. Other significant Great Plains cities include Des Moines, Iowa Wichita, Kansas Omaha, Nebraska Oklahoma City; and Tulsa, Oklahoma.
Given its central geography, the Great Plains is a natural magnet for transportation and distribution companies. The Midwest also is a hub for the insurance industry, led by such companies as Mutual of Omaha in Nebraska, Centene in Missouri and Principal Financial Group in Iowa.
Oklahoma and North Dakota are leading oil-producing states. In Oklahoma, NGL Energy Partners, Oneok and Chesapeake Energy are major employers. Meanwhile, several drilling companies are active in western North Dakota, using hydraulic fracturing to extract oil and gas from the Bakken shale and underlying Three Forks formation.
Kansas is home to numerous food and beverage companies, such Frito-Lay and Tyson Foods, as well chemical- and petroleum-refinery giant Koch Industries. Nebraska is home base for the Union Pacific Railway.
South Dakota has the smallest economy in the Great Plains Region with a GDP of $54.9 billion in 2019, ranking 46th nationally. The state remains dependent on agriculture and tourism, drawing millions of visitors each year to sites such as Mount Rushmore National Memorial and Badlands National Park. ●
The Tulsa office market was suffering in the wake of the COVID-19 pandemic. According to Cushman & Wakefield, leasing activity slowed considerably last year. In fourth-quarter 2020, net absorption was in negative territory for the fourth straight quarter with a loss of some 42,000 square feet, while the vacancy rate increased year over year by 2.1 percentage points to 12.2%. Overall asking rents were at $15.96 per square foot, which was up 32 cents year over year.
Through the first eight months of last year, Cushman & Wakefield reported, Tulsa had 527,000 square feet of office-leasing activity, which was well short of the 2.1 million square feet leased in 2019. Even before the pandemic struck a year ago, however, the Tulsa market was experiencing some turbulence. The vacancy rate increased significantly over the prior three years and rents grew at a slow pace.
Focus: Aerospace
Aerospace is a major industry in the Great Plains Region. Kansas was an early center of aviation. It generates $2.25 billion in annual aerospace exports and has the third-largest concentration of aviation workers in the U.S., according to the Kansas Department of Commerce.
In Missouri, Boeing's defense, space and security division employs more than 16,000 people in the St. Louis area by manufacturing the F/A-18, F-15, and other planes and composite materials. Statewide, Missouri is home to 100 aerospace manufacturing companies.
Meanwhile, Oklahoma has the nation's largest Department of Defense air depot and commercial-airline maintenance facility. An estimated 120,000 Oklahomans are employed in the aerospace and defense industries. In Cedar Rapids, Iowa, the aerospace contractor BAE Systems is building a new 278,000-square-foot factory and research center.
What the locals say
"Oklahoma City is one of those places where if you were to say, 'Does anything matter more than oil and the energy sector?' the answer is, 'Of course not.' But that being said, we've seen a tremendous amount of diversification in the economy over the last 20 years with aeronautical tech, bio sciences, health care. It is a much more stable employment base and that is going to really assist Oklahoma City in stabilizing their economy much quicker post-pandemic. They've been put through similar circumstances before, like the [Great Recession], but that diversification in the economy is really critical to a location's ability to bounce back."

Dennis Cisterna

Co-founder and chief investment officer,
Sentinel Net Lease
3 Cities to Watch
Lincoln
Lincoln is the state capital and second-largest city in Nebraska with a population of 291,000. Founded as the township of Lancaster in 1856, it was renamed after the 16th president in 1869. The city is home to the University of Nebraska, as well as several other higher-learning institutions, including Bryan College of Health Sciences, Nebraska Wesleyan University, Southeast Community College and Union College. Lincoln also is the headquarters of Nelnet, one of the largest federal student-loan servicers in the U.S.
Wichita
Wichita is the largest city in Kansas with a 2020 population of about 390,000. Its largest employer is the Boeing supplier Spirit AeroSystems, which was hurt badly by the dual blow of Boeing's grounding of the 737 Max and the COVID-19 travel bans. In January 2020, Spirit AeroSystems laid off 2,800 employees in the wake of Boeing's struggles. Business leaders have been discussing how to diversify the economy beyond aviation to reduce the impact of future downturns in the industry.
Fargo
Fargo has a population of some 125,000 and is the largest city in North Dakota. It is home to North Dakota State University and also is a regional health care hub. In 2017, Sanford Health built an 11-story hospital in Fargo. In the wake of the COVID-19 crisis, many analysts expected Fargo to recover more quickly than other areas of the state and predicted that unemployment would reach near-normal levels by mid-2021.
Sources: Britannica.com; CollegeSimply; Cushman & Wakefield; Encyclopedia.com; Forbes; Institute for Energy Research; Kansas Department of Commerce; MinnPost; Missouri Partnership; Oklahoma Department of Commerce; The Wichita Eagle; Trading Economics; U.S. Bureau of Economic Analysis; U.S. Bureau of Labor Statistics; U.S. Census Bureau; U.S. Department of Labor; WorldAtlas.com; WorldCapitalCities.com; World Population Review