After a surprising February rebound, U.S. existing home sales edged downward in March, falling 2.4% month over month to a seasonally adjusted annual rate of 4.44 million units, according to the National Association of Realtors (NAR).
Single-family sales were down 2.7%, a stark reversal from the 14.2% sales jump in February. Sales of condominiums and co-ops were unchanged from the month prior. Total sales remain depressed on a year-over-year basis, falling 22% from March 2022.
Higher financing costs appear to have precipitated the sales drop, as average interest rates rose as high as 6.8% early last month. Banking instability caused rates to start trending downward again as March wore on, fueling a late surge in origination activity, but evidently it wasn't enough to stem the sales decrease.
Low inventory also continues to be a persistent bogeyman for real estate sales, with only modest improvement in for-sale supply as the market enters the traditional spring purchase season. Total inventory inched upward by 980,000 units in March, a monthly increase of 1%. At the current sales pace, there are 2.6 months of supply, flat growth from the prior month and up from 2.0 months one year ago.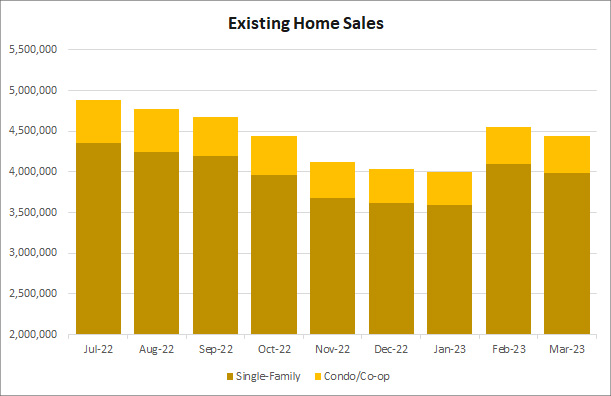 It's created a strange environment in residential real estate, said Lawrence Yun, NAR's chief economist.
"Home sales are trying to recover and are highly sensitive to changes in mortgage rates," Yun said. "Yet at the same time, multiple offers on starter homes are quite common, implying more supply is needed to fully satisfy demand. It's a unique housing market."
The home price situation remains similarly muddled, with Yun noting that prices are still rising in areas where housing is affordable and jobs are being added. But in the more expensive areas of the country, including several major cities, prices are dwindling. The median existing home price was $375,700 in March, down 0.9% year over year.
Homes sold in March stayed on the market for 29 days, down from 34 days in February but up from 17 days a year ago. Sixty-five percent of homes stayed on the market for less than a month.
Despite the backtrack from February and more uncertainty in the near term, Yun still expects a gradual recovery as the year progresses.
"With overall consumer price inflation calming and rents expected to decelerate from robust apartment construction, the Federal Reserve's monetary policy will surely shift from tightening to neutral to possibly loosening over the next 12 months," he said. "Therefore, home sales will steadily rebound despite several months of fluctuations."