Mortgage professionals who qualified for Scotsman Guide's Top Originators rankings have a mixed outlook on the next six months, according to the newest results from Scotsman Guide's Mortgage Originator Sentiment Survey (MOSS).
Second-half 2023 MOSS data shows that a comparable share of Top Originators (9% in H2 2023, compared to 7% in H1) believe that their business will worsen in the next six months. But at 45%, the second half's share of originators who expect their business to perform better is far smaller than it was before the first half of the year (64%).
Meanwhile, the share of originators who believe business will stay the same grew from 29% in the first half of the year to 45% in the second half.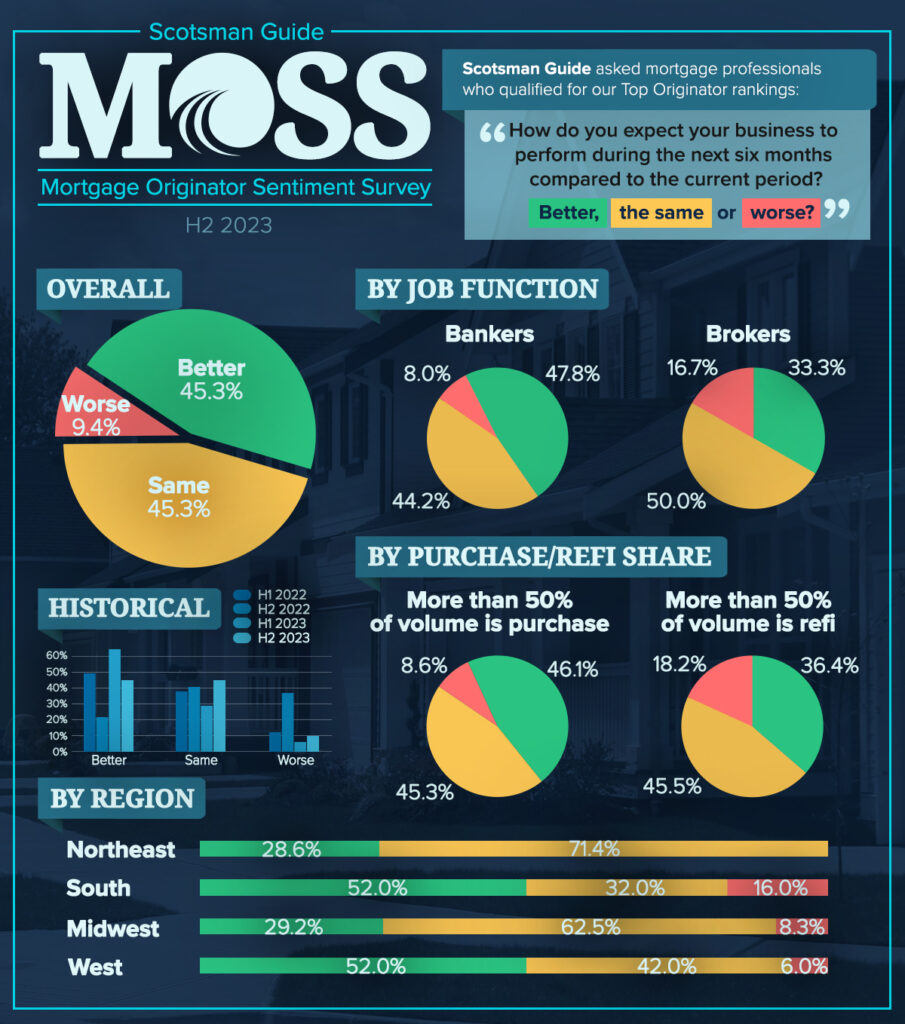 "Top Originators are taking a measured tone in projecting the second half of the year," said Jeffrey Sabourin, chief product officer for Scotsman Guide. "Negativity remains low, but after a first half of the year that saw elevated interest rates make a huge impact on sales, it seems that many mortgage professionals aren't putting the cart before the horse when it comes to predicting improvement."
Uncertainty regarding federal interest rate policy may have played a part in coloring originators' perceptions. The second-half data was derived from a poll performed from July 1-31, right as the mortgage industry was keenly watching for whether the Federal Reserve would extend June's pause on rate hikes or resume increasing its benchmark rate. The Fed, of course, ended up enacting a 25-basis-point increase in July.
"Interest rates are so top-of-mind for Top Originators lately, and for good reason," Sabourin said. "Some of our respondents may have been hedging their bets in case the Fed did raise rates, while optimism among some later poll participants may have been dampened by the reintroduction of rate increases."
A recent, separate Scotsman Guide poll found that a majority of mortgage originators currently view high interest rates as the chief barrier for sales activity. Fifty-one percent of participants in that poll said that rates are the biggest thing holding back homebuyers, more than twice the second-place answer (lack of supply) and more than all other answers combined.
Interestingly, while brokers have been historically more positive than bankers since the beginning of the MOSS series, that trend was reversed in the most recent MOSS survey. Forty-eight percent of bankers expect business improvement in the next six months, while just 33% of brokers see business picking up. On the flipside, some 17% of brokers think business will get worse, compared to just 8% of mortgage bankers.