Bechtel
Red Oak Capital Group has announced that Gary Bechtel has joined the firm as chief executive officer. Bechtel previously served as President of Money360, where he was responsible for developing and executing its expansion strategy. Prior to joining Money360, Bechtel was chief lending/originations officer for CU Business Partners. Bechtel has originated, underwritten, structured, placed, and closed over $10 billion in commercial debt transactions during his career.
Kramen
Bill Kramen has been named vice president of mortgage lending at Guaranteed Rate Affinity. Previously a branch manager for On Q Financial, Kramen, who is based out of Wilmington, Delaware, joins the company with nearly 20 years of mortgage industry experience. He has also held leadership roles at Wells Fargo, Mortgage America and Movement Mortgage. He earned a bachelor of arts from the University of Delaware.
Booth
Notarize has announced that it has added Nicole Booth as executive vice president of public affairs. Booth has more than 15 years of public affairs experience, including her most recent work over nearly a decade at Quicken Loans as vice president of public policy. She began her career as a legislative aide for former Ways and Means committee Chairman Dave Camp, R-Michigan, and held a government affairs position at K&L Gates law firm. She holds an MA in legislative affairs from The George Washington University and a BA in public relations from Central Michigan University.
Got a new hire or promotion? Share it with Scotsman Guide readers
here
!
Wilberton
Radius Financial Group has announced that Michael Wilberton is joining the company as its new chief financial officer. Wilberton has more than 20 years of financial management experience, including various positions at Harbor One Bank, Santander Holdings, WG Financial LP, Credit Renaissance Partners, Descap/First Albany Securities and Citizens Financial Group. He received his bachelor of arts in mathematics from Marist College and his master's degree in finance from Brandeis University.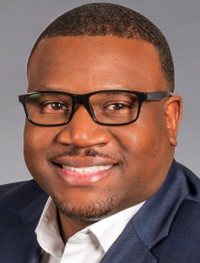 Hayward
Ciarrocchi
Merchants Capital has announced the hiring of Dewayne Hayward as vice president of Federal Housing Association (FHA) asset management and Mark Ciarrocchi as senior vice president of investor accounting. Hayward, who in his new role will head Merchants' private label subservicing team, previously served as team lead of FHA asset management at ORIX Real Estate Capital. Hayward has also held leadership roles at Capital One Multifamily Finance and Prudential Financial, and became a licensed real estate agent in 2020 serving Berkshire Hathaway Home Services. Ciarrocchi, who will lead investor reporting and the servicing department's account reconciliations, joins Merchants from Freddie Mac, where he served as manager of multifamily asset management and loan servicing for over eight years. Ciarrocchi also worked in investor reporting at CWCapital Asset Management and Wells Fargo Bank.
Skates
Equity Prime Mortgage (EPM) has announced the promotion of Eric Skates to chief marketing officer. Skates joined EPM in February of 2015 as director of marketing and was promoted to chief of staff in 2018.
Vislocky
AmeriNat has announced the hiring of Barry Vislocky as director of default management, based in its Downey, California, office. Vislocky has more than 23 years of industry experience, most recently as vice president of collections at NuVision Federal Credit Union. Earlier in his career, he held positions with Gila, United Heritage Credit Union and Public Employees Credit Union. He holds an associate degree in business administration management from Clinton College.
Homespire Mortgage has expanded its Northeast regional operations with the addition of Dan Sheehan as branch manager for the East Wareham, Massachusetts, office. Sheehan brings over 25 years of experience as a mortgage professional to Homespire. Previously, he served as branch manager for Luxury Mortgage. In addition, Sheehan's longtime processor, Taryn LaPrade, has also joined the Homespire team.