The world changed dramatically in 2020 as the COVID-19 pandemic swept across the globe and impacted many aspects of life. Customer foot traffic slowed to a trickle, causing businesses to struggle and some to close permanently. Schools shuttered and moved their educational models online.
Because of the virus, everyday activities once taken for granted — eating out, going to the movies or simply spending time with loved ones — became not so ordinary. As of February 2021, more than 500,000 American lives have been lost to the pandemic.
At the start of the health crisis, the mortgage industry was much like the rest of the world facing an uncertain future. No one knew how lockdown measures would ultimately affect homebuying activities. Consequently, lenders and originators were skeptical about staying profitable or even keeping the lights on. A year later, however, it's clear that residential mortgage companies of all shapes and sizes are doing better than ever. Not only are they doing record amounts of business, they're helping a large swath of people by providing homeownership opportunities and loan refinancings to save precious cash in stressful economic times.
This work is reflected in Scotsman Guide's 12th annual Top Originators rankings, the traditional focal point of our April residential magazine. There's a number of astounding accomplishments to mention, but the folks at the front of our Top Dollar Volume list are truly turning heads.
In 2019, the list came close to having its first $1 billion producer. In 2020, not just one but six originators shattered this mark. Thuan Nguyen, a San Jose-based broker for Loan Factory Inc., closed a shade more than $2 billion in loans for first place in the 2021 Top Dollar Volume rankings.
Familiar names from past rankings who also cleared the $1 billion hurdle are Shant Banosian and Ben Cohen of Guaranteed Rate, Chris Gallo of NJ Lenders Corp. and Mike Roberts of City Creek Mortgage. The sixth billion-dollar originator is Indy Johar of Draper and Kramer Mortgage Corp., who quadrupled his volume to catapult himself from 27th place in the 2020 rankings to fifth in 2021.
Scotsman Guide's rankings are one of a kind — the only ones in the mortgage industry verified by an originator's annual production reports. The magazine prints only the top 500 producers, but there were 14,791 individual entries for Top Originators 2021, a 226% increase over the past two years. In that time, the aggregate loan volume for these submissions has skyrocketed some 440% to $782.2 billion.
Scotsman Guide is taking a different approach with the 2021 rankings, which are based on 2020 production reports: Magazine subscribers will see them spread out over the course of this year. In the April edition, alongside the Top Dollar Volume list, you'll find our inaugural Top Non-QM rankings. Many people utilize Scotsman Guide's vast resources for nonqualified mortgages and these products are growing in stature as originators seek to help an expanding array of outside-the-box borrowers. View the top 75 non-QM producers, led by California-based Mark Howard Cohen at $407.9 million.
Online you will find the Most Loans Closed category. The aggregate number of closed loans among Top Originators entrants topped 2.4 million, a 398% surge from two years earlier. Historically low interest rates and sky-high demand from borrowers are reflected in these rankings. Two years ago, the 150 people ranked on this list each closed at least 372 loans. Last year, there were 1,037 entrants who reached this mark. Sixty-one people closed at least 1,000 loans in 2020, up from seven in 2019.
In the coming months, Scotsman Guide Residential Edition will host its usual feast of rankings content. In May, Top Women Originators returns for a third year. In June, it's the highly popular Top Mortgage Lenders rankings. In July, anyone who entered the Top Originators contest and has served with the U.S. armed forces is automatically eligible for our Top Veteran Originators rankings, which debuted last year.
Specialty rankings such as Top Wholesale Account Executives, Top Mortgage Brokers, Top Purchase Volume, Top Refinance Volume and State Champions will be published over the course of 2021. By the end of this year, the mortgage industry should have a good idea whether the favorable winds are leading to another record period of production. May this be the case for you and your business partners, and without further ado, enjoy the rankings! (NP)
Record year expected for purchase market
Purchase originations are forecast to reach a record high of $1.57 trillion this year, according to the Mortgage Bankers Association (MBA). That's about 8.5% higher than 2020's estimated purchase volume of $1.42 trillion and would surpass the record of $1.51 trillion set in 2005.
A number of factors are playing into the growing purchase market, said Joel Kan, MBA's associate vice president of economic and industry forecasting. Demographics will continue to fuel a rise in purchases for the next several years as the massive millennial generation reaches traditional homebuying ages.
Also, many people who delayed purchasing a home after the onset of the pandemic have now resumed their home search, Kan said. MBA's purchase origination forecast reflects total dollar volumes, but average loan sizes have been increasing, too, from $327,000 in 2019 to $354,000 in 2020. This past January, loan sizes averaged $386,000.
Purchase originations would be even higher this year but are being hampered by a lack of inventory, Kan said. The pandemic has impacted families differently, he noted, as many lower-income households may have been looking to buy but instead have had to delay a purchase for now. (JD)
Expect interest rates in 2021 to increase slowly
Interest rates for 30-year fixed mortgages are expected to gradually increase throughout this year, rising from an expected 2.9% average in the first quarter to 3.4% by fourth-quarter 2021, according to the Mortgage Bankers Association (MBA).
The rise in rates is related to macro- economic reasons, said Joel Kan, MBA's associate vice president of economic and industry forecasting. If the COVID-19 pandemic is contained, more people will be going back to work and spending money on restaurants, travel and other leisure activities. More economic activity means that the cost of goods will go up, and this will put upward pressure on interest rates, Kan said.
Higher interest rates are part of the reason that MBA expects refinances to drop in 2021, Kan said. Homeowners will have less of a reason to refinance.
"I think that's less of a factor for the purchase market," Kan said. Interest rates do play a role in determining whether someone can afford to buy a home, but other factors, such as a move or a change in a domestic situation, also weigh on the decision, he said. (JD)
Home-price growth likely to moderate
Last year was one of tremendous (and unexpected) growth for U.S. home prices. Some forecasts at the start of 2020 anticipated sluggish growth of less than 1%. When the COVID-19 pandemic arrived a few months later, many housing-market experts expected things to get worse.
What ensued, of course, was a homebuying and refinancing frenzy that kept mortgage originators and their referral partners busier than ever. A continued scarcity of for-sale supply combined with unquenchable consumer demand meant prices skyrocketed in many markets. According to the National Association of Realtors, the year-over-year increase in the U.S. median home price was nearly 13%.
Going into 2021, predictions related to home-price growth were more moderate with Realtor.com expecting an annual rise of 5.7% for existing homes. Price growth may plateau somewhat as supply issues are addressed. Homebuilders are likely to increase activity — especially in suburban and rural markets that buyers are shifting toward — and profitably build more homes in lower price tiers. Redfin expects more renters to become homeowners, causing the U.S. homeownership rate to exceed 69% for the first time in 16 years. (NP)
Sales growth expected as supply constraints loosen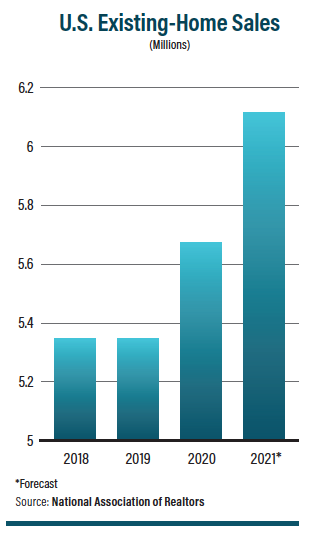 Housing-market experts have reached a general consensus that the dry spell for new-home construction is coming to end. In turn, this should lead to an increase in home sales in 2021 as hungry buyers choose from more inventory.
The National Association of Home Builders forecasts 1.046 million single-family home starts this year, which would mark the first time since 2007 that starts top 1 million. The Mortgage Bankers Association projects this number to continue rising and exceed 1.2 million in 2023.
This supply growth is expected to lead to a 21% increase in new-home sales and a 9% jump in existing-home sales in 2021, according to the National Association of Realtors. Meanwhile, Realtor.com anticipates year-over-year home-sales growth of 7%. The typical fall and winter slowdown was not as severe in 2020, which should create a higher base of activity through the first six months of this year. As COVID-19 vaccines become more widely available, this should boost purchase activity in the second half of 2021, Realtor.com reported. (NP)
Pandemic fails to derail home starts
The U.S. Census Bureau and U.S. Department of Housing and Urban Development jointly estimated that some 1.38 million housing units were started in 2020, an annual gain of 7%. Single-family starts totaled 991,000, up nearly 12% annually.
In many ways, these figures can be seen as a victory, considering the fits that the COVID-19 pandemic gave the residential construction industry. In particular, second-quarter 2020 (shortly after the virus first arrived stateside) had a stark reduction in housing starts, but activity gradually recovered to eclipse pre-pandemic numbers by the end of the year. This past December, the seasonally adjusted annual rate of single-family starts (1.34 million) was at its highest pace since September 2006.
Many markets need every one of these units as inventory continues to hover near record lows. But despite strong market confidence from homebuilders, downside risks dot the landscape. Rising material and land costs were a persistent thorn in the sides of builders throughout the latter half of 2020. The National Association of Home Builders' January 2021 sentiment survey suggested that construction numbers could soften with builders wary of an uncertain regulatory climate. (AA)
Refis set to decline in near future
Last year was a banner year for refinancing across the nation as the exceptionally low mortgage rate environment sent droves of borrowers scurrying to reconfigure the rate structure on their loans.
The most recent estimates from the Mortgage Bankers Association (MBA), released this past February, placed 2020 refinance origination volume at $2.26 trillion. If realized, this would be a whopping 120% improvement over the prior year. The trade group expects this boom to spill over into the first half of 2021 as mortgage rates, while rising, should remain near historic lows.
Moreover, large swaths of the homeowner population remain hungry for a refi. Black Knight reported in January 2021 that some 16.7 million borrowers would likely qualify for a refinance while trimming at least 75 basis points from their existing interest rate. Many months into the refi boom, it appears demand remains high.
All good things must come to an end, however. With average rates creeping their way north to 3% and beyond, the MBA anticipates that refinance originations will start to slow in the second half of this year, with its latest forecast calling for refi volume to retreat to $1.15 trillion in 2021. (AA)
Foreign buyer transactions take a dip
The COVID-19 pandemic has made it more difficult for international buyers to shop for and buy homes in the U.S., the National Association of Realtors (NAR) reported. According to NAR, the share of foreign buyers who purchased second homes in the U.S. represented 0.9% of all second-home purchases in September 2020, down from about 3% only three months earlier.
Before the pandemic struck in March 2020, however, international buyers were already purchasing fewer U.S. homes. In the 12 months through March 2020, foreign buyers spent $74 billion on U.S. existing-home purchases, down 5% from the previous 12-month period, NAR reported. Foreign-based purchases accounted for a 4% share of the $1.7 trillion in existing-home sales during this same period, down from 5% during the prior 12 months.
China led all countries with $11.5 billion in sales volume during this time frame, followed by Canada ($9.5 billion) and Mexico ($5.8 billion). Florida, California and Texas were the top destinations for foreign buyers, according to NAR. (VW)
U.S. homes become less affordable
U.S. home affordability took a hit in 2020 due to two familiar problems: a low inventory of starter homes and rising prices. As of October 2020, however, affordability indices from the National Association of Realtors (NAR) were above 100, meaning that a family of four earning the national median income could afford a median-priced home. According to NAR, the most affordable region was the Midwest and the least affordable region was the West.
At the end of 2020, however, affordability was under pressure from quickly accelerating prices and especially low inventories. U.S. home prices, including distressed sales, were up 9.2% year over year this past December, CoreLogic reported. Buyer demand was surging as a result of near record-low interest rates, but the supply of homes on the market dropped by an average of 24% compared to 2019 levels as homeowners delayed the listing of homes during the COVID-19 pandemic.
CoreLogic also noted that its national home-price index as of November 2020 was 26% higher than the prior peak from 2004 to 2009. Denver and Dallas topped all U.S. metro areas with prices that were 72% and 64% above their previous peaks, respectively. (VW)
Contributors: Arnie Aurellano (AA), Jim Davis (JD), Neil Pierson (NP), Victor Whitman (VW)
Verification: Mike Gagle, Brian Warr