Thinking of the American Midwest conjures images of hardworking, resilient people, from small towns to big cities, across rolling plains dotted with lakes and farmland. All six of the Great Lakes Region states – Illinois, Indiana, Michigan, Minnesota, Ohio and Wisconsin – embody these images with their own twists on Midwest life.
The resilience extends to the commercial real estate market in these states. According to a May 2023 report from RealPage Analytics, slow and steady has won the race in the apartment market. Although multifamily rent growth in the Midwest didn't see the meteoric rise that the Sun Belt did in 2021, it continued to grow in sustainable fashion. And due to moderation across U.S. markets earlier this year, Midwest apartment rents are now growing at a faster rate than Sun Belt and major gateway markets.
Additionally, the economic impacts of commercial real estate across the Great Lakes states are among the highest in the nation. According to a recent report from NAIOP, the Commercial Real Estate Development Association, Ohio ranked No. 3 in the nation last year with $64.4 billion in real estate spending contributions to gross domestic product (GDP).
Across individual asset categories, Ohio ranked No. 9 in warehouses, No. 8 in retail and No. 3 for industrial. In terms of overall contributions, Illinois, Michigan and Indiana also ranked among the top 20 states.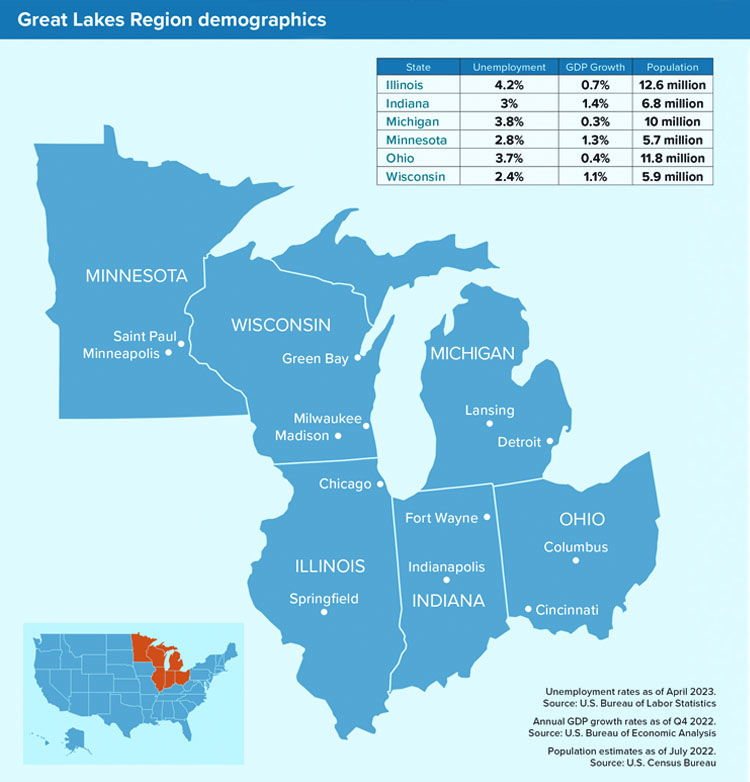 The Great Lakes states are also seeing steady growth across other economic sectors, with each of them recording modestly positive GDP changes in fourth-quarter 2022. Illinois, Michigan and Ohio all clocked in at less than 1% annualized growth during this time frame. Indiana led the region with 1.4% GDP growth, followed by Minnesota (1.3%) and Wisconsin (1.1%).
According to the U.S. Bureau of Economic Analysis, personal income also rose in every Great Lakes state during 2022. Indiana led the charge at 10.9% growth, outpacing the nation's overall growth rate of 7.4%. Illinois and Wisconsin each had 6.1% growth, followed by Minnesota (5.8%), Ohio (5.3%) and Michigan (4.1%).
Some of this income growth may be due to low unemployment levels across the Great Lakes Region. As of this past April, none of these states had a jobless rate higher than 4.2%, with Wisconsin having the region's lowest rate at 2.4%.
Despite an overall positive economic outlook for the region, inflation has impacted the economies of each state. According to the U.S. Bureau of Labor Statistics, the Consumer Price Index for the Midwest region — which includes the six Great Lakes states and six others — rose by 4.9% from April 2022 to April 2023.
The index for all items except food and energy increased by 5.5% while food prices jumped 7.5%. Energy prices, however, declined 4.4% year over year, due in large part to less expensive gasoline prices. ●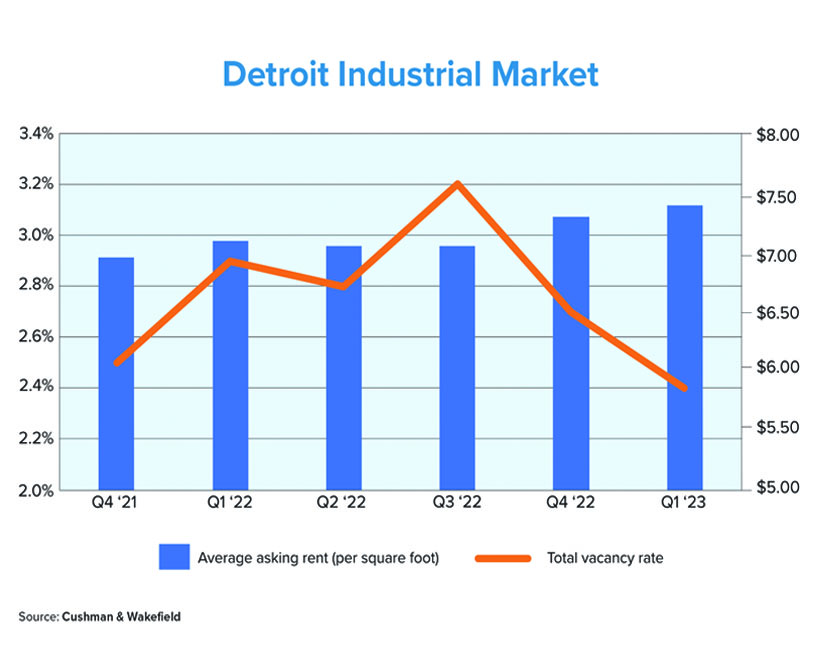 Detroit's industrial real estate market saw strong growth in first-quarter 2023. The overall vacancy rate dropped to 2.4%, near historic lows for the city, according to a report from Cushman & Wakefield. Industrial asking rents increased 4.1% year over year to $7.39 per square foot. The bulk of the demand was in warehouse and distribution space, which accounted for 93% of all new leasing activity during the quarter.
Metro-area Detroit industrial properties recorded positive net absorption for a seventh straight quarter in Q1 2023. The 2.2 million square feet of positive net absorption represented a 36% annualized increase. While only 561,000 square feet of new construction was delivered in the first quarter, another 6.6 million square feet was being built.
This past March, Crestlight Capital and Sabal Investment Holdings paid $93 million for an industrial portfolio near the Detroit Metropolitan Wayne County Airport. And in May, Innovo Development Group announced a successful $125 million recapitalization of the Gateway Industrial Center, a 69-acre complex adjacent to Interstate 96. Other key transactions in Q1 2023 included an $8.4 million sale of a 200,000-square-foot warehouse and distribution center, and a $7 million sale of a 175,000-square-foot manufacturing facility.
What the Locals Say
Multifamily continues to do well in the Midwest. Vacancies are low and rents are increasing, especially in what we'd call affordable housing, such as class B and suburban apartments. Industrial is doing really well, especially in markets that have great transportation corridors, and medical offices are also doing well.
Office is almost impossible to finance these days unless you have existing tenants or banking relationships. Downtown offices are hurting and suburban high-rise offices are still having issues, but low-rise and medical offices are doing OK. Overall, aside from offices, I think the Midwest market has mostly recovered from the pandemic.
Chicago continues to attract interest, with a huge population base and a very strong employment base. Alongside major employers and tech giants, Chicago also offers attractive culture — food and major league sports, chiefly. One of the things that protects the city is its diversity in employment. There are jobs in manufacturing, banking, tech and more, so if one industry falters, the others can step in to help. The biggest development in Chicago right now is Lincoln Yards, which will bring in an enormous amount of people, jobs and companies.
If I had to summarize it, I'd say the Midwest market is slow but steady. There are still opportunities here for the right deal in the right market. Financing hasn't shut down, but it is tougher to get.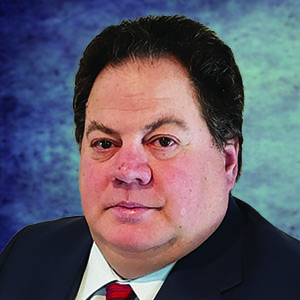 3 Cities to Watch
Minneapolis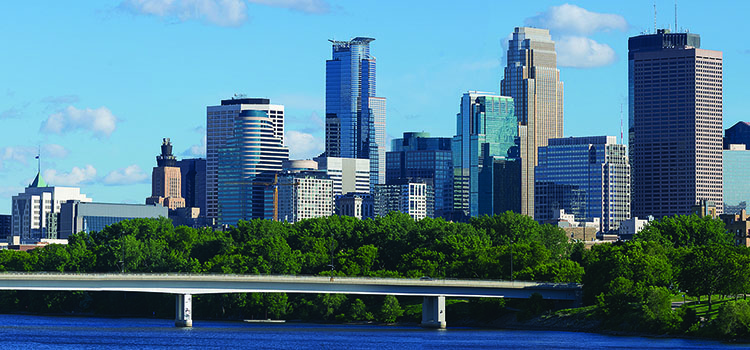 Minnesota's most populous city lies at the center of the Twin Cities metro area. Between Minneapolis and its twin, St. Paul, the metro area is home to 3.7 million people. Minneapolis is a transportation, distribution, industrial and financial hub for the Midwest. It's also well known for its arts and culture scene along with being home to the Mall of America. Several notable companies are headquartered in Minneapolis, including Target, 3M, General Mills, Hormel Foods and Land O'Lakes.
Green Bay
This Wisconsin city was named the No. 1 Best Place to Live by U.S. News & World Report due to its "perfect mix" of big-city amenities and small-town charm. The city of 330,000 people lies on the shores of Lake Michigan and serves as a shipping hub. Its principal industry is papermaking, with seven mills and four paper converters. And it's home to the NFL's Green Bay Packers, the only publicly owned and traded NFL franchise, with 539,000 fans owning a piece of the team.
Indianapolis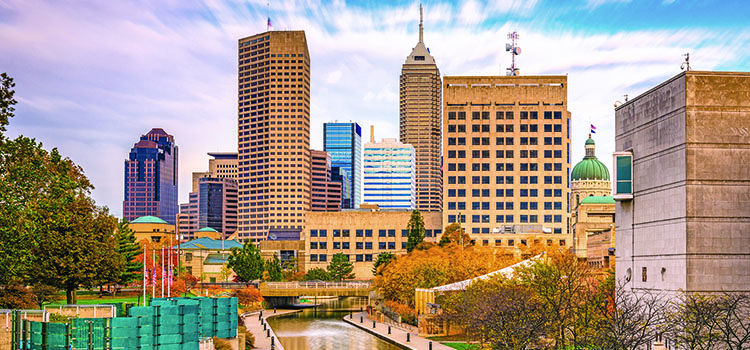 Indiana's capital and most populous city is home to more than 2.1 million people. Its leading industries include advanced manufacturing, logistics, agricultural biosciences, life sciences and energy. Several major companies are headquartered in Indianapolis, including health care giant Anthem, home services website Angi, Eli Lilly and Co., and Steak 'n Shake. Indy is famously home to the world's largest sporting venue, the Indianapolis Motor Speedway, which hosts about 300,000 fans for the Indy 500 each year.
Sources: Britannica.com, Brown County (Wisconsin), Census Reporter, CommercialSearch, Crain's Detroit Business, Cushman & Wakefield, Green Bay Packers, Indeed, Indianapolis Chamber of Commerce, Life in Indy, NAIOP, RealPage Analytics, REBusinessOnline, U.S. News & World Report