In 1867, Gen. Grenville Dodge was scouting a train route through the Rocky Mountains when he discovered what would eventually be the Sherman Hill route for the transcontinental railroad. The future route west of Cheyenne, Wyoming, would mark a major moment for the development of the region and help spur an economic boom throughout the West.
By 1876, the nation's centennial, railroads were already spanning the continent. A trip across the U.S. could be completed safely in a week instead of taking several dangerous months. The national economy began a huge expansion, growing almost tenfold in the last quarter of the 19th century.
Today, the Mountain Region (encompassing the states of Colorado, Idaho, Montana and Wyoming) is back on track and growing fast after pandemic-related financial troubles. A portion of the region's economic power still comes from the high peaks of the Rocky Mountains, which hold coal, oil, gas, gems and precious metals. They also help produce hydroelectricity and wind energy.
The region is enjoying strong economic expansion. Gross domestic product (GDP) rose in each of these four states in first-quarter 2023, led by Montana with an annualized gain of 6%. Montana posted one of the nation's five largest increases in real GDP during the quarter. The state's strong performance in agriculture, forestry, fishing and hunting propelled this growth, according to the U.S. Bureau of Economic Analysis. Idaho was next with GDP growth of 3.8%, followed by Wyoming at 2.5% and Colorado at 1.9%.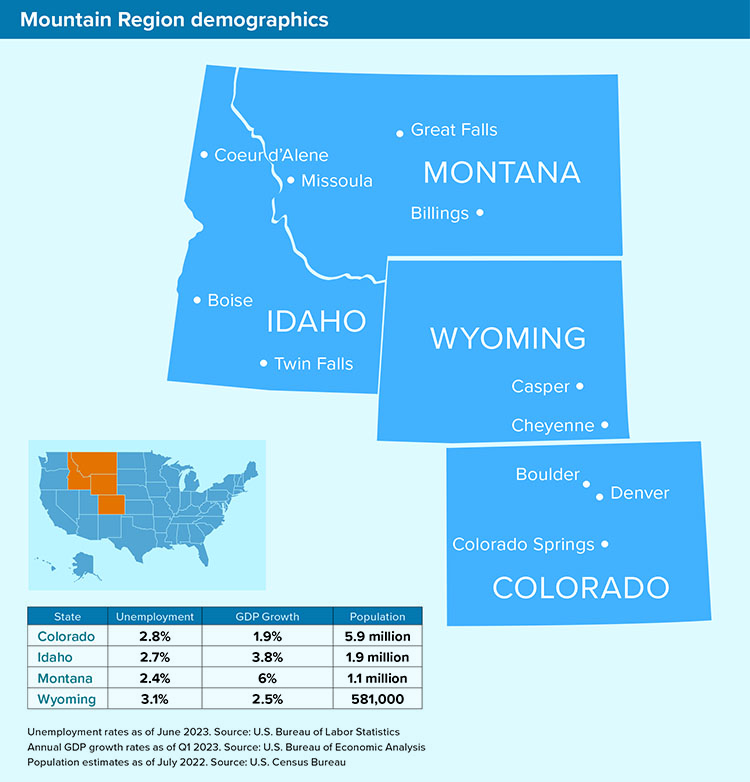 But like much of the Mountain Region, economists aren't seeing Montana's growth potential. Some experts predicted no statewide growth in 2023 and weak growth in 2024. One factor that might be overlooked includes the impact of stronger-than-usual in-migration, with more than 13% of new residents in recent years earning annual salaries of more than $200,000, according to a report in the Flathead Beacon. Other factors spurring Montana's economy include increased tourism, higher venture capital activity, skyrocketing home prices and even the production of the "Yellowstone" TV series.
Idaho was expected to see a modest slowdown in the first half of this year. Instead, it boasted one of the nation's fastest-growing economies as of Q1 2023. Manufacturing, food processing, forestry and mining products remain major forces in the state's economy. Idaho is also famous as the nation's leading producer of potatoes.
The region's biggest economic story of late might be Wyoming's comeback. A year ago, the state sustained a nearly 10% drop in GDP due to slowdowns in its mining, oil and gas production. In Q1 2023, Wyoming posted a 2.5% gain as these sectors and others expanded. Colorado, the region's largest economy, grew at the slowest pace (1.9%) due to slower job growth and general uncertainty. But there were positives for the Centennial State, including a tight labor market, a record number of new business filings and strong funding for startups. ●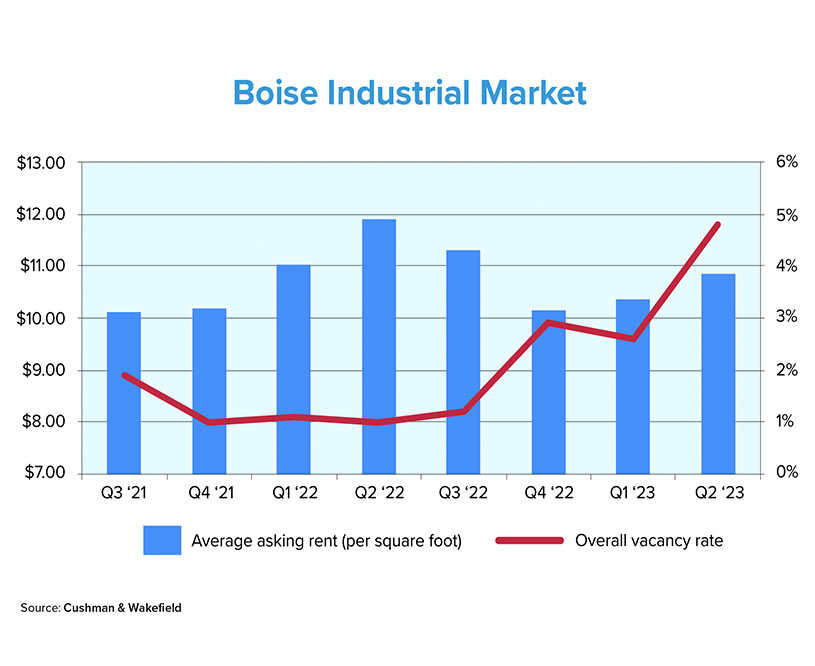 The Boise metro area's industrial real estate sector enjoyed a strong first half of 2023, with more than 1 million square feet of space delivered in the second quarter and more than 1.8 million square feet delivered during the first six months of the year, according to Cushman & Wakefield. Leasing activity, however, declined by nearly 57% and absorption dropped by more than 64% quarter over quarter. An influx of speculative space caused the overall vacancy rate to rise by 220 basis points and reach 4.8%.
Cushman & Wakefield also reported that while supply should outpace demand into next year, asking rents are projected to rise at a modest pace. Through the first six months of the year, net absorption across the Boise area topped 833,000 square feet. The region still had about 4.9 million square feet of industrial space in the construction pipeline at the midpoint of 2023.
Monthly triple-net-lease weighted asking rents rose to $0.91 per square foot. That was an increase from $0.86 per square foot in Q1 2023. The largest industrial lease of the second quarter was signed by Builders FirstSource for 89,000 square feet in the Caldwell submarket.
What the Locals Say
Overall, the commercial real estate market in Colorado Springs is healthy. Most of the sectors are doing well, we have low vacancies and rents are coming up. There is a lot of office space that is a little behind the curve when it comes to absorption. But in general, the industry is doing well.
The Colorado Springs market is a little unique in that it's a beautiful place where people want to live and work. So, it is attracting employers who also want to be here, and they are expanding. The local colleges are gearing up to provide for the growing population. More jobs have been created in the past two years than ever before.
This area also has a huge military presence. We have the United States Air Force Academy and the U.S. Army's Fort Carson, which includes more than 70,000 personnel, support staff and families of soldiers. We also recently won the competition with Alabama over which state will be home to the headquarters for the U.S. Space Force.
As for which commercial real estate sectors are doing well, industrial properties are probably doing the best and retail is holding its own. Office space is having issues, but it's not as bad as in some other markets, such as Denver. The only thing that really worries me is if we were to have another pandemic or a different type of major disruptive event that would shut down the marketplace. The threat of a recession has been looming for a long time, but I'm just not seeing it.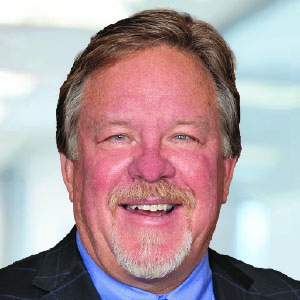 3 Cities to Watch
Boulder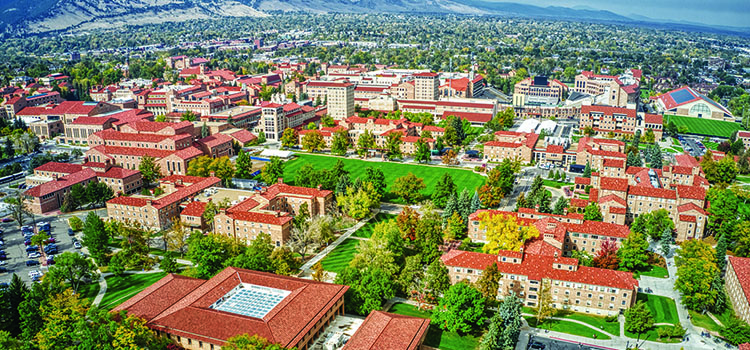 This suburb (population 105,000) lies to the northwest of Denver and boasts one of Colorado's top-performing economies. Boulder is surrounded by strong aerospace, manufacturing, medical device and IT industries. The city's 10 largest employers include Ball Aerospace & Technologies, Google and IBM. In 2021, U.S. News & World Report gave Boulder the nod as the country's best place to live for a second consecutive year, citing its quality of life, job market and overall desirability.
Twin Falls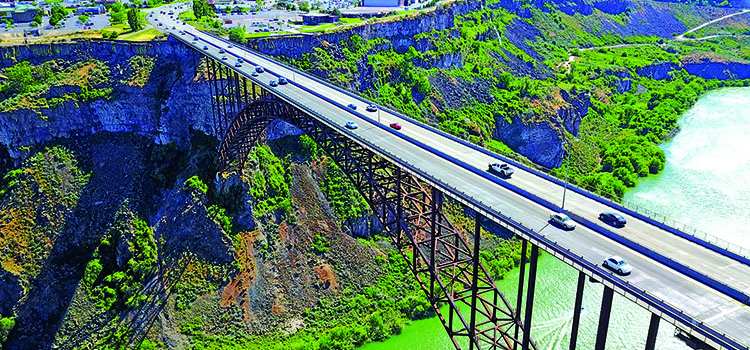 A center for the region's rich agricultural industry, this city of 54,300 in south-central Idaho has blossomed in recent years (4.8% growth from 2020 to 2022). Twin Falls is also known as the site where daredevil motorcyclist Evel Knievel, in his rocket-shaped "Skycycle X-2," attempted to jump over the deep Snake River Canyon in 1974. The Twin Falls area has many food manufacturers, including Clif Bar, Conagra Brands and Chobani, the latter of which reportedly built the world's largest yogurt plant in the city.
Great Falls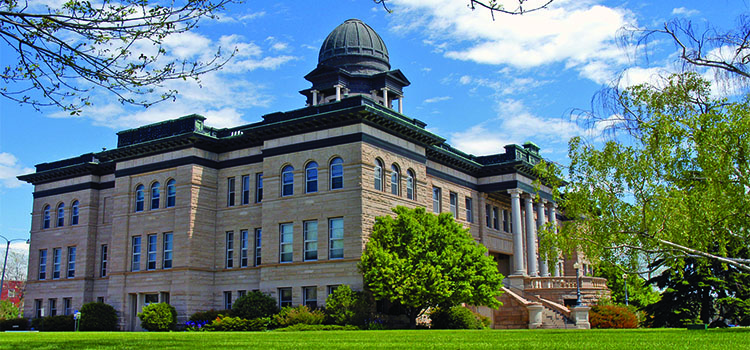 Named for the majestic falls created by the Missouri River, which runs through the city, Great Falls is a center for outdoors activity. Nestled between the Rocky Mountains to the west and the Little Belt Mountains to the east, the Montana city of 60,000 residents has a robust tourism industry, with many hiking and biking trails. The Missouri and other nearby rivers are known for rafting and fishing. Beyond tourism, major industries include health care, mining and quarrying, as well as oil and gas extraction.
Sources: Britannica.com, BusinessDen.com, City-Data.com, City of Great Falls, Colorado Office of Economic Development & International Trade, Cushman & Wakefield, Daily Camera, Destination Missoula, Encyclopedia.com, Forbes, Idaho State Department of Agriculture, Montana Business Quarterly, MySidewalk.com, Paleontological Research Institution, Smithsonian Institution, State of Colorado, Statista, The Denver Gazette, The Spokesman-Review, Trains.com, TravelWyoming.com, Twin Falls Area Chamber of Commerce, Uncover Colorado, University of Montana, U.S. Chamber of Commerce, U.S. Department of Labor, U.S. News & World Report, Visit Boulder, Visit Great Falls Montana, WorldAtlas.com, Wyoming Center for Business and Economic Analysis, WyomingNews.com