A land known for its beautiful desert vistas, snow-covered mountains and wide-open spaces, the Southwest Region has an allure all its own. This region — which includes Arizona, Nevada, New Mexico and Utah — has long been one of the nation's fastest-growing areas. Since 2010, Utah ranks second among the fastest-growing states, with Nevada fourth and Arizona ninth.
The region's economic leader and most populous state is Arizona. The Grand Canyon State, with a population of 7.4 million, boasted a gross domestic product (GDP) of $459 billion at the end of 2022. Arizona was a center for copper mining until the middle of the 20th century, when manufacturing took the lead to become the state's most important industry.
But Arizona still has a robust mining industry and is the nation's top copper producer. Electronics, communications, aeronautics and aluminum are among the most notable manufacturing industries to flourish in the state. Also, its warm climate and outdoor activities have made Arizona a draw for millions of tourists as well as a popular retirement destination.
Utah followed Arizona with a GDP of about $248 billion at the end of last year. The Beehive State also has the region's second-largest population at 3.4 million and was considered to have the nation's best economy in 2021, according to U.S. News & World Report. Utah was also deemed one of the top 10 states at that time for infrastructure, crime and corrections, fiscal stability and education.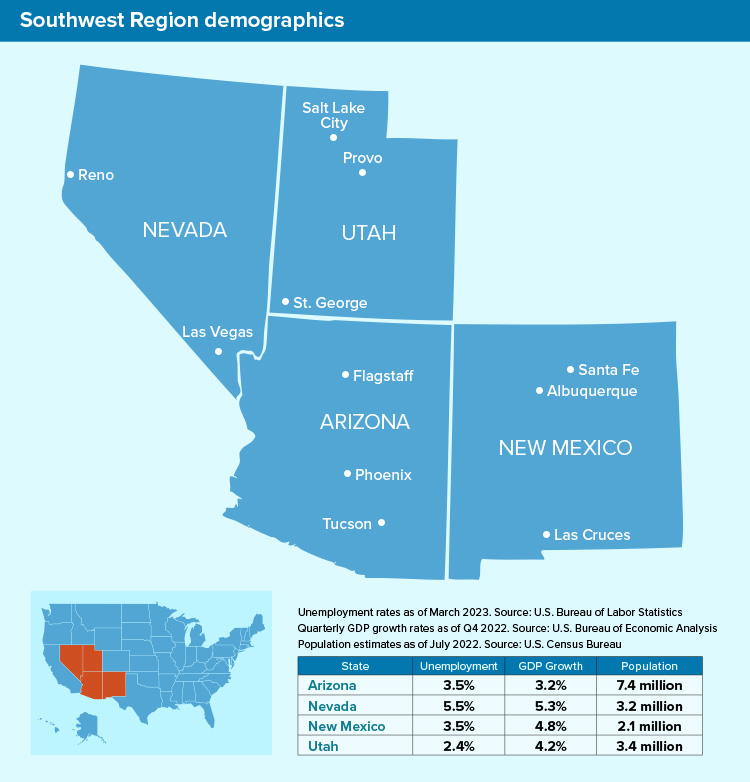 The state's economy is diversified, with a mining industry best known for producing beryllium. Utah is also one of the major producers of coal west of the Mississippi River. Other major industries include farming, food processing and technology. Tech companies based in Utah include Apple accessories firm iFrogz, a division of Zagg Inc., and headphone manufacturer Skullcandy.
Nevada has a GDP of $216 billion. The tourism-dependent state has made a major comeback in the past two years as the COVID-19 pandemic eased and restrictions were lifted. While the state's casinos and live entertainment can make it seem like they are the only action, Nevada actually has a well-rounded economy with key industries that include aerospace and defense, agriculture, energy, health care and information technology. Some of the state's top manufacturing operations include Tesla Inc., International Game Technology and Scientific Games Corp. Nevada's mining industry is led by Barrick Goldstrike Mines and Cortez Gold Mines.
New Mexico has the smallest economy in this region with a GDP of $122 billion. With a population of 2.1 million people, the state ranks low nationally for per capita income. About half of its economy is tied to the service sector while much of the rest is based on mining and oil production, farming, manufacturing and a burgeoning aerospace industry.
New Mexico is home to three national research laboratories, which conduct research and development for the space industry. The state also has three Air Force bases and three aerospace testing facilities. The recent wave of interest in space flight could have a major impact on New Mexico in the future. ●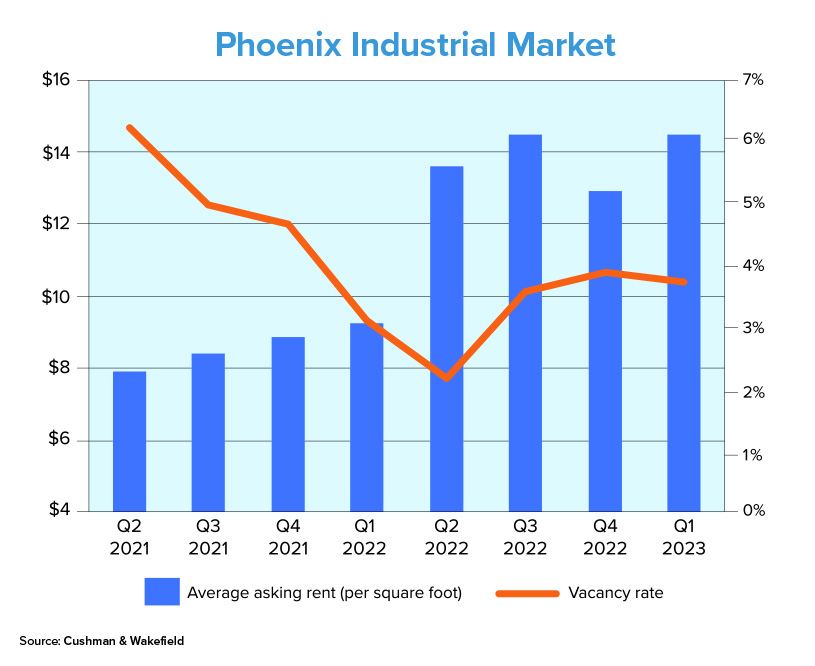 Phoenix's industrial real estate market appeared to be showing signs of a slowdown in first-quarter 2023 as new leasing for industrial sites totaled 4.1 million square feet during the three-month period. This was the lowest quarterly figure for new leases since Q3 2020, when industrial tenants grabbed only 2 million square feet of space, according to Cushman & Wakefield.
Despite what could be signs of a general slowdown, demand remained strong in the warehouse and distribution sector, which accounted for 82% of new leasing during the quarter. And marketwide net absorption reached 4.5 million square feet, the highest quarterly total since Q2 2022.
Cushman & Wakefield reported that 16 tenants moved into spaces of 100,000 square feet or more during Q1 2023. Some of the city's largest tenants include California-based Cubework, which recently leased about 916,000 square feet, and Beijing-based JA Solar, which signed on for more than 763,000 square feet.
The construction pipeline is also very strong, with 47.5 million square feet in some form of development. Phoenix ranks second in the U.S. behind only Dallas, which had nearly 75 million square feet of under-construction industrial space at the start of the year.
What the locals say
We are coming off a record three-year run of performance in Tucson in terms of health of the market and having healthy supply. In 2023, there are still strong sectors, such as industrial demand, which has been hampered a bit by limited construction supply, but there is certainly demand.
The multifamily investment sector has seen a pullback in activity that has been driven by the national interest rate environment. The higher rates have caused a pause. With regard to the office market, there are a lot of people both locally and nationally who think the sky is falling. I remember when a lot of people expected the death of retail, but it survived. So, the way I describe the office market is that the sky is not falling post-pandemic, but there are cracks in the ceiling.
The current environment is one where there's change and disruption going on, but to us, that looks more like opportunity. As a colleague of mine says, '100% of our clients need advice right now.' So, we're kind of in the advice business. As I said, it's a moment of change, a bit of an inflection point.
We have had some pullback in the call-center space, which has historically moved out of the office environment and into the industrial market, because rents are lower and they could convert the space. Retail vacancies have been in the low single digits and I think the sector has been in a healthy space of supply versus demand.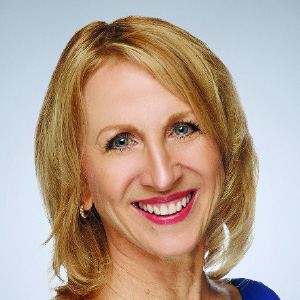 3 Cities to Watch
Tucson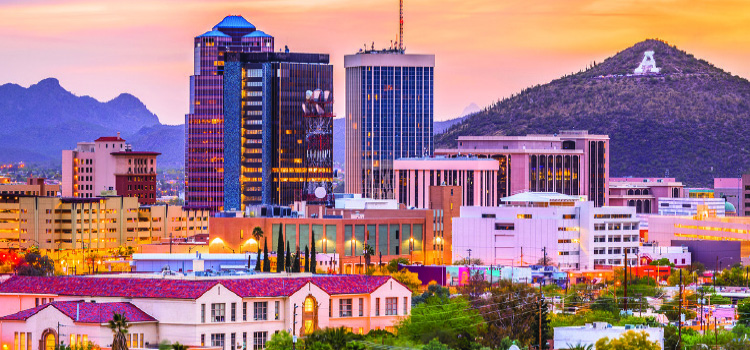 Founded in 1877, Tucson is the oldest incorporated city in Arizona. The city's famed rodeo, which is held each year in February, is reportedly the largest nonmotorized parade in the world. For more than 100 years, copper mining was a mainstay of the economy. Today, the city of 543,000 people has a diverse economy that is fueled by tourism, manufacturing and high-tech industry. Major employers include the University of Arizona, Raytheon Missile Systems and Davis-Monthan Air Force Base.
Provo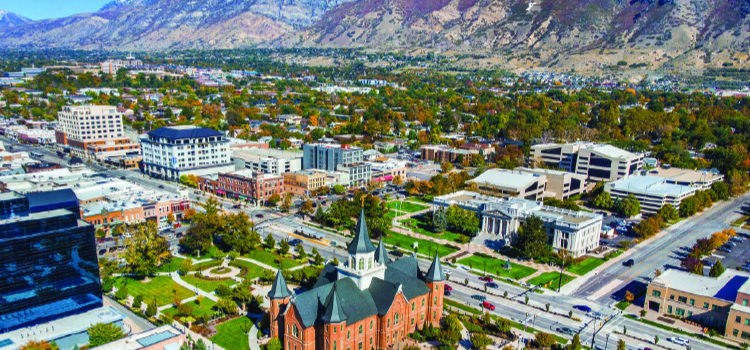 The fourth-largest city in Utah (114,000 residents) is known as a gateway to outdoor adventure. Provo also boasts one of the nation's strongest local economies. In 2021, the Milken Institute named the Provo-Orem metropolitan area as the nation's top-performing economy. The city is home to Brigham Young University and the Missionary Training Center, which welcomes 36,000 students each year. Other businesses of note include technology companies APX Group Inc. and Vivint Smart Home Inc.
Albuquerque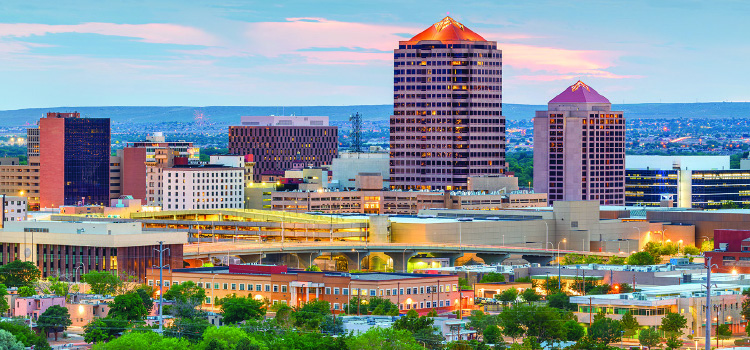 Founded in 1706, the city of 562,000 is New Mexico's largest and serves as a center for arts and culture. Albuquerque is home to a variety of colleges and universities, including the University of New Mexico. The region has a large aerospace and defense sector, which is led by Kirtland Air Force Base and Sandia National Laboratories. The city is also at the center of the New Mexico Technology Corridor, which includes high-tech firms and government institutions along the Rio Grande.
Sources: Arizona Office of Tourism, Associated Press, Brigham Young University, Britannica.com, City-Data.com, Computing Technology Industry Association, Cushman & Wakefield, Encyclopedia.com, Forbes, Headwaters Economics, Isolated Traveller, Lowell Observatory, Nevada Resort Association, New Mexico Economic Development Department, NPR, Phoenix Relocation Guide, Redfin, Skullcandy.com, Spaceport America, State of Utah, U.S. News & World Report, U.S. Department of Labor, Utah Office of Tourism, Visit Albuquerque, WorldAtlas.com, Zagg.com