The Atlantic Region's economic recovery slowed in second-quarter 2022. West Virginia was the only one of these states that registered growth in its gross domestic product (GDP), or the total output of its goods and services.
This region, which is anchored by Washington, D.C., and includes the states of Maryland, North Carolina, South Carolina, Virginia and West Virginia, appears to be suffering through the same economic slowdown as the rest of the country during the latter half of 2022. Forty states and the District of Columbia recorded negative GDP growth in the second quarter.
The region's economic declines were minor, however, with the District of Columbia, Maryland and Virginia experiencing pullbacks of 0.9%. North Carolina saw its economy shrink by 0.7% and South Carolina's was down 0.5%.
West Virginia was the bright spot among this group
, enjoying GDP growth of 1.4%. The state is well known for an abundance of natural resources, and it has seen coal output rebound and natural gas sales continue to grow. In the past year, the state has had employment in various economic sectors return to or surpass pre-pandemic levels.
In Washington, D.C., which has a population of 670,000, the GDP decline was partially due to the city losing 20,000 residents in the past year, along with
shrinking of the federal and local governments
between May 2021 and May 2022. The financial-services sector also lost jobs during the same period. On the other side of the ledger, the food-services and accommodations industries bounced back, together adding nearly 20,000 jobs during these 12 months.
Maryland's economy is known for its information technology, telecommunications, aerospace and defense industries. In 2021, Maryland was ranked as the
most improved state for business
by CNBC. Some of the state's Fortune 500 companies include Discovery Communications, Marriott International and T. Rowe Price.
Virginia saw its unemployment rate drop to the lowest in the region at 2.6% as of September 2022. Such success can be traced to an economy that runs the gamut from farming to aerospace and biotechnology. Virginia's nonfarm employment growth was 22nd among all states from 2010 to 2020.
From 2018 to 2021, North Carolina had the nation's ninth-largest population gain with the addition of nearly 170,000 new residents. The state also has one of the nation's best business climates, according to Forbes, and one of the top economies, according to CNBC. These rankings are due in part to the state's major innovation centers, including the Research Triangle Park near Raleigh, and the Piedmont Triad, anchored by Greensboro, High Point and Winston-Salem.
South Carolina enjoys an economy anchored by its strong manufacturing, financial-services, international trade and tourism industries. The state's manufacturing sector is currently home to more than 4,000 companies that employ more than 280,000 workers. Some of the largest manufacturers include BMW, Boeing and GE Power Electronics. ●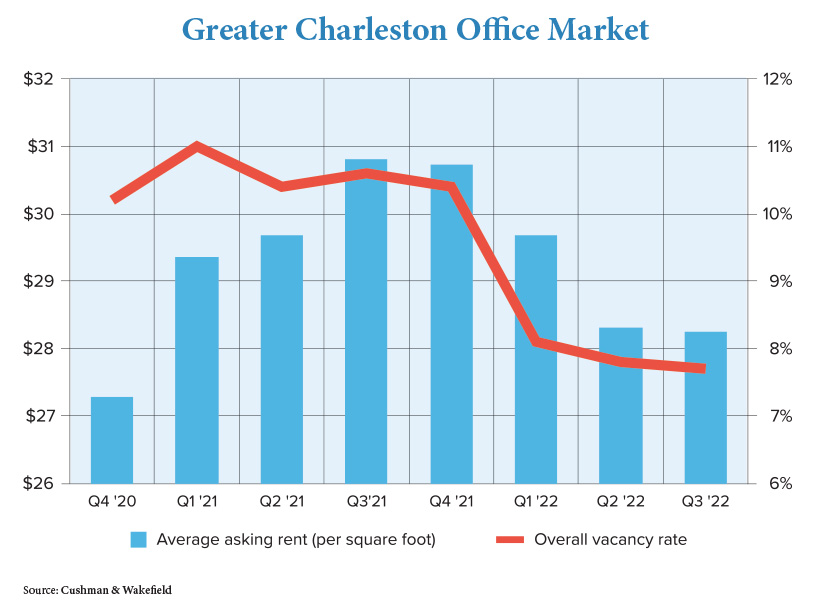 Historic Charleston, South Carolina, has seen strong economic growth in the post-pandemic period, with nonfarm employment increasing by nearly 19,000 jobs year over year in Q3 2022. This was driven in part by the professional and business-services sectors, as well as information companies, according to Cushman & Wakefield.
The city's office market remained tight in Q3 2022, with the overall vacancy rate dropping by 10 basis points to 7.7%. Cushman & Wakefield reported that of the available space on the market, nearly 70% lies within the North Charleston and the downtown Charleston submarkets. The city has seen construction delays that have impacted a series of developments, including Morrison Yard, a planned mixed-use project that will have a 12-story building with about 123,000 square feet of office space and 10,000 square feet of retail space. Even with the delays, about 412,000 square feet of new office space is scheduled to come onto the Charleston market by the end of this year.
New leasing activity in Q3 2022 reached nearly 150,000 square feet, bringing this year's total activity to about 673,000 square feet. The marketwide average asking rent for Charleston decreased slightly during the quarter to $28.27 per square foot.
Focus: Manufacturing

Manufacturing has long been a staple of the economies of many Atlantic Region states. North Carolina, for instance, is
home to more than 9,000 diversified manufacturers
, employing about 580,000 people. These companies include food-production leaders such as Smithfield Foods, Tyson Foods and Butterball. One of the state's largest manufacturers is IBM, which produces software and other products near Raleigh.
In South Carolina, manufacturing accounts for more than $40 billion in economic output, which comprises more than 16% of the state's total output. The sector employs about 280,000 people. Much of South Carolina's activity is in transportation equipment, industrial machinery, rubber and plastics.
Virginia's $48 billion manufacturing sector employs about 250,000 people. Food, beverage and tobacco products dominate the sector, employing more than 42,000 people alone. There are more than 50 major packaging and bottling operations, along with 160 major warehousing and distribution centers, in the state.
What the Locals Say

"Much of our business comes from the multifamily sector. We sell to developers and builders, and that market continues to be very good this year. We also are working with industrial projects. We are getting ready to close a large deal, but industrial developments are very, very few and far between. The demand is very high right now and the inventory for industrial properties is very low. So, in those two areas of the market, things are still going strong, and we don't see
a slowdown."
Shannon Sivula

Office manager
SouthEast Commercial Real Estate Group Inc.
3 Cities to Watch

Charleston, W.V.

Known as a center for activity in the Appalachian Mountains, Charleston is West Virginia's capital and largest city with a population of about 48,000 people.
The area around Charleston offers water recreation
and hiking on mountain trails. A long-serving center for coal, oil, natural gas and salt mining, this region also is a manufacturing hub, with operations run by such firms as Covestro, Dow Chemical, and fabrication and machining specialists E&H Manufacturing.
Columbia

The South Carolina capital is the state's second-largest city with a population of 137,500. The city has museums, such as the Columbia Museum of Art, and an abundance of outdoors activities that center around nearby Lake Murray and Congaree National Park. Columbia also has a diversified economy tied to Fort Jackson (the U.S. Army's main basic combat-training site) and manufacturers such as International Paper, Michelin and Westinghouse Electric.
Greensboro

The third-largest city in North Carolina, with a population of about 298,000, Greensboro is the center of the region's large manufacturing sector that employs more than 31,000 workers. More than 200 international firms and many U.S. companies have operations in or near the city. The aviation firm Honda Aircraft Co., Volvo Trucks North America, and Kontoor Brands (the owner of apparel labels such as Lee and Wrangler) are headquartered in Greensboro.
Sources: City of Charleston (W.V.), City-Data.com, Cushman & Wakefield, Economic Development Partnership of North Carolina, Greater Richmond Partnership, IndustrySelect, Maryland Department of Commerce, MorrisonYard.com, National Association of Manufacturers, Research Triangle Park, South Carolina Department of Commerce, State of Maryland, U.S. Department of Labor, U.S. Energy Information Administration, U.S. News & World Report, VA Bio+Tech Park, Virginia Economic Development Partnership, Wake County Economic Development, West Virginia University, WV MetroNews