April saw a second straight decline in nationwide existing home sales, propelled again by high mortgage rates and limited supply.
Existing home sales slid 3.4% from March to a seasonally adjusted annual rate of 4.28 million units, according to the latest report from the National Association of Realtors (NAR). Sales continue to lag last year's figures by a large margin, down 23.2% annually in April.
Sales fell in April despite a moderate improvement in resale inventory. Existing single-family inventory jumped 5.8% in April, the largest monthly gain since last summer. Total housing inventory at the end of April was at 1.04 million units, up 7.2% from March and 1.0% from the same month last year. But unsold inventory remains low, sitting at a 2.9 months supply at the current sales pace. That's up from 2.6 months in March and 2.2 months in April 2022, but is still hovering at a historically low level.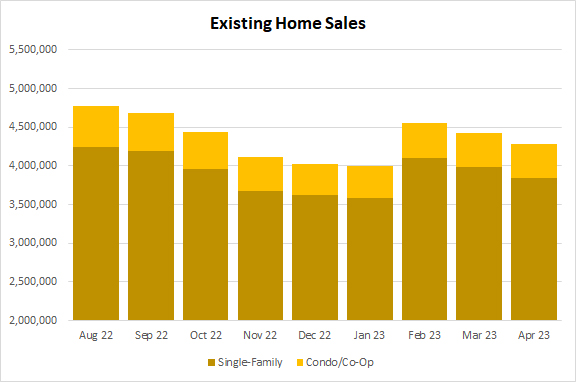 Combine that with average 30-year fixed rates rising back up around 6.7% by the beginning of March, and the market has a recipe for slumping sales. Existing home sales fell across three of four Census regions, especially in the pricey West, where sales fell 6.8% from March.
"Home sales are bouncing back and forth but remain above recent cyclical lows," said Lawrence Yun, the NAR's chief economist. "The combination of job gains, limited inventory and fluctuating mortgage rates over the last several months have created an environment of push-pull housing demand."
Still, home resales appear to be stabilizing somewhat. Existing home sales are still 7.0% higher than their recent trough in January, when they came in at an annualized pace of 4.0 million units. And the homes that are hitting the market aren't spending a lot of time there. Home sold in April did so after an average of 22 listing days, down seven from March. And the median existing home price in April was $388,800, down from $395,500 in April 2022, but up from $375,700 in March.
"Roughly half of the country is experiencing price gains," Yun noted. "Even in markets with lower prices, primarily the expensive West region, multiple-offer situations have returned in the spring buying season following the calmer winter market. Distressed and forced property sales are virtually nonexistent."