Delehanty
The Community Home Lenders Association has announced its new president: Michael Delehanty, chief financial officer of Mountain West Financial. Delehanty has been with Mountain West Financial, one of the founding members of the CHLA, for 12 years. He also serves on the CHLA's board and will continue to do so in addition to his duties as president.
Gates
Digital mortgage platform developer SimpleNexus has elected senior sales executive Cathleen Schreiner Gates as the newest addition to its board of directors. A former executive vice president of sales and marketing at Ellie Mae from 2015 to 2019, Gates brings 35 years of experience driving growth at software-as-a-service firms. She is also CEO of independent consulting company Trifecta, which she founded in 2009. She earned a master's degree in business administration with a concentration in finance and computer technology from Rutgers University.
Reynolds
CMG Financial has announced the hire of Brian Reynolds as its new divisional resident of the Pacific Northwest. In his new position, he will lead growth initiatives throughout the region by spearheading loan officer recruitment, onboarding new branches and sharing CMG Financial's proprietary products throughout the market. He brings with him over two decade of mortgage leadership experience, having held management positions at regional and national lenders throughout his career. Most recently, he served for six years as regional senior vice president at Fairway Independent Mortgage Corporation.
Bauch
Guaranty Home Mortgage has added Brandon Bauch as executive vice president and national sales director. He brings more than 25 years of national-level mortgage lending experience to the role, which will involve implementing Guaranty's national sales national sales plan, supervising regional managers and advancing professional branding strategy. Prior to joining Guaranty Home Mortgage, he spent 19 years as vice president and regional sales manager at Franklin American Mortgage, overseeing production in 10 states in the Southwest. Bauch carries a degree in communications from Baylor University.
Uribe
New York document processing company Hyperscience has appointed Francisco Uribe to the post of vice president of product. Uribe will be responsible for scaling the product team and managing the expansion and evolution of Hyperscience's platform. He brings over a decade of experience in managing product strategy and operations in the tech industry, recently serving for over eight years as head of the Perception AI team at Google Cloud.
Boccia
Wyndham Capital Mortgage has announced that Barbara Boccia has joined the company as senior vice president of risk and compliance. She has more than 25 years of experience in legal and regulatory risk and compliance; before joining Wyndham, she served as senior director of advisory services and regulatory relations at Wolters Kluwer. She earned a Juris Doctor deree from the University of the Pacific's McGeorge School of Law and carries an master's degree in business administration from San Francisco State University. She will be based out of Wyndham Capital's office in Charlotte.
Got a new hire or promotion? Share it with Scotsman Guide readers
here
!
McFarland
Independent mortgage lender Mortgage Network, Inc., has added Rochelle McFarland as a loan officer in its Danvers, Massachusetts branch. Her financial services career began as a stockbroker for Salomon Smith Barney in New York before she became a private banker at JPMorgan Chase's Madison Avenue location. She earned her bachelor of science degree from the University of Scranton and her master of business administration degree in international business and finance from Schiller International University in Madrid. She also has a master of arts teaching degree in Spanish from Salem State University.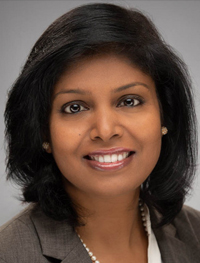 Arunkumar
Archana Arunkumar has joined the advisory board of San Francisco-based document processing fintech AREAL.ai. Arunkumar has held various leadership positions throughout the technology field, including her current position as director of product at Dropbox and previous experience in the same role at Ellie Mae. She holds a master of business administration degree in technology management, marketing and finance from the University of California, Davis, and master of science and bachelor of science degrees from California State University, East Bay.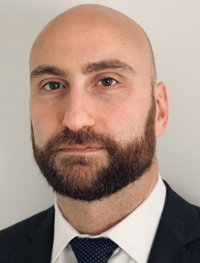 Sbaiti
Investment company BH Properties has added Rowan Sbaiti as senior managing director of acquisitions as it expands its platform to include real estate bankruptcy and financial instrument acquisitions. Prior to joining BH Properties, Sbaiti worked at Fortress Investment Group for more than nine years, most recently serving as vice president. Sbaiti will work with the current leadership at BH Properties to acquire senior mortgages, mezzanine loans, B-notes and controlling participations on all major property types.
Real estate document management company SYNRGO, based in Orange County, California, has announced the addition of Ben Sherman as president and chief operating officer. All SYNRGO departments now report to Sherman. He joins SYNRGO from Old Republic Title and ePN, where he held the title of vice president of business development for over eight years. He holds an International MBA from Blekinge Institute of Technology in Sweden, and a Bachelor of Science in Technology Management from Herzing University.