In an unsure economic environment, millennials and Generation Z — who now make up a majority of the home purchase market — feel further from homeownership than ever. According to a Deloitte survey of more than 22,000 millennials and Gen Zers, more than 60% believe that buying a home will become more difficult or impossible in the near future.
More than half of these respondents think that it will be harder for them to get raises, promotions or new jobs in the next few years. Half also expect that starting a family will become even more difficult, if not impossible. Many already live with family members or children in multigenerational housing.
With the millennial and Gen Z segments reporting pessimistic feelings about the economic future of the country, it's more important than ever to reach out to them with information and encouragement about the homebuying process. Home equity is one of the most important building blocks for wealth in America, and with more members of these younger generations in homes where they can build their families and lives, their economic outlook may improve.
Enter a small army of millennial and Gen Z mortgage originators who are here to help their peers find a path forward to homeownership. Many mortgage industry leaders believe that the key to lending inclusively is to hire originators who can relate to their clients, and this month's Scotsman Guide rankings section is evidence that they're on their way to achieving that.
Welcome to the second annual Top Emerging Stars rankings. In its sophomore year, this ranking that highlights standout originators under the age of 40 has more than tripled in size. Last year, the publication listed only the top 100 producers by dollar volume. This year, we're highlighting every young originator who submitted to the Top Originators rankings and did at least $40 million in business in 2022. To see the complete list of 372 Top Emerging Stars, click the button below.
Tim Potempa of OneTrust Home Loans took the top spot by originating $438.9 million across nearly 1,000 loans last year. Second place went to Danny Meier of Academy Mortgage Corp., who originated $408 million across 581 loans.
The rest of the top-five emerging stars include David J. Edmondson of TD Bank ($302.8 million), Amit Sakhrani of TransUnited Financial Services Inc. ($260.9 million) and Hanh Dao of Next Door Lending ($258 million). Sakhrani, a California-based broker who started his sales career in a Christmas tree lot, is this month's Featured Top Originator. Read more about him here.
We handpicked four of this year's Top Emerging Stars for interviews, where we learned more about their careers and where they're headed. To read their stories, click here or use the button below.
Congratulations to all of the Top Emerging Stars — buckle in for the long careers ahead of you. We hope to see you in many rankings to come. And as always, thank you for reading.
Young generations see positive change along with concern for future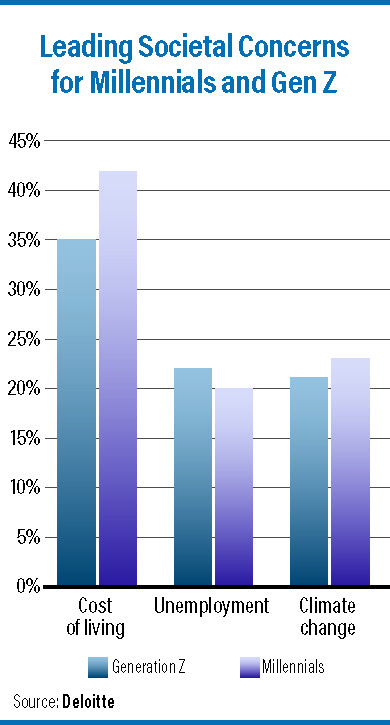 This year's iteration of the massive Gen Z and Millennial Survey from Deloitte found that while the past few years have brought some positive changes to their lives, young people are still concerned for their futures. The 2023 survey polled more than 22,000 young people in 44 countries.
The survey found that satisfaction at work has improved for these generations. Respondents reported higher satisfaction with their work-life balance, partially due to the rise in remote work. Respondents were also happy with employer progress on environmental sustainability efforts, as well as work tied to diversity, equity and inclusion. Still, less than half of respondents believed that business has an overall positive impact on society.
The survey respondents were economically wary, with the high cost of living ranked as their No. 1 societal concern. Half reported living paycheck to paycheck and expressed worry about the impact of a potential recession on their ability to improve their personal financial situation. They're reportedly reacting to these pressures by postponing big life decisions such as buying a home or starting a family. They're also becoming more likely to take on second jobs, or to adopt money- and planet-saving behaviors like shopping secondhand or not driving a car.
Small towns and cities are best for first-time buyers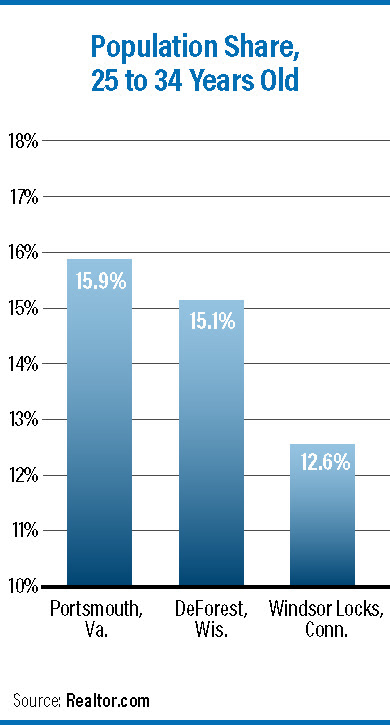 Ten small cities and towns — including three in the state of New York — topped Realtor.com's list of the best markets for first-time homebuyers in 2023. Portsmouth, Virginia; DeForest, Wisconsin; and Windsor Locks, Connecticut, took the top three spots. Each of these cities are suburbs of larger metropolitan areas (Virginia Beach, Madison and Hartford, respectively).
Realtor.com based its ranking on a list of criteria that included the share of residents between the ages of 25 to 34, the availability of homes for sale, job opportunities, commute times and local amenities. The ranking also took into account forecast home price growth and current affordability of homes, which was estimated using the incomes of the 25- to 34-year-old population in these cities.
The other cities that earned spots in the top 10 were Gloucester City, New Jersey; Moore, Oklahoma; Magna, Utah; the New York cities of Eggertsville, Watervliet and Mattydale; and Somersworth, New Hampshire.
Top Emerging Stars Methodology
Nominations for Top Emerging Stars were made during the Top Originators submission period from Jan. 1-31, 2023. Originators who submitted individually could choose to nominate themselves by entering their age on the submission form. Companies that submitted originators in bulk had the option to nominate any or all of their originators under the age of 40.
Top Emerging Stars nominations will open again in January 2023 as part of the next Top Originators submission period.