Fly into Chicago and the view of Lake Michigan extends far into the horizon, looking less like a lake than a vast and unlimited sea. Even before Europeans arrived, Lake Michigan and the other four Great Lakes were vital for natural resources, travel and trade.
That continues today for the six states of the Great Lakes Region — Illinois, Michigan, Minnesota, Wisconsin, Ohio and Indiana. Consider that roughly one in 10 Americans and one in three Canadians depend on the Great Lakes for drinking water.
The maritime economy supports some 311,000 jobs in the Great Lakes Region, including tourism, recreation and transportation of goods, according to the National Oceanic and Atmospheric Administration. These jobs are responsible for total wages of about $8.8 billion per year. The five major ports in the region (Chicago, Cleveland, Detroit, Milwaukee and Duluth) directly benefit from this commerce.
These lakes, which account for 21% of the freshwater on the planet, are part of the reason why the economies of the region are so strong. Illinois ranked No. 5 in the nation last year with a gross domestic product — the sum of all goods and services — of $1 trillion, according to the U.S. Bureau of Economic Analysis. Ohio was No. 7 at $823 billion, followed by Michigan (No. 14, $621 billion), Indiana (No. 19, $456 billion), Minnesota (20th, $446 billion) and Wisconsin (No. 21, $402 billion).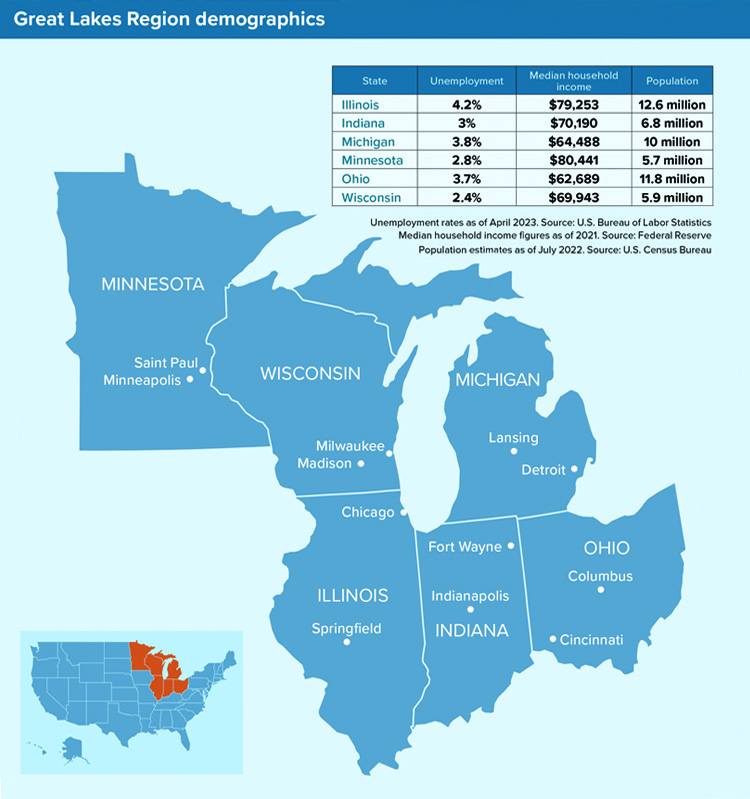 The region is not only an economic power- house, but it also has a lot of political pull. Ohio earned a nickname as the "Cradle of Presidents" since seven former U.S. presidents have hailed from the Buckeye State. A president hasn't emerged from Ohio, however, for a century. The last president to come from the Great Lakes Region was Ronald Reagan (Illinois), who was the only president from the other five states.
All eyes will be on these states during the 2024 presidential election as they account for a total of 82 electoral votes. Michigan and Wisconsin proved pivotal during the past two presidential campaigns. And about 16% of all U.S. House members (70 of 435) hail from these six states.
One thing to monitor in the future is the sudden loss of population in these areas. The population of the region as a whole declined by roughly 260,000 people in the first two years of this decade, according to census estimates. Illinois accounted for the bulk of this total, losing 230,000 people from 2020 to 2022.
Michigan and Ohio recorded population losses of about 43,000 people each while Wisconsin saw a decline of 1,200 residents. Indiana and Minnesota each gained population (47,000 and 11,000, respectively). For perspective, only three states lost population from 2010 to 2020. Illinois was one of these states, joining Mississippi and West Virginia. ●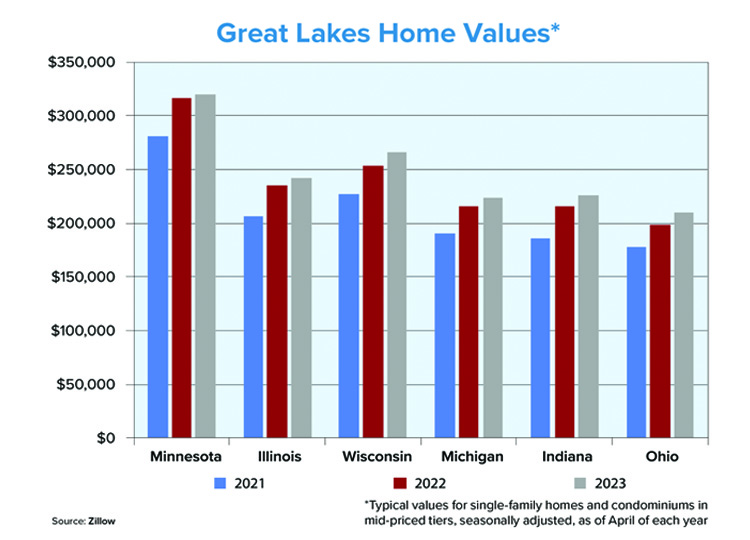 A Zillow economist predicted at the end of 2022 that the Great Lakes Region would see a housing market boom due to relatively inexpensive prices and the continued trend of people working from home. It looks like the prediction was spot on.
As of this past March, a Realtor.com report showed that nine of the 20 hottest housing markets in the U.S. were located in the Great Lakes footprint, led by Columbus, Ohio, at No. 4. Market demand was measured by page views and the number of days that a listing remained active on the company's website. Meanwhile, the major urban housing markets that saw the highest increases in attention since March 2022 were all in this region as well. These included Chicago, Cleveland, Cincinnati, Minneapolis and Milwaukee.
A first-quarter 2023 index published by Realtor.com and The Wall Street Journal found that Lafayette, Indiana, was the nation's top emerging housing market. The index rates metro areas based on factors such as real estate supply and demand, home price trends, unemployment and wages. Bloomington, Illinois; Elkhart, Indiana; and Fort Wayne, Indiana, also ranked in the top five.
What the Locals Say
It's starting to be competitive already. We are having 15, 20 people bidding on one house again. We just had an agent call and their buyer bid $20,000 over asking price. That's a lot in our area of northwest Indiana and Chicago for a house priced at $200,000 or $300,000.
During the winter months, I was able to easily say, 'Don't worry about it. Sellers are going to pay your closing costs. Just make sure that you have a good, strong offer.' More recently, it's more like they hopefully have a backup plan — let's make sure you can pay your own closing costs in the event the seller won't, or you get in a competitive situation.
In about two to three weeks, when our kids start getting out of school, I expect that listings will start coming on and maybe that'll ease the overbidding, but it is competitive. We're having to call the listing agents and really fight for our clients.
A lot of the people that have been on the fence waiting for interest rates to come down are saying, 'OK, it looks like things are not going to change, so we'd better go ahead and jump in.' I think rates are probably going to stay where they are and, hopefully, not get worse. I think people are just getting used to this. It's similar to when you go to the gas station. It used to be $4 a gallon and now it's $3.98, so we think it's cheap.
3 Cities to Watch
Madison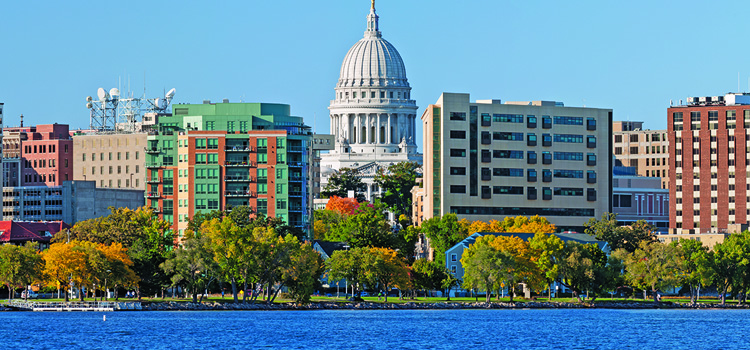 Wisconsin's capital and second-largest city (population 273,000) is diverse, featuring a mix of education, health care, bioscience, agriculture, advanced manufacturing and information technology. The metro area hosts the headquarters of leading national brands such as American Family Insurance, American Girl, Lands' End and luxury appliance manufacturer Sub-Zero. The city had an unemployment rate of 1.7% this past March, making it difficult for employers to fill jobs.
Detroit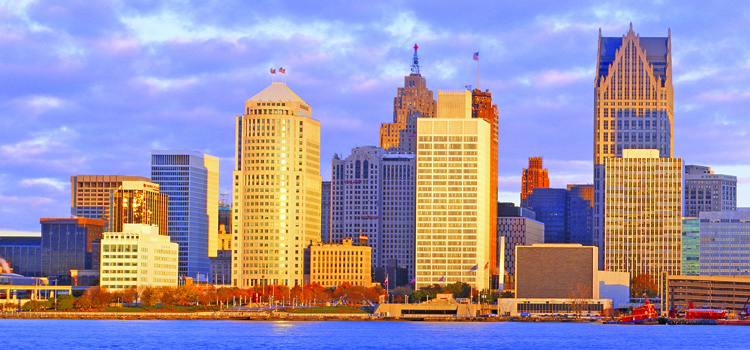 Antoine de la Mothe Cadillac founded what would become the city of Detroit in 1701 as a fort along a narrow waterway between lakes Erie and Huron. Cadillac, the namesake of the modern-day automaker, was hoping to expand France's influence over the region, but Great Britain would later stake its claim to Detroit. The Motor City (632,000 residents) had an unemployment rate of 7.8% this past November, much higher than the rest of the state, but a University of Michigan analysis expects steady improvement through 2027.
Columbus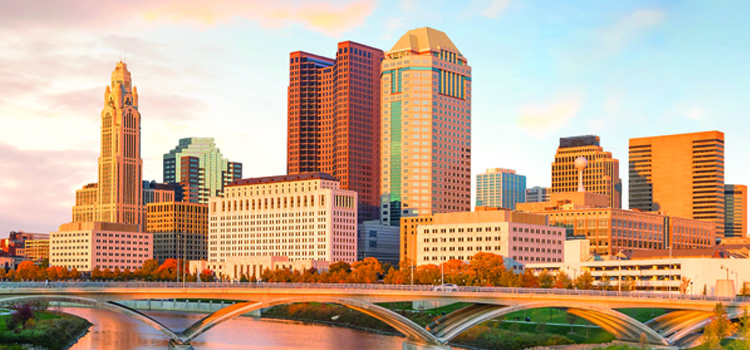 The Ohio capital (population 908,000) is bolstered economically by the state government and Ohio State University, as well as a strong mix of technology, finance and health care services. The Columbus metro area has 16 Fortune 1000 headquarters, led by insurance giant Nationwide with 16,000 employees. Columbus has attracted so much growth that if only the newcomers from 2000 to 2020 (177,600 people) formed their own city, it would be the sixth largest in Ohio.
Sources: Axios, Britannica.com, City of Columbus (Ohio), Clarke Historical Library, Milwaukee Public Museum, National Oceanic and Atmospheric Administration, Realtor.com, The Columbus Region, The Plain Dealer, The Wall Street Journal, U.S. Bureau of Economic Analysis, University of Michigan, Zillow