The Great Lakes Region — comprised of Illinois, Indiana, Michigan, Minnesota, Ohio and Wisconsin — is home to more than 50 million people, or nearly one in six Americans. These states have a blue-collar reputation but are working to overcome their Rust Belt stigma. Six of the nation's 50 most-populous cities (Chicago, Detroit, Indianapolis, Milwaukee, Minneapolis and Columbus, Ohio) are in this region.
A 2017 report from the Urban Institute noted that the region has undergone significant change in recent years. The number of manufacturing jobs dropped by 27% from 2000 to 2015. More than a quarter of the region's population was 55 or older in 2015, a share that was expected to rise over the next two decades and shrink the labor-force growth rate to nearly zero. The report recommended that the region invest heavily in economic opportunities for young people and immigrants.
Like much of the rest of the nation, the population centers of the Great Lakes Region have been heavily impacted by the COVID-19 outbreak. Late this past May, The New York Times reported that more than 249,000 cases of coronavirus had been confirmed across the six states, with the Chicago and Detroit metro areas bearing the brunt of the crisis.
A March 2020 report from personal-finance website WalletHub showed that Illinois, Indiana, Michigan, Minnesota and Ohio each ranked among the top 20 state economies with the highest exposure to the virus. The rankings were determined by 10 metrics, including the shares of economic output and employment stemming from "high-risk" industries, as well as the shares of workers with access to paid sick leave and a strong work-from-home infrastructure.
Ohio was struggling early in the crisis as the state collected 10.5% less in tax revenue this past March (nearly $160 million) than what was budgeted. Gov. Mike DeWine implemented a hiring freeze and purchasing restrictions across state agencies. In Minnesota, Gov. Tim Walz reported that the state's $1.5 billion surplus was gone because projected revenues evaporated, likely ending Minnesota's plans for tax cuts and infrastructure improvements.
Illinois had a backlog of $6.8 billion in unpaid bills as of this past May, according to the state's comptroller. Illinois is likely to sustain heavy losses in government jobs and services as it struggles to pay pensions and deals with poor bond ratings, The Washington Post reported. Chicago was in line to receive $1.6 billion in federal stimulus funds as of this past April, money that was earmarked for schools, mass transit, senior services and unemployment services, among other things. •
Great Lakes Home Values
Five of the six Great Lakes states had median home values below the U.S. median of $248,857, according to March 2020 data from Zillow. The lone exception was Minnesota ($263,708). Home values across the region at that time rose between 1.2% and 5.5% annually but were expected to decline between 1.1% and 2.4% by March 2021, Zillow reported.
The early impacts of the COVID-19 outbreak on potential home sales was stark in some places. In the Twin Cities of Minneapolis and St. Paul, Minnesota, for example, local Realtors reported that showings of homes dropped from a daily average of more than 4,000 to less than 2,500 over the course of this past March. New listings and pending sales in the Twin Cities each hit three-year low points during the last week of that month.
The news was better in other places, however. Illinois Realtors reported 12,182 home sales in March 2020, a 4.7% annual increase, while the median sales price jumped 8.5% to $217,000.
Focus: Shipping
The six states in the Great Lakes region have relied upon their seaway navigation systems for more than 200 years. About 160 million tons of waterborne cargo are transported each year on lakes Erie, Huron, Michigan, Ontario and Superior. The Great Lakes connect to the St. Lawrence River, which flows into the Atlantic Ocean, allowing regional goods to be shipped worldwide.
Steel, coal, limestone and grain are some of the major products shipped via the Great Lakes. About 50 million tons of iron ore, which is used to make steel, are shipped annually by the Lake Carriers' Association. Much of this product is mined and shipped in Michigan and Minnesota before heading to Cleveland, home to a major steel mill.
Wisconsin has 20 commercial ports that support more than 9,500 jobs and generate about $1.6 billion in annual revenues. The Wisconsin Marine Association notes that shipping goods by water is less costly than using trucks or railways, and it produces one-third less carbon dioxide emissions.
What the locals say
"Where I'm located in northwest Ohio — Findlay, Ohio — we have always been blessed in the sense that we're kind of in a bubble. We have the world headquarters of Marathon Petroleum here. Campbell's Soup just moved a plant here. … A lot of virtual [home] tours are happening and that wasn't necessarily new to this area, just because we have so much relocation business that comes in. A lot of times, those are being done via video just simply because [the buyer] may be coming from Texas with Marathon and they don't get up here to look at the houses. They just do a virtual tour."

Scott Snapp

Branch manager, loanDepot
3 Cities to Watch
Indianapolis
Indiana's state capital and largest city grew by 5.7% from 2010 to 2018 and now includes about 867,000 residents, census figures show. As of this past April, the median sales price of a home was $177,000 (up from $162,400 in April 2019) and the typical home spent 46 days on the market (down from 49 days a year earlier), according to Realtor.com. Technology, manufacturing and life sciences are among the city's key employment sectors, the Indy Chamber noted.
Detroit
Although it lost nearly 6% of its population from 2010 to 2018, the Motor City has been slowly and steadily recovering from the depths of the Great Recession. Foreclosures have dropped significantly and home prices have risen substantially, although it remained difficult for borrowers to obtain mortgages within the city. Manufacturers, including the auto industry, returned to work this past May after a six-week coronavirus quarantine as Michigan attempted to jumpstart its economy.
Milwaukee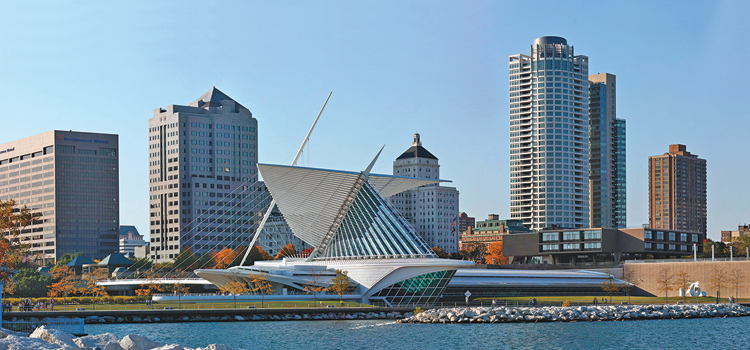 Wisconsin's largest city has about 592,000 residents — essentially the same as it did in 2010. Prior to the COVID-19 outbreak, Milwaukee County's housing market was robust as home prices rose 10% year over year this past February. From March 2019 to March 2020, the metro area's leisure and hospitality sector lost 3.7% of its jobs while passenger traffic at Mitchell International Airport fell 53%, figures that were expected to worsen as the pandemic wore on.
Sources: American Great Lakes Ports Association; Detroit Free Press; Illinois Comptroller's Office; Illinois Realtors; Indy Chamber; Lake Carriers' Association; Metropolitan Milwaukee Association of Commerce; Milwaukee Journal Sentinel; Minnesota Real Estate Journal; Ohio Office of Budget and Management; Realtor.com; The Detroit News; The New York Times; The Washington Post; Urban Institute; U.S. Bureau of Labor Statistics; U.S. Census Bureau; WalletHub; WBEZ-FM; WCCO-TV; Wisconsin Marine Association; World Population Review; Zillow