The Southeast region of the U.S. — which includes Alabama, Arkansas, Georgia, Kentucky, Louisiana, Mississippi and Tennessee — has a deep, complex history. Each of these states were admitted to the U.S. in the pre-Civil War era, but with the exception of Kentucky, all of them seceded to join the Confederacy.
Recent growth has been somewhat stagnant across the region as a whole, with five of the seven Southeast states trailing the U.S. population increase of 5.7% from 2010 to 2018, according to census figures. The exceptions were Georgia (8.6% growth) and Tennessee (6.7%), which also happen to be the most populous states in the region. At the end of 2018, Georgia had the ninth-largest economy among all states at $601 billion, while Tennessee ranked No. 18 at $374 billion.
Although manufacturing jobs declined across the country during the latter half of 2019, this employment sector remains an important economic driver throughout the Southeast. In Alabama, for example, manufacturers accounted for 17% of the state's gross domestic product (GDP) and employed 267,000 people in 2018, according to the National Association of Manufacturers (NAM). In Mississippi, manufacturing was 16% of the state's GDP and accounted for 145,000 jobs in 2018, NAM reported.
Nearly 20% of Louisiana's economy is tied to manufacturing and the average annual wage for a manufacturing employee there was $89,300 in 2017, NAM reported. Petroleum and coal products generated $15.7 billion for Louisiana in 2016, and the state's 18 oil refineries can process more than 3.3 million barrels of crude oil per day, according to a 2018 report from USA Today.
Little Rock is Arkansas' capital and largest city with about 198,000 residents. It is home to a number of attractions, including the historic Quapaw Quarter, the Old Statehouse Museum and the Clinton Presidential Center. Arkansas is located within a day's drive of 40% of the nation's population, making it a hub for transportation and logistics. J.B. Hunt Transport Services, USA Truck, FedEx and Union Pacific Railroad are among the state's 25 largest employers.
A 2019 report from the University of Kentucky stated that a large portion of the Bluegrass State is "distressed," based on measurements of social, health and economic trends. About 41% of Kentucky's population lives in rural areas, compared with 14% of the U.S. as a whole. Kentucky's rural counties generally have lower education levels that correlate to lower laborforce participation rates, the report concluded.
Twenty-six Fortune 1000 companies, with combined revenues of $415 billion in fiscal year 2018, are based in the Atlanta metro area. These include The Home Depot, The Coca-Cola Co., packaging company WestRock and SunTrust Banks Inc.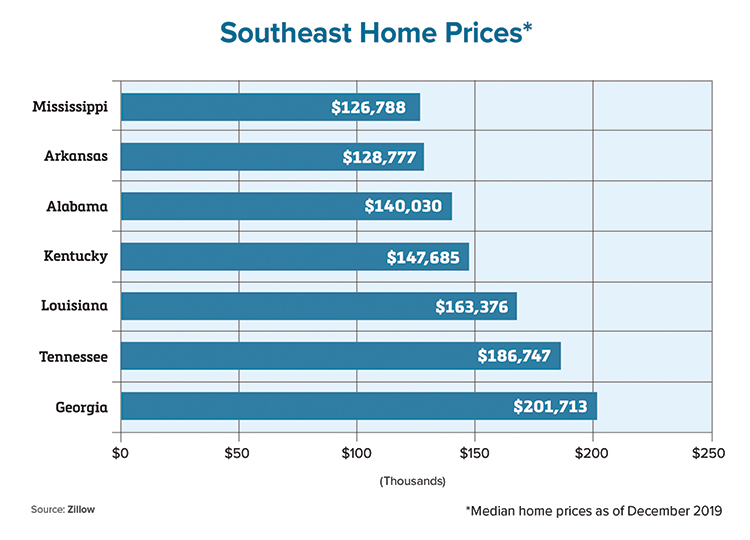 All seven states in the Southeast region had median home values that lagged the national average of $244,054 as of this past December, Zillow reported. Regional home values at that time ranged from a median of $201,713 in Georgia to $126,788 in Mississippi.
A report from the Tennessee Housing Development Agency said that annual home-price appreciation in that state reached 7% in second-quarter 2019, more than two percentage points above the U.S. rate. In Alabama, home sales skyrocketed by nearly 19% year over year this past December to 5,116 closed transactions, according to the Alabama Center for Real Estate.
Mortgage delinquencies are a widespread issue throughout the region, however. As of October 2019, CoreLogic reported that each of the Southeast states had 30-day delinquency rates that exceeded the U.S. rate of 3.7% — including the two highest rates in the nation in Mississippi (7.3%) and Louisiana (6.6%).
Focus: Health care
Nashville is the unofficial capital of the U.S. health care industry as more than 270,000 people in the metro area are employed in this sector, according to the Nashville Health Care Council. Some of the nation's largest health systems are based in the Nashville area, including HCA Healthcare, Community Health Systems and LifePoint Health.
The health care and information-technology (IT) sectors are intertwined, and Georgia is home to more than 225 such companies. Nine of the nation's top 100 health IT companies, with combined revenues of $2.5 billion in 2018, are headquartered in Georgia.
New Orleans is one of 15 U.S. cities with two medical schools, and the Big Easy also has a 1,500-acre biosciences district where more than $2.5 billion has been invested in research and development. The University of Alabama at Birmingham had the nation's top-ranked health care management degree program last year, according to a U.S. News & World Report survey of peer institutions.
What the Locals Say

"Sixteen years ago, I relocated to Nashville from up north in Philadelphia, and I had this preconceived notion of what Nashville was at the time. I thought I'd see a whole bunch of pickup trucks with hay bales, all about country music, but Nashville is so much more than that. There is an incredible medical field and financial field here. We have so many companies that are moving in and so many huge, huge headquarters — Bridgestone and Nissan. Amazon is bringing in a regional facility and we've already seen the wave of the first round of executives that are coming in."
Erin Krueger

Realtor and team lead, The Erin Krueger Team at Compass
3 Cities to Watch
Atlanta
According to real estate brokerage Redfin, Atlanta's housing market was rated "somewhat competitive" this past February, with the average home selling for $289,000 — a 7% year-over-year increase — and spending 51 days on the market. The largest employers in the 29-county metro area include Delta Air Lines, Emory University, AT&T and UPS. A report this past January in The Atlanta Journal-Constitution noted that the metro area gained 650,000 jobs since 2010, or 29% growth.
Louisville
Home prices in Kentucky's largest city decreased by 1.7% annually to $172,000 this past February, Redfin reported, although the Louisville market was rated "very competitive" as the average home took 39 days to sell. Labor statistics show that the city's unemployment rate shrank from 4.6% to 3.3% from July to December of last year. Manufacturing is a key local economic driver, accounting for 80,000 jobs and 16.5% of the region's economic output — much higher than the nationwide share of 11.2%.
Nashville
The average sales price of a Music City home jumped 11.8% annually this past February to $308,000, Redfin reported. The music industry generates 56,000 jobs and about $10 billion per year across the metro-area economy. Nashville was named the nation's best sports city in 2019 by Street & Smith's Sports Business Journal. The Tennessee capital is home to the NFL's Tennessee Titans and the NHL's Nashville Predators, while a new Major League Soccer franchise, Nashville SC, is debuting this spring.
Sources: Alabama Center for Real Estate, Arkansas Economic Development Commission, Becker's Hospital Review, Britannica.com, CoreLogic, Georgia Department of Economic Development, Metro Atlanta Chamber, Nashville Area Chamber of Commerce, Nashville Health Care Council, National Association of Manufacturers, NBC News, New Orleans Business Alliance, Redfin, Street & Smith's Sports Business Journal, Tennessee Housing Development Agency, The Atlanta Journal-Constitution, The Lane Report, TripSavvy, University of Kentucky, U.S. Bureau of Labor Statistics, U.S. Census Bureau, USA Today, U.S. News & World Report, World Population Review, Zillow