Natural beauty is in abundant supply in the Southwest Region states of Arizona, Nevada, New Mexico and Utah. The region is home to some of the most spectacular landscapes in the U.S., as well as 12 of the 63 national parks. Grand Canyon National Park in Arizona had 4.7 million visitors last year (No. 2 among all national parks) and is nearly 700 square miles larger than Rhode Island.
Nature isn't the only tourist draw for the Southwest states. Las Vegas bills itself as the Entertainment Capital of the World and brought in a record $12.8 billion in gaming revenues in 2022, well above pre-pandemic levels. The city also has more than 150,000 hotel rooms that generated $329 million in tax revenues last year.
Although Nevada's gaming and tourism industries appear to be full speed ahead, the same can't be said for the state's economy as a whole. This past March, the Silver State had the nation's highest unemployment rate at 5.5%. A first-quarter 2023 survey conducted by the University of Nevada at Las Vegas found that southern Nevada business leaders had a pessimistic outlook on their ability to hire, grow profits and borrow for capital expenses.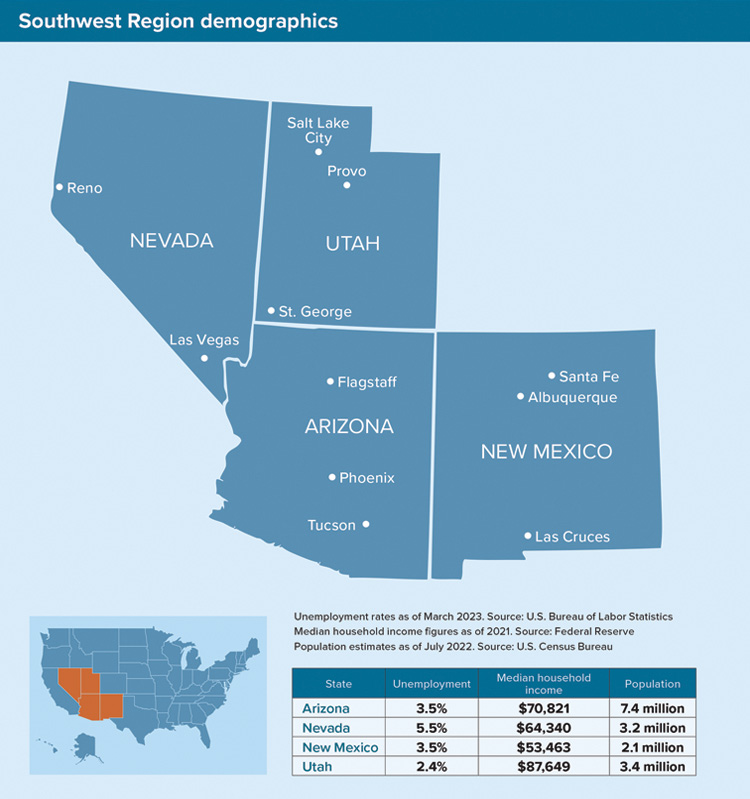 Arizona's economy is expected to cool down compared to recent years due to "high levels of labor market churn and a mountain of open jobs," according to a Q1 2023 forecast from University of Arizona economists. The total number of jobs in the state grew 3.7% in each of the past two years and surpassed the 3 million mark. But employment growth is predicted to recede to 1.5% in 2023.
Arizona issued more than 65,000 residential building permits in 2021, a number that is expected to shrink to 39,300 this year. In the Phoenix metro area, 37% of homes listed for sale at the end of 2019 were priced below $300,000. This figure shrank to 13% at the end of 2022, when roughly one in five homes in Phoenix were considered affordable for a household earning the area median income.
According to the "Rich States, Poor States" rankings from the American Legislative Exchange Council, Utah has had the nation's best economic outlook for 16 years in a row. The rankings are determined by 15 key policy variables, including personal and corporate income tax rates, property and sales tax burdens, and debt as a share of all tax revenues.
The Salt Lake City suburb of Lehi is commonly known as the heart of "Silicon Slopes" due to the influx of tech startups that accelerated after Adobe opened a facility there in 2012. Utah wasn't immune to the industry's recent downturn as more than a dozen tech companies in the Beehive State laid off workers last year.
New Mexico's energy sector is thriving. The state is now the second-largest producer of crude oil, ranks sixth for natural gas production and generates 30% of its electricity from wind-power sources. The Land of Enchantment is benefiting from last year's federal ban on oil and gas imports from Russia, which is driving an estimated $3.6 billion surplus in state revenues. ●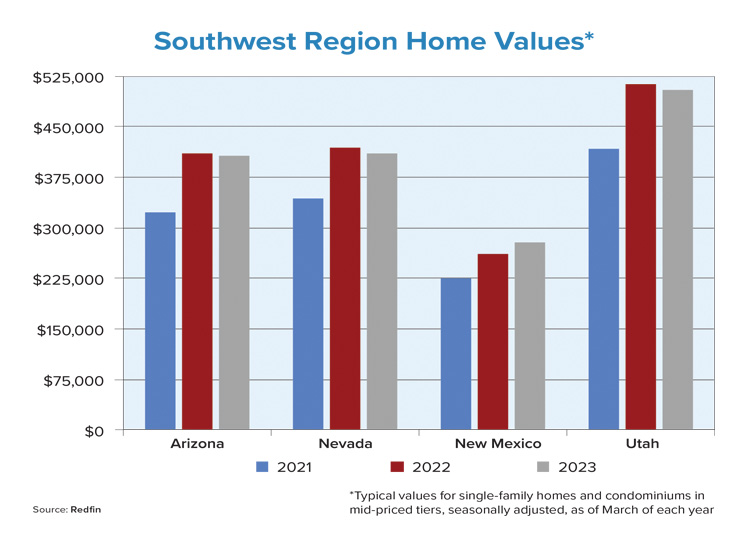 Just as U.S. home values began to decline after peaking in August 2022, so too have prices in much of the Southwest Region. Home values in Nevada and Utah backtracked by 1.8% during the year ending this past March, according to Zillow. Arizona had a more moderate decline of 0.6%. New Mexico was the region's outlier as its typical home value of $279,763 was up 6.3% during the same period.
Sales data, however, appears much bleaker in certain locations. For example, Sierra Nevada Realtors (covering much of northern Nevada, including Reno and Carson City) reported a 9% decline in single-family sales prices, a 22% decline in closed sales and a 34% decrease in new listings of single-family homes from March 2022 to March 2023.
New Mexico's largest city, Albuquerque, remains a seller's market, with real estate platform Knock ranking it earlier this year as the nation's 10th-best city for sellers. This past February, however, a local news report indicated that buyers had the edge for midpriced homes of $450,000 to $700,000. Meanwhile, Knock listed Las Vegas; Salt Lake City; Phoenix; and Tucson, Arizona, among the nation's 10 best markets for buyers, with prices expected to drop by as much as 17% year over year in 2023.
What the Locals Say
As we approach the halfway mark of 2023, the housing markets in Salt Lake City and Utah as a whole are experiencing some interesting trends. According to recent data, prices have moderated in certain areas, making it a great time for potential buyers who may have been priced out previously. Inventory is looking better and new construction activity is high at 11.7 new homes per 1,000 residents. That is more than twice the national average.
It has been a tough year for both first-time buyers with higher home prices and for move-up buyers not wanting to lose the low interest rate loans they currently have. Many buyers are opting to do temporary and permanent rate buydowns as well as adjustable-rate mortgages to aid in lowering their monthly payments.
The recent downturn in the tech and finance industries has led to some concerns about the local economy and housing market. But there are other growing job sectors such as health care, education, leisure and hospitality, and professional services that are contributing to the state's economic development. Additionally, there are several housing projects underway that will benefit the local economy and provide more housing options.
Utah is known for its stunning natural beauty, with access to world-class skiing, hiking and outdoor recreation. The state also has a strong economy, low unemployment rate and a relatively low cost of living. The people are friendly, the communities are tight-knit and the state has a great quality of life.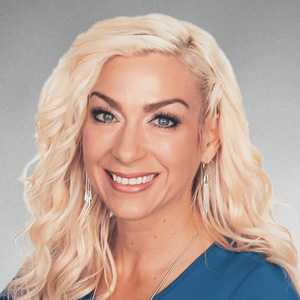 3 Cities to Watch
Las Cruces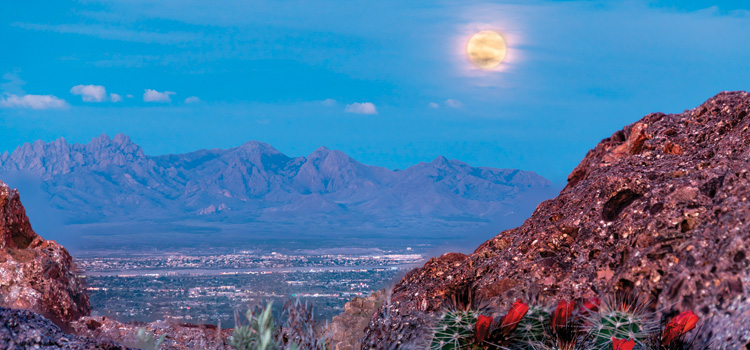 The second-largest city in New Mexico (population 113,000) is home to the main campus of New Mexico State University and its 14,000 students. White Sands National Park, located 45 miles to the east, is among the area's many outdoor attractions. The film industry has become a key economic development tool for the state, generating $855 million in production expenses last year, and Las Cruces was recently named one of the best small U.S. cities to live and work as a moviemaker.
Phoenix
With a population of 4.8 million at the time of the 2020 census, Phoenix ranked No. 11 among the largest U.S. metro areas. Banner Health, American Express, Amazon and Honeywell lead a diverse group of major employers. As a hub for professional sports, the area has hosted four Super Bowls (including this year's iteration), while mortgage industry mogul Mat Ishbia made news late last year with his $4 billion purchase of the NBA's Phoenix Suns and WNBA's Phoenix Mercury.
St. George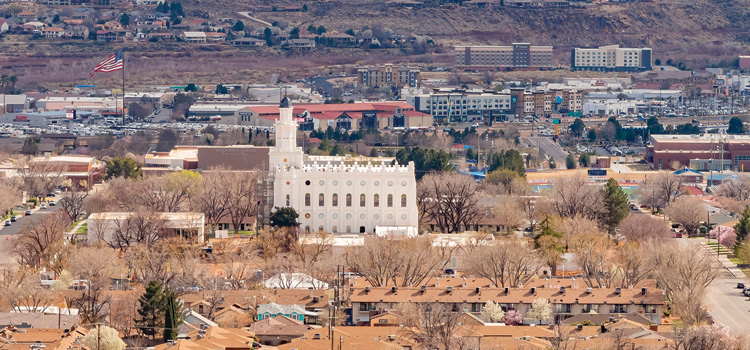 Tucked away in the southwest corner of Utah along Interstate 15, with easy access to Zion National Park, St. George is no longer a well-kept secret. It was the nation's fastest- growing metro area for the year ending in July 2021 and now has more than 190,000 residents, good for 30% growth during the prior decade. St. George's mayor said that city leaders "must do our best to manage growth so it doesn't affect the quality of life we have all come to love."
Sources: American Legislative Exchange Council, Associated Press, City of Phoenix, CNN, Deseret News, Knock, KRQE-TV, LasCruces.com, Las Cruces Convention & Visitors Bureau, Las Vegas Convention and Visitors Authority, National Park Trips, NBA.com, NBC Sports, New Mexico State University, Sierra Nevada Realtors, The Arizona Republic, The Salt Lake Tribune, The Spectrum, University of Arizona, University of Nevada at Las Vegas, U.S. Department of the Interior, U.S. Energy Information Administration, Utah Business, Zillow