Diversification has become the watchword for the economies of the Southeast Region — an area that includes Alabama, Arkansas, Georgia, Kentucky, Louisiana, Mississippi and Tennessee. Recent economic expansion has brought a bevy of new jobs and helped to lure new residents to these areas.
Despite widespread population growth, the annual gross domestic product (GDP) growth for these states in third-quarter 2022 averaged an anemic 1.8%, well below the national average of 3.2%. The region's strongest GDP growth took place in Tennessee, which notched a 3.9% increase in the third quarter. The weakest growth was in Mississippi, which ranked last in the nation at -0.7%.
In Tennessee, the largest industries include transportation and manufacturing, including the production of automobiles, tires, industrial chemicals and food products. Bridgestone, Nissan and the Eastman Chemical Co. are among the Volunteer State's major manufacturers. Shipping giant FedEx, which is the state's largest corporate employer, was founded in Memphis and is still headquartered there.
Georgia is the Southeast Region's economic leader and its most populous state by far with nearly 11 million residents. The Peach State has a diversified economy that includes everything from agribusiness to aerospace. In fact, Georgia's $47 billion in exports in 2022 ranked 11th among all states. Aerospace led the export list, with more than $9 billion in aircraft and other products sent to other nations.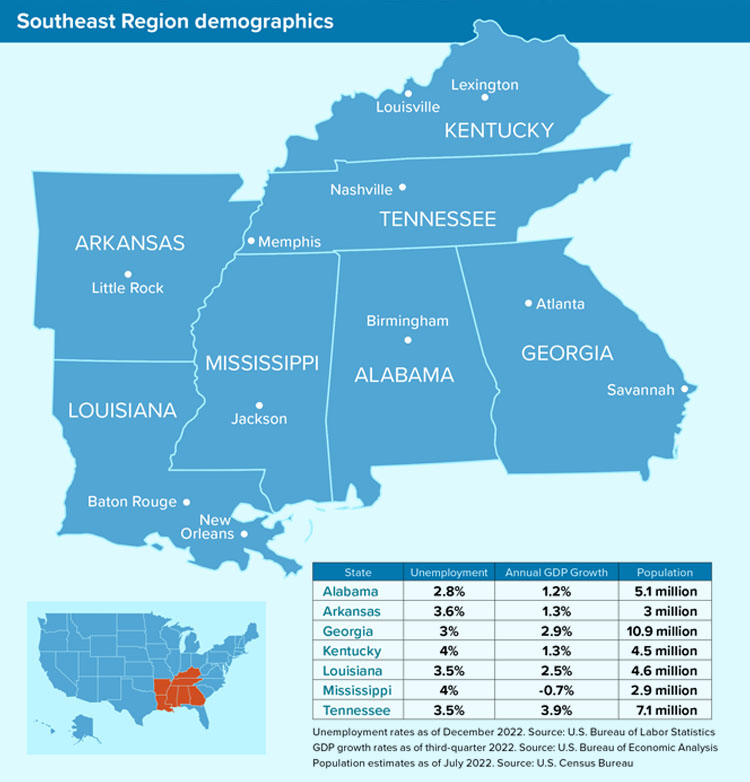 Louisiana is another state on the rise due to an expanding economy that includes everything from seafood to oil refineries. Located along the Gulf of Mexico, the state produces 25% of the nation's seafood supply. Louisiana also has about 20% of the nation's oil-refining capacity and is the nation's third-largest producer of petroleum products.
In the latest sign of how this region has become a center for auto manufacturing, Mazda Toyota opened a massive factory in Huntsville, Alabama, that was expected employ 4,000 people by the end of 2022. The plant is an example of how Alabama continues to transform its economy. Alabama's auto industry exports $11 billion worth of motor vehicles each year and employs about 40,000 people. In Kentucky, manufacturing wins the race, accounting for about 20% of the state's GDP and some 274,000 jobs. The Bluegrass State's other major industries include coal mining, agriculture and logistics, with Amazon and UPS having large operations in the state.
Walmart, which is synonymous with its home state of Arkansas, has grown to become the largest corporate employer in the nation with nearly 1.6 million U.S. workers. While the mega-retailer is a dominant force in Arkansas, the state has developed major transportation and logistics, agriculture, aerospace, defense and forestry industries. Mississippi has the region's smallest economy but is also moving in new directions, including advanced manufacturing, aerospace, defense and automotive operations. Nissan, Paccar and Toyota each have an established presence in the Magnolia State. ●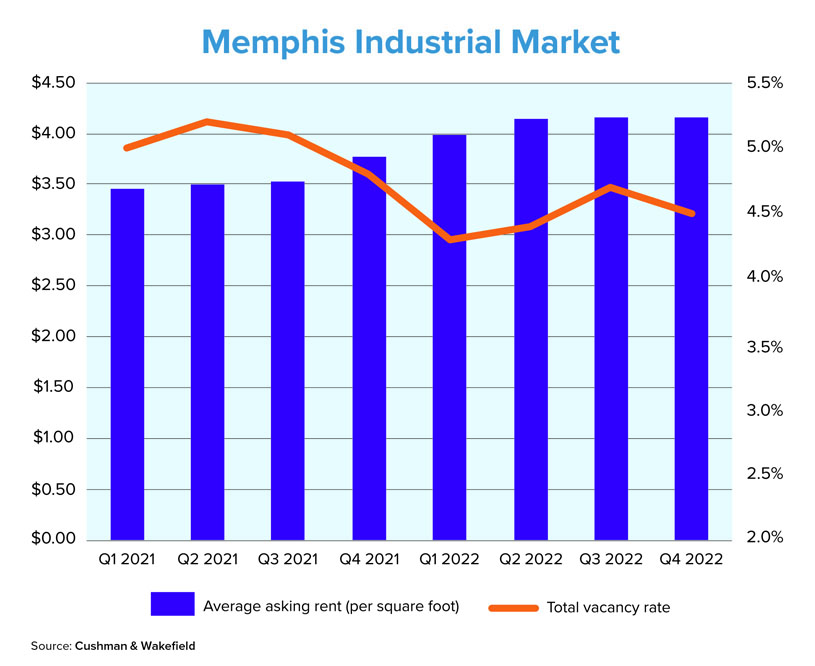 The Memphis industrial real estate market had a strong year in 2022 with overall net absorption of 12.2 million square feet, according to Cushman & Wakefield. This absorption level is even more impressive considering that tenants filled up about 16.2 million square feet of industrial space in 2021. And with the amount of space filled in the past two years, the metro area's industrial vacancy rate finished 2022 at only 4.5%.
Cushman & Wakefield reported that the under-construction pipeline remains strong with more than 10 million square feet in development at the end of 2022. Across these 17 projects being built, however, much of the space has yet to be preleased and potentially will be vacant when it is delivered this year. Among the new projects completed in Q4 2022 is the 862,000-square-foot Memphis Oaks Logistics Center, a warehouse and distribution space in Southeast Memphis.
Another recent opening is a state-of-the-art, 600,000-square-foot warehouse occupied by Associated Wholesale Grocers. Major leases signed in Q4 include Chadwell Supply (249,000 square feet) and DHL Supply Chain (234,000 square feet). In the quarter's largest sales transaction, Scannell Properties offloaded a 202,000-square-foot property for $23.5 million.
What the Locals Say
We look for opportunities across the United States in a variety of markets, and when we look at the Southeast, we still see a lot of good deals being closed. I think entrepreneurs and buyers have all realized the old saying: You fall in love with the property and just rent the rate.
I think most of us in the industry realize that this high-rate environment isn't going to last. I believe it will come down by 2024. Here in the Nashville market, multifamily is still strong. We are building an unbelievable number of apartments. There are several hotel projects we're involved with, including one in downtown Nashville that we hope to break ground on starting later this year. So, we have an unbelievably thriving commercial market here in this region.
Even so, I have a hard time getting any bank's credit committee to approve a new construction project right now. They are just a little timid. We are told that they like us, they like the project, but they just are not doing new construction projects at the moment.
As I look at the rest of this year, I think it's a great time to be a commercial loan broker and to be a commercial bridge lender. This year, our business hasn't slowed at all. These are happy times for me because the banks are turning down deals that they ought to be making and that's allowing us to look at deals we should never have the chance to see. So, we are really excited about what 2023 is going to bring.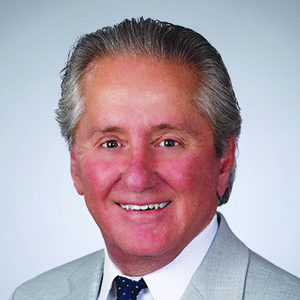 3 Cities to Watch
Louisville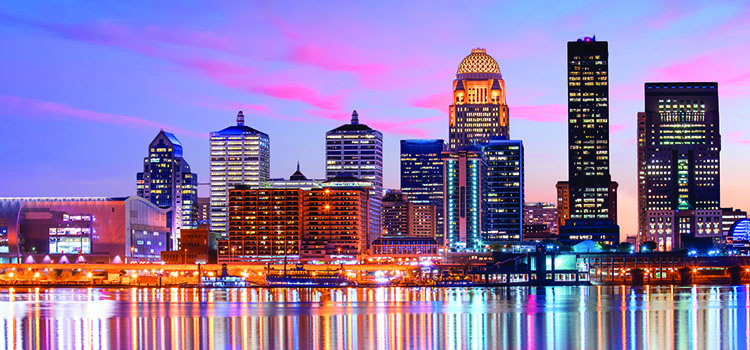 Best known as the home of the Kentucky Derby each May, Louisville has a population of about 246,000. Located along the banks of the Ohio River, it is a center for the region's distillery industry and earned the nickname Bourbon City. Louisville is a major hub for UPS, and it is home to the health care firm Humana Inc. and Yum! Brands, which includes Louisville-based Kentucky Fried Chicken. Other large employers include the University of Louisville and Papa Johns.
Little Rock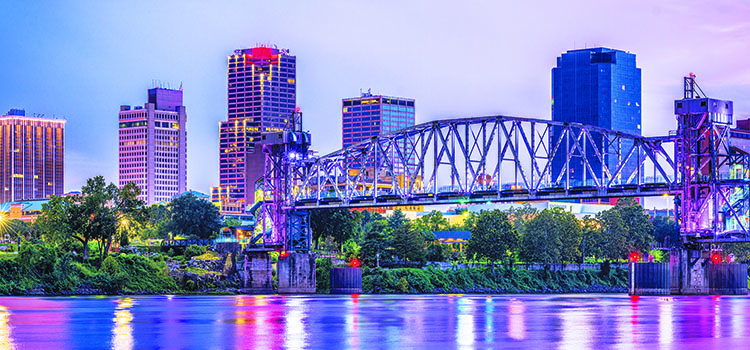 The capital of Arkansas is also the state's largest city with 202,000 residents. Government dominates the local employment picture. Other major employers include the University of Arkansas, Little Rock Air Force Base and the corporate headquarters for clothier Dillard's Inc. Tourist sites include the Clinton Presidential Center, a museum dedicated to former President Bill Clinton, and the civil rights museum at the Little Rock Central High School National Historic Site.
Baton Rouge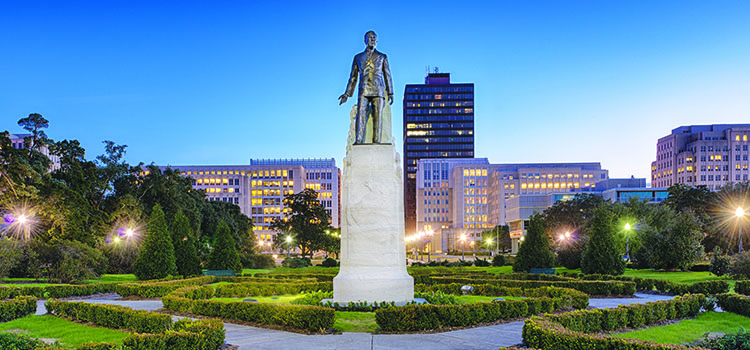 A center for Mardi Gras festivities, the Louisiana capital has 222,000 residents. The city boasts several colleges, including Louisiana State University, Franciscan Missionaries of Our Lady University, and Southern University and A&M College. Baton Rouge is a transportation center that features one of the country's largest deep-water ports, which ships items for many industrial companies including ExxonMobil, Dow Chemical and BASF Wyandotte Corp.
Sources: City-Data.com, City of Little Rock, Clinton Presidential Center, Colliers International, Cushman & Wakefield, Forbes, Discover Arkansas, Daily Memphian, Georgia Department of Economic Development, GoToLouisville.com, Greater Louisville Inc., History.com, IndustrySelect, Memphis Americas Alliance, Mississippi Development Authority, Mississippi Economic Council, National Association of Manufacturers, National Mining Association, The Associated Press, The Courier-Journal, U.S. Department of Agriculture, WorldAtlas.com, World Population Review, Zippia