World-class cuisine can be found up and down the East Coast. Washington, D.C., for instance, has two dozen restaurants with Michelin Guide stars for excellence. Bon Appetit named Charlotte steakhouse Supperland and Z&Z Manoushe Bakery in Rockville, Maryland, to its list of the nation's best new restaurants of 2022.
Much of this food is locally sourced. Reedville, Virginia, landed 302 million pounds of seafood in 2020, good for No. 4 among all U.S. ports. North Carolina was No. 9 in the nation in 2021 for the value of its agricultural commodities, raking in some $13.3 billion. South Carolina has about 25,000 farms that employ roughly 200,000 people and produce large quantities of poultry, cattle, corn, eggs, soybeans and wheat.
The Atlantic Region includes three of the 15 largest economies in the nation as measured by 2021 gross domestic product (GDP). North Carolina ranks No. 11 at $662 billion, Virginia is No. 13 at $605 billion and Maryland is No. 15 at $444 billion.
The region's smaller economies have fared better, however, as the national economy has slowed. West Virginia's GDP of roughly $85 billion grew at an annualized rate of 1.4% in second-quarter 2022. It was one of only 10 states to see its output increase during this period.
State officials report that
West Virginia has received at least 18 major investments
since the start of 2021, representing a total injection of $3.6 billion and 3,800 jobs created or retained. This includes Nucor Corp.'s construction of a mill in Mason County that will turn scrap metal into steel, and a lithium-ion battery manufacturing plant being built in Taylor County by Sparkz Inc. As of this past July, West Virginia had exceeded its pre-pandemic employment number by more than 12,000.
South Carolina, meanwhile, saw its GDP shrink by 0.5% for the year ending in Q2 2022, slightly better than the 0.6% contraction for the U.S. as a whole. The Palmetto State has a thriving tourism sector tied in large part to coastal cities such as Myrtle Beach, Charleston and Hilton Head. Even in 2020, when the COVID-19 pandemic caused visitor spending to decline by 26% from the previous year, $18.5 billion was generated by tourist activities and the state collected $1.4 billion in tax revenues.
The defense industry remains a key employment sector around the nation's capital. The largest federal contractors in Maryland include Lockheed Martin, AAI Corp. and the Johns Hopkins University Applied Physics Laboratory. Fairfax County, Virginia, receives 5% of all federal contract dollars thanks to the presence of companies such as BAE Systems, General Dynamics and SAIC.
Baltimore is home to the global headquarters of athletic apparel manufacturer Under Armour. This past May, the company revealed architectural plans for
an environmentally sustainable campus at Port Covington,
a 235-acre waterfront development. The $5.5 billion Port Covington project received a $233 million investment from Goldman Sachs. Under Armour's 1,500 employees in Baltimore are expected to relocate to the new site by 2025. ●
Home price growth across the Atlantic Region started to moderate at the midpoint of this year, according to Zillow data. The trend was most evident in Washington, D.C., where prices declined slightly after peaking this past May. By September, annualized price appreciation in the nation's capital had slipped to 1.8%.
Still, price growth continued to accelerate quickly in some states, led by South Carolina and North Carolina with respective yearly appreciation rates of 23% and 21.6%. Even in the relatively low-cost state of West Virginia, where the typical home value was $144,640 in September, prices had jumped by 12.1% year over year.
Charlotte remained among the top markets in the nation for steepest price growth, although Re/Max data showed that its median sales price of $400,000 in August was below the national average. Active listings in the Charlotte metro area increased by 77% during the year ending in August 2022. Virginia Realtors, meanwhile, reported a cooling of the state's real estate market. Closed sales this past August dropped by 20% year over year,
equating to a $1 billion decline in dollar volume
.
Focus: Manufacturing

In 2021, manufacturers accounted for at least 10% of the total economic output in North Carolina, South Carolina and West Virginia. Across the five Atlantic Region states and the District of Columbia, these companies generate about $220 billion per year and are responsible for some 1.1 million jobs.
According to online database IndustrySelect, West Virginia's largest manufacturers include Toyota, DuPont, pharmaceutical company Viatris and poultry producer Pilgrim's Pride. In North Carolina, the Raleigh area's Research Triangle is home to 8,000 IBM software and systems engineers. Smithfield Foods, Pfizer and the U.S. Navy's Fleet Readiness Center each employ 3,000 people in the Tar Heel State.
South Carolina leads all states in
exported sales of tires and completed passenger vehicles
. The automotive industry added 9,000 jobs in the Palmetto State from 2017 to 2021 and now employs 74,000 people there. BMW, Honda, Bridgestone and Mercedes-Benz are among the major automotive producers in the state. Earlier this year, BMW announced a new $200 million investment in its Spartanburg County facility, which produces 1,500 vehicles per day.
What the Locals Say

"I'm getting more and more questions from veterans regarding mortgage assumption, because if they're buying a property from another veteran, there's an opportunity there for them to assume a VA mortgage with a significantly lower rate, potentially down into the 2s. … Now more than ever, buyers are becoming more creative in identifying opportunities to capture lower interest rates. I'm also seeing many active military buyers lowering their price point so that their housing payment meets their basic allowance for housing (BAH), which hasn't gone up. If they can't find housing to purchase to meet their BAH, they may choose to rent instead."
Tammy Saul

Owner
Federal Hill Mortgage
3 Cities to Watch

Greenville

The South Carolina city with a metro-area population of 940,000 turned into a logistics hub after BWM's 1992 decision to build a manufacturing plant there. Greenville benefits from its strategic location near Atlanta, Charlotte and the Port of Charleston. The city also has a burgeoning technology sector headed by companies like Concentrix, Synnex and Hitachi Solutions America. Area Realtors recently reported that the median home price peaked in July and the average home sold for less than list price in August.
Raleigh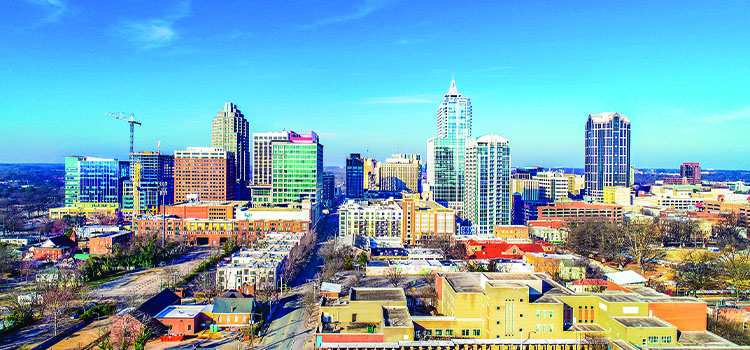 The North Carolina capital added more than 260,000 people
to its metro area from 2010 to 2019, a 23% growth rate that was second only to Austin among the nation's largest metros. Net migration was responsible for 69% of this growth, according to University of North Carolina researchers. Banking and financial services have become a key employment sector as Fidelity Investments, Credit Suisse and Wells Fargo each have more than 2,500 local workers. In September, Raleigh's typical home value was $451,000, Zillow reported.
Richmond

Virginia's capital city (226,000 residents) was founded in 1737. It was ransacked by the British during the Revolutionary War and again by the Union Army during the Civil War. The tobacco industry helped to spark Richmond's economic revival. Tobacco giant Altria Group, which ranks No. 165 on this year's Fortune 500 list, is headquartered in the city. Home prices have been rising quickly and the average Richmond homeowner will pay $922 more in property taxes in 2023 than they did in 2018, Axios reported.
Sources: Axios, Baltimore Business Journal, Britannica.com, Charlotte Observer, Discover South Carolina, Fairfax County Economic Development Authority, Fortune, Greenville Area Development Corp., IndustrySelect, MetroNews, Michelin Guide, National Association of Manufacturers, National Oceanic and Atmospheric Administration, South Carolina Department of Commerce, South Carolina Farm Bureau, Spartanburg Herald-Journal, Supply Chain Dive, The Baltimore Sun, The Post and Courier Greenville, University of North Carolina at Chapel Hill, U.S. Bureau of Economic Analysis, U.S. Department of Agriculture, Virginia Realtors, Wake County Economic Development