Gates
Digital mortgage platform developer SimpleNexus has elected senior sales executive Cathleen Schreiner Gates as the newest addition to its board of directors. A former executive vice president of sales and marketing at Ellie Mae from 2015 to 2019, Gates brings 35 years of experience driving growth at software-as-a-service firms. She is also CEO of independent consulting company Trifecta, which she founded in 2009. She earned a master's degree in business administration with a concentration in finance and computer technology from Rutgers University.
Hepp
CoreLogic has announced that Selma Hepp has joined the company as deputy chief economist. In her new role, she will communicate CoreLogic's applied research to the company's various audiences and expand the visibility of CoreLogic's economic policy unit. Most recently, she served as chief economist and vice president of business intelligence at Compass and Pacific Union international. Her experience also includes serving as chief economist at Trulia; senior economist for the California Association of Realtors; and economist and manager of public policy and homeownership at the National Association of Realtors. She earned her master's degree from the State University of New York at Buffalo and a Ph.D. in urban economics from the University of Maryland.
Murray
Real estate fintech Compass has announced the election of Eileen Murray to its board of directors, effective April 2. She brings decades of experience to the board, including her current role as co-CEO of Bridgewater Associates, a position she has held since 2014. Prior to that, she has served as head of global technology, operations and product control at Credit Suisse, and held several leadership positions at Morgan Stanley. Murray holds a bachelor of science degree in accounting and an honorary doctoral degree from Manhattan College.
McCrory
Terra McCrory has joined Quality Mortgage Services as senior quality control mortgage analyst, a new hybrid position designed to attract industry talent to fulfill key audit positions in a remote capacity. McCrory's role will assist QMS in bringing additional industry expertise to their review, audit and analysis components of quality control. Prior to joining QMS, she worked for Guild Mortgage Company as quality assurance and risk manager. She has also held positions at Corporate Mortgage Advisors, Fieldstone Mortgage and Rancho Vista National Bank.
Brink
WFG National Title Insurance Company has promoted Jacquie Brink to senior vice president and Great Lakes Division manager. In her new role, she will work with independent title agencies in Michigan, Wisconsin and Minnesota. She brings more than three decades of industry experience to the position, including five years as associate vice president and Midwest agency representative at WFG. She has also held positions at Best Homes Title Agency and Chicago Title Insurance Company. Brink earned her bachelor of business administration degree from the University of Texas.
Botting
Avison Young, a commercial real estate services firm based in Toronto, has hired Sheila Botting as principal and president of its newly established Professional Services practice in the Americas. Botting, who joins the company on May 4, will set the strategy and growth trajectory of the new practice as the firm invests in expanding its integrated services offerings to meet clients' business goals. She joins Avison Young from Deloitte LLP, where she has been senior partner and Canadian real estate leader, as well as a member of its global real estate executive team. She also previously held executive positions with Cushman & Wakefield Americas.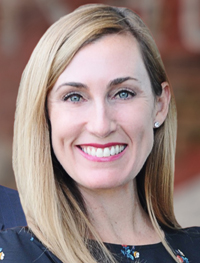 Halliday
Guaranteed Rate has expanded its California presence with new vice president of mortgage lending Erin Halliday in Huntington Beach. She comes to Guaranteed Rate after nearly six years at Wells Fargo, with previous experience at RPM Mortgage, DLJ Financial, Quantum Law Firm and Secured Funding. She holds a bachelor of science degree in business finance from the University of Southern California.
Jenkins
Homespire Mortgage has announced the addition of Shondra B. Jenkins as director of philanthropy and community engagement. Jenkins brings nearly 20 years of experience in social responsibility programs to the company; in her new role, she will work to strengthen and further develop Homespire's "Inspired to Impact" social responsibility program, which focuses on helping to eradicate homelessness and increasing homeownership for veterans. Prior to joining Homespire, she founded and was CEO of SBJ Consulting and led philanthropy efforts for food service and facilities company Sodexo.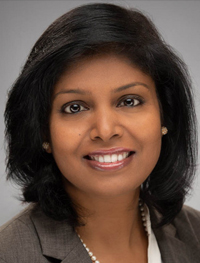 Arunkumar
Archana Arunkumar has joined the advisory board of San Francisco-based document processing fintech AREAL.ai. Arunkumar has held various leadership positions throughout the technology field, including her current position as director of product at Dropbox and previous experience in the same role at Ellie Mae. She holds a master of business administration degree in technology management, marketing and finance from the University of California, Davis, and master of science and bachelor of science degrees from California State University, East Bay.
Hume
Wylie
Primary Residential Mortgage, Inc. (PRMI) has promoted Brandi Hume to senior vice president of risk management and Hollie Wylie to vice president of compliance. Hume, a 28-year veteran of the mortgage industry, joins the executive leadership team after serving in the company for 11 years, most recently as vice president of quality assurance. Wylie, meanwhile, has been in the mortgage business for over 30 years, spending the past seven as PRMI's director of compliance.
Ketchum
Yvonne Ketchum has been named president of Kind Lending, the new mortgage lending company launched by entrepreneur Glenn Stearns. Ketchum's record of more than 30 years in mortgage banking includes 15 years at Stearns Lending.
Dalton

Mortgage Cadence has announced the appointment of Cate Dalton to executive vice president of customer advocacy. Dalton has 25 years of financial services experience, including 18 years of leadership at Stewart Title. She has a bachelor of arts in drama from the University of Southern California.
Green
Irene Green has been elected to the position of senior vice president of mortgage lending by First Financial Bank's board of directors. She will join the company's new mortgage office in Austin, Texas, bringing to her new role more than 30 years in the financial services industry, including over 19 in mortgage lending. Before joining First Financial, she worked for Simmons Bank in Austin for over 13 years, most recently as senior vice president and branch manager.
Nickoles
The Steven J. Sless Group of Primary Residential Mortgage, Inc., has added Brandy Nickoles as processing manager dealing solely with reverse mortgages. She will be responsible for managing the loan pipeline, analyzing documentation and loan scenarios, creating and implementing procedures, training and overseeing team members and maintaining customer service levels for the Baltimore-based Steven J. Sless Group. She has 15 years of experience on both the wholesale and retail side of mortgage operations, with the last six years focused exclusively on reverse mortgages.
Klombies
Mortgage software fintech Total Expert has added Anna Klombies as its new chief people officer. Prior to joining Total Expert, Klombies was most recently senior vice president of human resources at SportsEngine. She has also held leadership roles at CBS MarketWatch and Dow Jones. Klombies, who has over 25 years of operational human resources experience, will focus on professional development, people operations, coaching, mentoring and improving company culture in her new role. Klombies graduated summa cum laude at Concordia University, St. Paul.
Lee
Compliance consulting firm Mortgage Quality Management and Research (MQMR) has announced the promotion of Mabel Lee to warehouse due diligence manager. Lee — who first joined MQMR as internal audit manager in 2018 — will oversee the company's team of operations risk managers in her new role. She has more than 30 years of experience in the mortgage business, having previously served as customer account risk manager, credit risk manager and quality control manager at Fannie Mae and customer performance analysis supervisor and senior mortgage analyst at Freddie Mac. She holds an executive master of business administration degree from Claremont Graduate University and a bachelor of science degree in business administration from San Francisco State University.
Boccia
Wyndham Capital Mortgage has announced that Barbara Boccia has joined the company as senior vice president of risk and compliance. She has more than 25 years of experience in legal and regulatory risk and compliance; before joining Wyndham, she served as senior director of advisory services and regulatory relations at Wolters Kluwer. She earned a Juris Doctor deree from the University of the Pacific's McGeorge School of Law and carries an master's degree in business administration from San Francisco State University. She will be based out of Wyndham Capital's office in Charlotte.
Krumm
LenderClose, a proprietary lending platform based in Des Moines, Iowa, has added Tana Krumm as vice president of marketing. Her new role will involve formulating new marketing strategies to meet the company's growth targets. Krumm has an extensive background in marketing for finance and healthcare services, most recently serving as marketing communications consultant for American Enterprise Group. Prior to that, she held leadership roles at Two Rivers Marketing, ZLR Ignition and TMG.
McFarland
Independent mortgage lender Mortgage Network, Inc., has added Rochelle McFarland as a loan officer in its Danvers, Massachusetts branch. Her financial services career began as a stockbroker for Salomon Smith Barney in New York before she became a private banker at JPMorgan Chase's Madison Avenue location. She earned her bachelor of science degree from the University of Scranton and her master of business administration degree in international business and finance from Schiller International University in Madrid. She also has a master of arts teaching degree in Spanish from Salem State University.
Carbonara
Landtrust Title Services, a Chicago-based title insurance agency, has added Carmen Carbonara as director of sales for residential services. She has 13 years of experience in the residential title-insurance industry, most recently serving as business development officer for Stewart Title Co. She is a board member of the Women's Council of Realtors and a past member of the board of directors of the National Association of Hispanic Real Estate Professionals.
Adams
Kelly Adams has joined risk transfer solutions company Miniter Group as vice president of operations and tracking, responsible for the overall management of its "Borrower-Centric" insurance tracking operations. Before joining the company, she had 20 years of experience in insurance, 11 of which were spent as director of operations at Arbella Insurance Company.
York
Michigan credit union service organization Neighborhood Mortgage Solutions (NMS) has announced the appointment of Jamie York as its newest CEO effective April 7. She has held a number of leadership positions at the company after joining NMS in January 2009 as office manager. Most recently, she served as chief operating officer for the organization, a position where she has been instrumental in setting up NMS' current secondary market department.
Garza
Ohio's Union Home Mortgage has announced the promotion of Cyndi Garza to vice presidents of sales. She will provide leadership to sales teams from the Upper Midwest to Nevada and Arizona. Garza has been with Union Home Mortgage since 2011, opening the first branch in Michigan.
Dunlap
CMG Financial, a mortgage banking company headquartered in the San Francisco Bay Area, has announced the hiring of Tamara Dunlap as regional vice president of Colorado. She has more than 26 years of mortgage leadership experience at regional and national lenders throughout the western U.S., including companies such as CountryWide Home Loans, Matrix Financial Services and Capital Commerce/American Home Mortgage. Most recently, she spent four years as regional manager at CityWide Home Loans.
Brandriss
Chava Brandriss has joined the banking and financial services team of national law firm Davis Wright Tremaine (DWT). She will work as a partner in its Washington, D.C., office, joining the firm from Hogan Lovells. Brandriss will represent banks, mortgage lenders and servicers in class actions, mass claims, appeals and large portfolios of individual lawsuits, as well as supporting the team's work with California fintech companies.
Sherrell
Open Mortgage has added Sherry Sherrell as regional branch manager of a new branch in Fayetteville, Arkansas. She will be responsible for overseeing the new location, as well as branches in Rogers, Arkansas; Grove, Oklahoma; and Joplin, Missouri. She has a long history in the mortgage industry, including previous experience at PRMG, USA Mortgage, Financial Concepts Mortgage, Bank of Arkansas, Wells Fargo and Associated Mortgage Co.