As the home to more than 10% of the nation's population, California is omnipresent in the news, no matter where you live. And with some of the highest home values in the country, the state is always a hot topic in real estate circles, too.
There's no denying California's cultural and economic horsepower. The state produces more food than any other, including two-thirds of the nation's fruits and nuts. The massive, multibillion-dollar tech industry is centered in the San Francisco Bay Area, while Hollywood is famous for producing American TV shows and movies.
But despite its beautiful weather, powerful economy and status as a cultural icon, the state lost population for the first time ever in 2020, and it has continued to do so. California's population declined by 182,000 in 2020 and again by more than 117,000 in 2021, according to state officials. Additionally, sluggish growth in recent years caused California to lose a seat in the House of Representatives.
Demographers told the Los Angeles Times they don't believe they're seeing a "Cal exodus," as it's been coined. But expensive home and rent prices in the state, coupled with an increased ability to work remotely, have contributed to an in-state migration toward more affordable inland areas as well as out-of-state migration.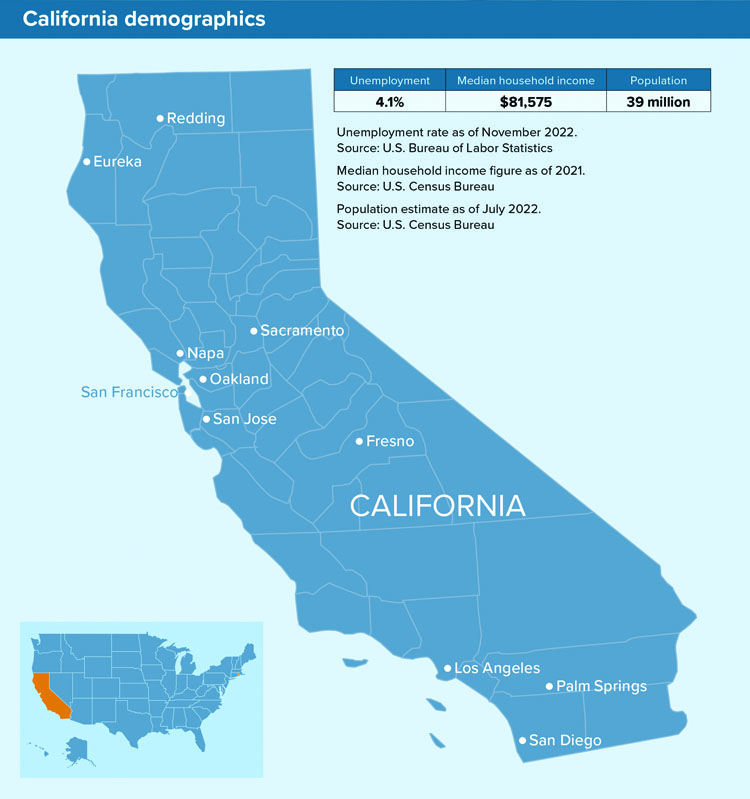 A study conducted in March 2022 by the Public Policy Institute of California (PPIC) found that 55% of Californians were concerned about
having enough money to pay their rents and mortgages
. More than one-quarter indicated they were "very concerned." Meanwhile, Black Knight's October 2022 Mortgage Monitor report found that six of the nation's 10 least-affordable housing markets were in California. Los Angeles led the pack with a payment-to-income ratio of 73.6%.
Rising mortgage interest rates and an insufficient supply of for-sale listings have contributed to the state's housing issues. But home prices have started to moderate in the most expensive cities across the state, a potential sign of promise for currently priced-out buyers.
California residents also are struggling with inflation, as seen across the nation. The PPIC study found that 67% of Californians reported experiencing financial hardship due to recent price increases. But the news isn't all bad: The state's gross domestic product (GDP) grew at an annualized rate of 3.8% in third-quarter 2022, outpacing the U.S. average, while its job market has been resilient throughout the COVID-19 pandemic and last year's historic period of inflationary growth. California added 675,000 jobs for the year ending this past November, bringing its employment level to an all-time high of 17.8 million with a 4.1% jobless rate.
In fact, the state is
poised to pass Germany as the world's fourth-largest economy
(if California was its own country). With European economies decelerating and likely to shrink in 2023, California's GDP is set to exceed Germany's (somewhere in the neighborhood of $3.5 trillion). This is due to the soaring revenues and market capitalization of California companies, according to Bloomberg. Corporate revenues in California jumped by 147% over the past three years while German corporate revenues rose by 41%. ●
Home sales slowed significantly across the state in the latter half of 2022, according to data from the California Association of Realtors (CAR). The annualized pace of home sales from July 2020 to April 2022 hovered in the mid-400,000 range, but this figure dropped to 295,000 in July 2022 and further plummeted to 274,000 this past October.
Median home prices in the state have begun to cool, CAR reported, from the peak of $885,000 in April of last year. As of October, the median home price was $801,190. Additionally, Zillow data in October showed that home prices in San Francisco, San Jose, San Diego, Los Angeles and Sacramento had fallen by more than 5% from their recent peaks. These were among the largest declines in the nation, with seven California cities among the top 20 in the U.S for post-peak price cuts.
What the Locals Say

Homes are expensive in many California communities and buyers often have complex situations. It's not uncommon to have business owners, buyers with foreign assets, investment properties — you name it. Mortgage lenders compete for loans, and buyers and sellers have high expectations. Closings have to be fast, contingencies are routinely waived and we fully pre-underwrite every borrower.
With things slowing down a bit, we are seeing some of this ease up. Low downpayment loans, and VA and FHA loans, are more successful right now. Opportunities for homebuyers are growing, and I hope the inventory grows to meet it.
Homes priced below $2 million still see competition among buyers. Luxury homes are sitting on the market as many buyers are in the tech industry and hesitate to sell stock for a home purchase. Tech companies are being warmly welcomed outside of California, so there is certainly some movement here. But I don't see a mass migration out of the state and there are still many more buyers than homes.
People want to live here. California is vibrant and young. Within half a day's drive from the Bay Area are all manner of microclimates — beaches, mountains, sun, snow, water and hiking. And the state attracts an international blend of residents, making it an interesting place to build community.
Dianne Crosby

Regional manager
Guaranteed Rate
3 Cities to Watch

Sacramento

The Sacramento region is the fastest growing in California, with the capital city and its surrounding area
adding more than 117,000 new residents
from 2016 to 2021 (or 5% growth). Education and jobs are strong in Sacramento, with two major universities and an unemployment rate of 3.7% this past November. Home prices soared in Sacramento early in the pandemic, but median values as of October 2022 had dropped by 8.4% compared to last year's peak, according to Black Knight.
Irvine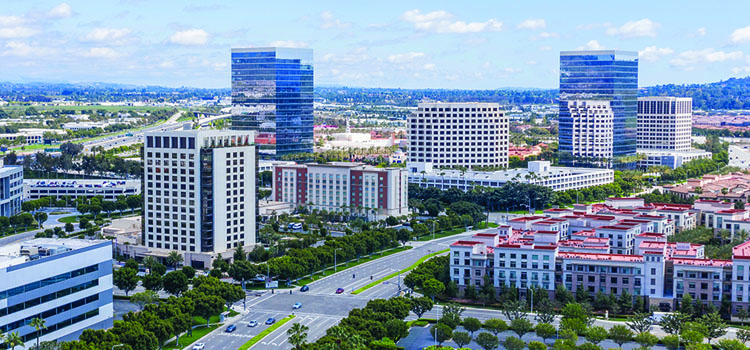 Irvine is a master-planned city in Southern California that serves as the tech hub of Greater Los Angeles. Known for its affluence, safety, diversity and good jobs,
the city grew by 45%
from 2010 to 2020 and now includes more than 307,000 residents. Irvine hosts a plethora of major companies across several industries, including the headquarters for Taco Bell, Blizzard Entertainment, In-N-Out Burger and more. Redfin reported a median home sales price of $1.28 million in November, up 10.4% year over year.
Redding

Redding is the economic center and largest city in the mostly rural Shasta-Cascade region of northern California. Redding is home to about 93,000 people and serves as the seat of Shasta County. Well known for its outdoor recreation and proximity to Mount Shasta, it was named the second-sunniest city in the nation by the National Oceanic and Atmospheric Administration. The median price of a home sold in Redding fell 3.7% year over year in November to $365,000, according to Redfin.
Sources: Black Knight, Bloomberg, Business Insider, California Association of Realtors, California Employment Development Department, City of Redding, Davis Vanguard, Greater Irvine Chamber of Commerce, LAist, Los Angeles Times, Orange County Register, Public Policy Institute of California, Redfin, State of California, The Sacramento Bee, Upstate California, U.S. Bureau of Economic Analysis