The New England Region of Connecticut, Maine, Massachusetts, New Hampshire, Rhode Island and Vermont includes about 15 million people. Population growth across the region has stagnated over the past decade as only Massachusetts and its 5.3% growth rate from 2010 to 2019 was anywhere close to the U.S growth rate of 6.3%. Vermont and Connecticut experienced small population declines during this time.
These six states were generally prosperous prior to the COVID-19 pandemic. As of 2018, Massachusetts, Connecticut and New Hampshire ranked fifth, sixth and eighth, respectively, among all states for highest median household income. Maine ($55,602) had the lowest median income in the region, ranking No. 36 in the nation and below the U.S. median of $61,937.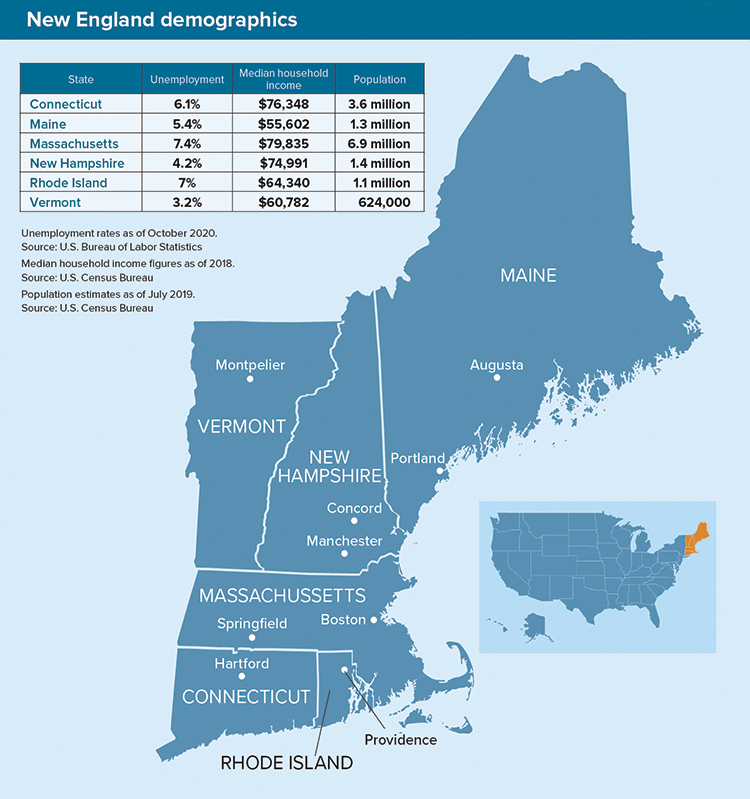 In terms of gross domestic product (GDP), or the sum of all goods and services produced in an area, Massachusetts topped the New England Region and ranked 11th nationally in 2019 with $595.8 billion in economic output. Vermont had the nation's smallest economy at that time with a GDP of $34.8 billion.
Connecticut has a diverse economy that includes advanced manufacturing, biosciences and insurance. The state government touts its green-energy sector, which includes one of North America's largest fuel-cell power facilities and the nation's first green bank that offers low-cost financing for renewable-energy projects.
Vermont has weathered the pandemic better than other states and had the nation's second-lowest unemployment rate this past October at 3.2%, trailing only Nebraska. Still, Vermont was expected to bring in $286 million less in tax revenues over the next two years, about 6% to 11% below pre-pandemic projections, according to the Center on Budget and Policy Priorities, a think tank that analyzes federal and state government budget policies.
According to a May 2020 report from the Federal Reserve Bank of Boston, more than 1 million households in the region were at risk of missing a mortgage or rent payment due to pandemic-related job losses. Across the region, about 35% of households had at least one member employed in a "high-risk occupation," defined as jobs that are nonessential, can't be done from home and are paid by the hour. The report estimated that 33% of renters and 11% of homeowners in New England were at risk of missing a monthly housing payment without some form of financial assistance.
TD Economics forecast a rebound for the region in the next two years. Regional GDP was expected to decline by 5% in 2020 but rise by 3.3% in 2021. The regional unemployment rate was expected to drop from 9.1% in 2020 to 4.8% in 2022. Home prices were anticipated to take a hit, however, with growth slowing to 2% this year compared to 4.4% last year. ●
Five of the six New England states had median home values above the U.S. median of $259,906 as of September 2020, Zillow reported. Maine's median value of $255,736 was only 1.6% below the nationwide figure. On a year-over-year basis, the largest home-value increases across the region at that time occurred in Maine (8.7%) and New Hampshire (7.5%).
The Massachusetts Association of Realtors reported fewer than 7,000 single-family homes for sale statewide this past September, a 57% annual decline. There was 1.4 months of supply at that time. This severely constrained inventory helped to boost the median sales price by 19.5% while the number of closed sales were up by 23.7% compared to September 2019.
As of July 2020, CoreLogic reported that Connecticut was tied for the fifth-highest serious-delinquency rate (mortgages 90 or more days past due) in the U.S. at 5.6%. Among the nation's 10 largest metro areas, Boston's serious-delinquency rate of 3.1% ranked third lowest behind Denver and San Francisco.
Focus: Forest products
Logging and wood products have long been key economic contributors in New England. In Maine alone, about 9,300 jobs and some $619 million in output were tied to the logging and wood-trucking industries in 2017. Paper, wood and furniture manufacturers are responsible for a combined total of about $1.8 billion annually for the economies of Maine, New Hampshire and Vermont.
The region's hardwood industry has been negatively impacted by ongoing tariffs between the U.S. and China, which has become the top importer of American hardwood. In February 2020, some of these tariffs were cut in half.
A 2017 report from The Harvard Gazette noted that about 88% of New England is either forest or farmland. The region was losing about 65 acres of forest per day to development and was on pace to lose another 1.2 million acres — an area larger than Rhode Island — by 2060.
What the locals say
"People that were dead set on living in and around Manhattan are now being much more willing to move to the suburbs like Fairfield County (Connecticut). It's not so much that our economy here has necessarily picked up. It's that people are making a push here because, I think, the perception is that it's safer. You're not living in these high-rise condominium complexes where everyone's going through the same elevator. You're much more spread out in this area. And if you compare our tax base to Westchester County (New York), which is the next county right over the [state] line, our taxes are significantly cheaper, as are home values."

Jarret Coleman

Private mortgage banker, U.S. Bank
3 Cities to Watch
Manchester
New Hampshire's most-populous city (112,000 residents) straddles the Merrimack River and is a 60-mile drive north of Boston. The city's unemployment rate of 5.7% this past September had dropped considerably since the start of the pandemic, although the number of jobs at that time was down 8% year over year. Manchester's largest employers include Elliott Hospital (4,000 workers), Southern New Hampshire University (3,400) and telecommunications giant Comcast (800). The city receives about five feet of snow per year, on average.
Portland
The population of 66,000 in Maine's largest city has remained flat over the past decade. In an effort to diversify and strengthen the local economy, money is pouring into Northeastern University's Roux Institute, which provides graduate degrees in fields such as artificial intelligence, machine learning and advanced life sciences. It received a pair of $100 million investments in 2020. Redfin rated Portland's housing market "very competitive" this past October with an average sales price of $385,000 (up 12% annually).
Springfield
With some 153,000 residents, Springfield is the third-largest city in Massachusetts. After running up a municipal deficit of about $40 million in the early 2000s, the city budget has recovered with a variety of cost-cutting and economic development measures. In 2018, MGM opened the state's first resort-style casino in Springfield, which has been a resounding success. The casino created 2,500-plus jobs and contributed $110 million in tax revenues in its first year of operation.
Sources: American Enterprise Institute; Center on Budget and Policy Priorities; City of Manchester; CoreLogic; Federal Reserve Bank of Boston; Forest2Market; Global Wood Markets Info; Governing; Massachusetts Association of Realtors; Northeastern University; Professional Logging Contractors of Maine; Redfin; State of Connecticut; TD Economics; The Harvard Gazette; The New York Times; University of Massachusetts, Amherst; U.S. Bureau of Labor Statistics; U.S. Census Bureau; WBUR-FM; Zillow